Youku (NYSE:YOKU) reports Q2 results on August 6th.
The Street expects:
Revenue: $61 million
EPS: $0.13 loss
Q3 revenue guide: $80 million
In Q2, I expect online video advertising to remain resilient due to Youku's lower exposure to cyclical industries such as finance, auto and real estate, and more exposure to stable industries such as FMCG. According to management, FMCG accounts for 55-58% of Youku's revenue. Therefore, I am quite comfortable with Youku achieving 100% y/y, or high-end of management's guidance, revenue growth for Q2.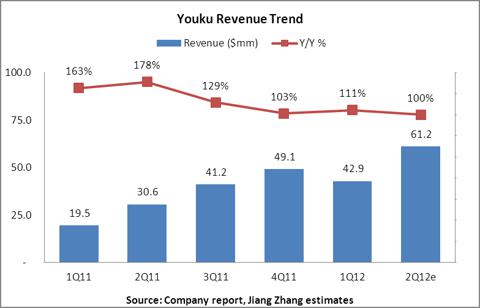 The recent decrease in content cost due to industry consolidation is encouraging. Management indicated that Q2 bandwidth cost is comparable to that of Q1 and will unlikely to grow significantly for the second half of the year, which should mitigate margin pressure in the near term.
Content price, which is down 50% from last year's peak, is close to the 2010 level and will likely be sustainable for the next year as major players have realized that no side will emerge as the winner from aggressive content bidding. Recent collaboration between Sohu (NASDAQ:SOHU), Baidu (NASDAQ:BIDU) and Tencent will form large factions within the industry that should continue to support price decline.
Investors should note that margin and bottom line will still be under pressure from content purchased last year. But the outlook beyond Q2 is more encouraging given that an acquisition of Tudou will give Youku tremendous pricing power and the upcoming Olympic Games will likely attract strong ad revenue.
On a final note, Youku's integration with Apple's (NASDAQ:AAPL) iOS 6 is a strong positive because Apple users can conveniently share videos on mobile devices that will greatly enhance Youku's traffic, which eventually attracts more advertisers to Youku's platform.
Disclosure: I have no positions in any stocks mentioned, and no plans to initiate any positions within the next 72 hours.