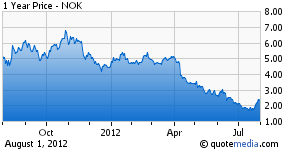 It looks like Nokia (NOK) is looking to diversify its portfolio of products in order to reduce its huge reliance on the mobile phones. Now it looks like Nokia is getting its foot in the car industry. Of course, I can already hear you guys saying "Nokia will build cars? That can't be!" and there is nothing to worry about because Nokia will not be actually building cars.
The company will be integrating its mapping and locations technology with the next generation of cars. Nokia's first partner in this endeavor is Ford (F). Interestingly enough, Ford also has an ongoing partnership with Nokia's buddy Microsoft (MSFT). Who knows, Nokia and Microsoft might end up in another partnership.
Nokia's mapping technology fits perfectly with Ford's new concept of cars called EVOS. These cars come with mobile connectivity, search technology, cloud services and build-in communication along with many other things. The goal is to make the driving experience as seamless and safe as possible while personalizing the experience for each driver. The car will be actually able to "learn" the driving behavior patterns of the driver and help improve some of these patterns. This is a very exciting opportunity for the entire car industry. Feel free to check out this video introducing the EVOS concept cars.
Lately, Nokia has been creating the highest quality of products and it continues to impress the consumers. After Ford, the company will probably enter into partnerships with more car companies in order to increase its foot print in the car industry. The company has definitely learned its lesson when it grew too comfortable and fell behind the market. Now the company seems like it is ready to put those days behind and move on as a completely new company, not to mention leaner and meaner.
Funny thing, after writing so many articles about Nokia, I finally decided to get myself a Lumia 900. My original plan was to wait until Windows 8 comes out; however, I had to hurry as my iPhone suddenly decided to stop working after 2 years of use. I went to the nearest AT&T (T) store to get my Lumia as it is the only carrier with the phone at the moment. As I walked into the store, an aggressive sales representative greeted me and asked me how she can help me. I told her I was looking for a Lumia 900 and she looked at me as if I was an alien. She told me how she didn't really like Lumia, how the whole idea of a Windows Phone was boring and how Android (GOOG) was much more "fun" to use. She wanted to show me a few Android models, but I insisted on Nokia, saying that I am a big fan of the company's products.
Even after showing me the Lumia, she still kept telling me I should check out some of their Android phones. I don't know if that sales representative was paid extra to push Android products or if she personally had a taste for Android. I ended up buying my Lumia and I am pretty happy with it. I can't help but think that if Nokia was able to sell 4 million of these Lumias in the last quarter despite the heavy anti-marketing campaign by Android-lover sales representatives, the company's product must be pretty impressive. Next quarter, AT&T will be spending $250 million to market Lumia phones. I hope the campaign will include training some of the sales representatives.
In the last 5 trading days, Nokia is up 35%. I don't know how much longer the rally can go on in the short term but there is still plenty of upside in the long term. As I've said many times before, at this point, Nokia is priced to go bankrupt, and anything short of bankruptcy is very bullish for the company.
In the last quarter, Nokia's mapping and location business posted operating profit of $33 million. The number is nothing to write home about, but the fact that company's business unit remained profitable is significant. If Nokia finds a few more partners in the car industry, the company might end up selling more units of its mapping technology than the smart phones in the short run. This venture might turn out to be pretty profitable after all.
I continue to be optimistic towards Nokia. When I look at the quality of Nokia's products, I really don't see a company that's going bankrupt. When I look at Nokia's products I see a company that will successfully turnaround and surprise many investors who are almost certain that the company will go bankrupt.