On multiple occasions I have seen positive comments on Rimage Corporation (RIMG) due to its lucrative dividend and its large cash position. On the surface this may sound like a sound investment thesis and it may be in the very short-term. However, if the company is losing money while paying an outsized dividend, it is only a matter of time before that dividend will either be cut or eliminated out of necessity. Before investing in any stock due to its cash balance, dividend or both one must take a very hard look at the operations and management of the company.
In the case of RIMG, it was paying an annualized dividend of $0.68 at the beginning of the year with a stock price of approximately $11.25 giving the stock a yield of 6%. During January the stock price rose to over $13.00 per share so this investment was looking good. However, since that peak, the stock has declined approximately $6.00 per share. Therefore an investment at the beginning of the year because of an attractive dividend and cash position has traded dividend payments totaling $0.34 for a capital loss of approximately $4.25.
Rimage Corporation 1-Year Chart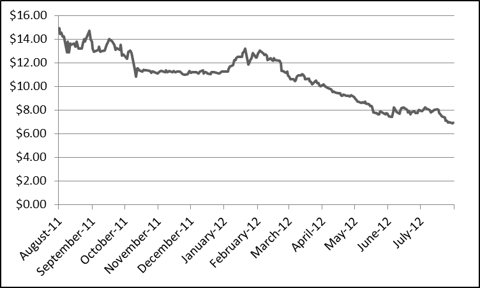 (Click to enlarge)
Now the question is since the stock price has dropped roughly 38% since the beginning of 2012, does the cash position and high yield of RIMG have any investment merit? To answer that question, I will take a little deeper look at the business of RIMG and its current financial position.
RIMG basically has two businesses. One is slowly being bled out and the other has yet to produce much of anything. So far, things don't sound good. The dying business is the company's disc publishing business. The disc publishing provides organizations the ability to archive, distribute and protect content on CDs, DVDs, and Blu-ray Discs™ though a series of hardware and software solutions. In addition, the company has added an online publishing solution that is designed to push secure content to computers and mobile devices. However, this technology is not anticipated to start producing revenues until later this year.
The other business is Qumu which the company purchased in October 2011 for $52 million ($39 million in cash and 1 million shares of RIMG common stock). The enterprise video communication technology of Qumu is designed to allow organizations to capture, organize and distribute video content to computers and mobile devices across the enterprise. The competitors of Qumu include the likes of Cisco Systems, Inc. (CSCO) and Polycom, Inc. (PLCM) which could certainly be an obstacle to future growth.
At the time of the acquisition, the company stated that Qumu generated sales of $10.3 million in 2010 and was expected to produce $15 million in 2011. In addition, RIMG forecasted revenues of $21 million from Qumu in 2012 as well as total company revenues of $86 to $88 and earnings in the range of $0.42 to $0.45 per share. The reporting year is only half over, but as you can see below, these numbers are more than just a little off the mark.
As you can see, the company has already lost $(0.44) per share so far in 2012 and is forecasting additional losses of $(0.05) - $(0.13) in the third quarter. In addition, before you get too excited about book value, it should be noted that the balance sheet contained goodwill and intangibles of $41.46 as of December 31, 2011. So far this year, Qumu has only tallied revenues of $2.8 million which is well off the pace to reach the $21 million that had been forecasted. On a positive note, the backlog for Qumu increased to $6.6 million at the end of the second quarter compared to only $1.5 million at the end of the first quarter. At this point, the Qumu acquisition looks suspect to say the least.
A dividend yield of nearly 10% and a cash and marketable securities position of $6.13 makes this much more intriguing now than it was at the beginning of the year when shares were trading over $11.00. However, the company is continuing to burn through cash at a rate of roughly $4 million per quarter so far this year and is forecasting continued losses in the third quarter. The fact that management announced a substantial increase in the dividend at nearly the same time it announced the questionable $52 million acquisition of Qumu raises some serious concerns. Qumu appears to still be in the startup process and in need of cash to continue to develop and market its solutions. Weighing even more on the Qumu acquisition is the decision to go up against cash rich competitors like Cisco and Polycom considering both of these competitors generally already have a foothold in many large organizations with complementary solutions.
A better decision for shareholders may have been to pass on a major acquisition and return the excess cash to shareholders. However, it is too late for that. In light of the acquisition of a company that is going to require cash to develop its revenue base, it would have seemed more prudent to either maintain or cut the dividend and return the company to an investment and growth mode. However, it appears management may have been attempting to appease dissident shareholders by jumping the dividend 70%.
This raises a concern about management's ability to prudently allocate capital and that the oversized dividend may be temporary. If the losses continue, I do not want to be in the stock when the cash pile is smaller and the dividend is either cut or eliminated. The amount received in dividends will most likely not be enough to even begin to cover the capital losses on the day of that announcement. I will keep RIMG in the rear-view mirror a little longer and look for positive signs, but for now I plan to keep my distance.
Disclosure: I have no positions in any stocks mentioned, and no plans to initiate any positions within the next 72 hours.