There it is: the delicious Big Mac, sitting there, begging you to devour it. "Eat me!" it screams, its sesame seed bun bristling, wrapped perfectly as it waits in your car on the drive home. Its irresistible call is doubled as its savory partner, a large order of French fries, seems to slip out of the bag, enticing you for just a quick grab, just one quick bite that will inevitably lead to two, three, four, and finally a handful of fried deliciousness on the drive home. Finally, you arrive home, enjoy your (relatively) cheap meal, and turn on the television. On the screen, official-looking newscasters appear, armed with facts and figures and commenting on America's obesity epidemic, related heart and other diseases, and even New York City Mayor Bloomberg's recent ban on large soft drinks. In the face of these conflicting messages one important question remains for McDonald's (MCD) investors: will McDonald's stock be as rewarding as that first bite into a juicy, delicious, can't-wait-to-eat Big Mac, or will it cause underlying (health and financial) problems moving forward?
Q2 Earnings Call: Recent Developments
To begin with, across the world McDonald's experienced slower sales growth. In Europe, McDonald's gained market share in the UK, France, and Spain while it retained market share in Germany and Italy, but overall market declined as guest counts are down in several markets. Meanwhile, Russia has seen 7 quarters of double-digit sales growth. Generally, customers have provided improved satisfaction scores for the company, reflected in the market share gains. In Asia, the Middle East, and Africa, growth was modest at about a percentage while the company continues to focus on building customer traffic with value. In both Australia and Japan, extreme value menus are being utilized to influence customer traffic, with eventual plans to influence these customers to trade up to premium offers. Generally, a difficult macroeconomic environment has displayed slower sales growth in most of McDonald's major markets.
Looking towards operating margin: global company operating margin dollars for the quarter totaled $815 million. This metric decreased 80 basis points to 18.2%, but despite the decrease it is the 3rd highest second-quarter margin since 2000. In the US, operating margins were 19.8%; Europe margins were 19.3%; Asia, Middle East, and Africa margins were 15.3%. McDonald's was successful in procuring grains and other commodities at a lower cost than recent levels and expects to be able to successfully minimize the effects of the drought moving forward. SG&A is experiencing a $100 million incremental cost increase, but about half of these costs stem from investments in the Olympics and McDonald's April Convention are isolated to 2012 while the other half relates to technology investments. The $50 million of technology investments will be recurring.
In the second quarter, McDonald's returned $1.6 billion to shareholders through dividends and share repurchases. Reinvesting in itself, McDonald's will open more than 1,300 new restaurants and reimage over 2,400 existing ones. Capital expenditures are definitely not decreasing; McDonald's is focused on reimaging in order to retain a strong branding position, despite other companies often ramping down investments during rough economic climates. McDonald's did not update or provide earnings guidance moving forward. It appears likely that McDonald's will end 2012 at or somewhere below the 6% to 7% constant currency operating income growth target.
The Takeaway: while there is slowing growth, there is still growth and gains in market share amidst a difficult climate. Margins have decreased, but are still at highs when looking back over the past ten years. An emphasis on value and not only retaining but growing customer traffic is present, coupled with the idea that customers will eventually trade up to more premium offerings moving forward.
Financial Ratios:
McDonald's currently trades at a P/E TTM of 16.76, compared to a 5-year average of 17.47. Meanwhile, its forward P/E for FY 2013 is 14.85 based on analyst estimates of $6.02 for that year. In a different look at growth, McDonald's trades at a PEG of 1.77; some growth is baked in based on this metric. The forward P/E is perhaps a better indicator as it gives a more straightforward comparison between the future and the present. If projections are met and McDonald's was to retain its P/E of 16.76 at the end of FY 2013, it would price at $100.90, representing a 13% gain over approximately a year and a half. In the more near-term, if the market decides that McDonald's warrants a return to its historical P/E of 17.47, a price of $93 should be attained for a gain of 4.21% over current levels.
Beyond P/E, McDonald's has grown both revenues (+7.5% TTM) and EPS (+7.68% TTM, +18.04% past 5 years). Meanwhile, return on equity is quite high at 38.91% and return on assets also sound at 16.73%; these compare to 22.57% and 11.25% for the restaurants and leisure category. Overall, McDonald's posts solid returns.
One final thing to consider for McDonald's is its dividend: McDonald's is one of S&P's Dividend Aristocrats, meaning that it has consistently paid dividends for 25 consecutive years. It trades at an annualized dividend yield of 3.13% and a payout ratio of 50.56%. While a lower payout ratio might be preferable, McDonald's status as a strong, consistent company and its place on the Dividend Aristocrat's list leaves no cause for concern for the dividend.
Competitors: Burger King (BKW), Wendy's (WEN), YUM (YUM)
Burger King: the chain was taken private by a private equity firm just a few years ago, and was recently relisted under the ticker BKW. Burger King's positioning is to cater to 18-24 year old males, and prior to being taken private had a menu rife with unhealthy items. The firm has attempted to revamp its menu and marketing characteristics, but McDonald's has the established hand here. Without financial ratios or precedence, McDonald's is the much better choice.
Wendy's: the group that manages both Wendy's and Arby's is expecting flat annual revenues and earnings in 2012 compared to 2011, with meager revenue growth expected in 2013 but a jump in EPS expected by analysts. The company trades at a P/E of 30.6 for TTM and the same for expected 2012. If FY 2013 consensus is met, its P/E would be quite high at 21.86. Meanwhile, its PEG is 4.09, much higher than McDonald's, and its Return on Equity and Return on Assets are at a measly 1.50% and .7% TTM.
YUM: The company that manages KFC, Pizza Hut, and Taco Bell perhaps poses the best alternative for investors other than McDonald's. If EPS of $3.74 is met in FY 2013, the company would trade at a forward P/E of 17.34, still a premium. In a different look at growth, YUM's P/E is slightly lower than McDonald's, clocking in at 1.52. Its gross margin (32.24%) is comparable to McDonald's, and its Return on Equity, at an astounding 75.52% TTM definitely trumps McDonald's. However, Return on Assets, which may be a better comparison between the brands, comes in at 17.02%. This is still better than McDonald's, but only slightly. Overall, YUM is trading at a slight premium relative to McDonald's, but its growth should match if not exceed McDonald's.
Chart and Pricing: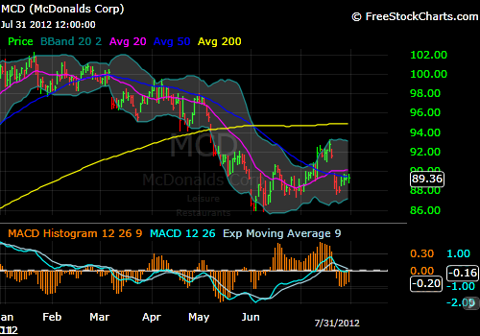 McDonald's reached a high of $102 at the beginning of the year. Following that, it entered a downtrend from mid-February to June reaching a low of $86. Since then, it gained back some ground, reaching $92 but now trading at $89. Technically, the 20 day moving average has crossed above the 50 day moving average, a short term bullish sign. However, both are well below the 200 day moving average, long-term bearish. The MACD is testing the center line, and has been below its signal line. However, the differences between the MACD and its signal line have been decreasing, as illustrated by the MACD histogram, which could indicate a bullish move as the MACD moves upward and may cross above the signal line.
DCF:
Unlevered Free Cash Flow Section:
Sales growth is estimated at 3.0% for 2012 and 5% for 2013; 5.5% for 2014-2016 given a hopefully better economic outlook by that time. Near-term estimates are reconciled here. Long-term (perpetuity) estimate is 4.0%, a discount to the 5.0% near term. A tax rate of 33% is taken directly from comments on the Q2 conference call. Net working capital is expected to increase as time goes on.
WACC Calculation:
Debt to Equity and capital structure is taken from Morningstar. Equity to total capitalization is taken at 53.4% and the Debt to Equity ratio is 87.3%. Levered beta is calculated by taking the Debt/ Equity ratio, multiplying by (1-tax rate), then adding one and finally multiplying by the unlevered beta. Levered beta is estimated at .73.
The WACC value used for McDonald's comes out to 6.6%, compared to wikiwealth's 8%, valuepro's 6.8%, and Bloomberg terminal's 6.4%.
Implied Share Price: $115, representing a 27% upside if the implied share price is reached. This value is at the higher end of the target spectrum, representing a P/E TTM of 21.58 and a forward P/E of 19.1 for FY 2013, both of which are high given the current economic setting.
Conclusion:
Based on the financial ratios, growth projections, and competitors, I currently have a target price of $100 for McDonald's in the coming year. If one agrees with the DCF, an even higher price may be attained (although, admittedly, I find the DCF to offer perhaps an unrealistically high target). The target price of $100 is certainly attainable, as McDonald's traded near this price range as recently as April. Recently it has traded at about $89, and while this price does have some upside left in it, I would recommend for investors to wait for a market pullback to offer a more attractive price point: $86, a low reached in June, is an appropriate entry point. As some extra "special sauce" for the stock, McDonald's dividend is stalwart and offers a fair 3.13% yield.
Disclosure: I am long MCD.