Edited by Jennie Pearce
Chevron Corporation (NYSE:CVX) is one of the world's leading integrated energy corporations, involved in every facet of the energy industry. Chevron's operations include vast segments of petroleum, chemicals, mining, power generation businesses, and energy services. The company's upstream operations are engaged in the exploration, development, and production of crude oil and gas. In the upstream, Chevron was ranked No. 1 in earnings per barrel in comparison with its peer group. In addition, Chevron is involved in worldwide research of new energy sources for the future, like biofuel and geothermal energy.
Fortune, one of the world's renowned business magazines, ranked Chevron as the third-largest corporation in the U.S. and the 10th-largest corporation in the world.
Chevron, engages in trading and marketing products all over the world. Furthermore, the company builds pipelines to transport the energies. To ensure safe energy delivery to its all customers around the word, Chevron uses its own shipping services. As a result, Chevron deservedly became the best company with the highest safety record in the industry.
Chevron`s Financial position
According key financial information and annual reports, in 2011 Chevron recorded massive revenue of $247 billion and a net income of $26.9 billion. Diluted net income per share soared to $13.44, compared with $9.48 in 2010. Earnings increased by 41.8%, and Chevron's investors enjoyed a dividend-raise twice in 2011. Despite the global financial crisis, the company's financial performance results reflect its brilliant operating plan. 2011 marked Chevron's 24th consecutive year of increases.
92% of Chevron's earnings were generated by upstream operations. The upstream and downstream activities contributed $6.2 billion and $0.8 billion, respectively. However, other segments contributed to losses of $504 million. In 2011, Chevron had a strong cash position of $19.77 billion. Total upstream earnings were recorded at $24.79 billion, followed by downstream activities of $3.59 billion. However, the other segments contributed to earnings losses of $1.48 billion.
Chevron's five-year cumulative returns are much higher than those of its peers such as BP, ExxonMobil (NYSE:XOM), Royal Dutch Shell (NYSE:RDS.A), and ConocoPhillips (NYSE:COP).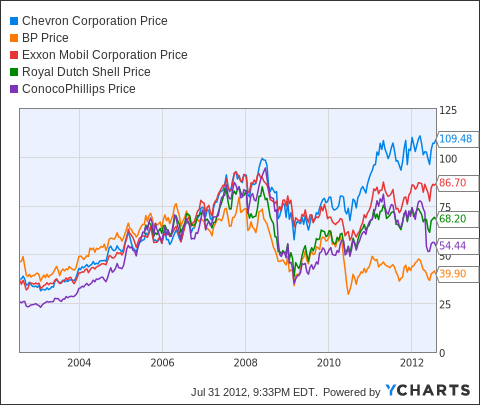 Data by YCharts
In terms of revenues and profits, Fortune 500 ranked Exxon Mobil, a major competitor of Chevron in the petroleum refining industry, No. 1 in 2012. Chevron ranked second. Nevertheless, Chevron provided a total stockholder return of 20.3% in 2011, holding a leading position among its peer group over a 10-year period. In 2012, the key indicators manifest Chevron`s financial stability, which continues to strengthen over time. According to the first quarterly results in 2012, Chevron posted a net income of $6.5 billion (EPS $3.27) against $6.2 billion (EPS $3.09), recorded in the same period last year.
In 2012, the company expanded its strategic position in natural gas in both North America and Europe by developing an upstream portfolio of 69% oil and 31% gas. Chevron expects gas shares to increase to more than 40% by 2017. Certainly, Chevron's plan is strategic, given the ongoing increase in demand for natural gas due to growing global consumption. Therefore, the increase in gas production will directly affect the company bottom-line, resulting in better returns to investors.
Company stock and dividend profile
Trading at the $105-109 level, Chevron stock has a price-to-earnings ratio of around 8. That is below the industry average of 11. The company reached a market capitalization of $215 billion. The 52-week price range is $88.68 - $112.28. Return on capital of 21.6% is strongly competitive and able to attract the attention of any prudent investor. Chevron's beta of 1.03 shows that the company is only 3% more volatile than the market, thus making it less risky for investors.
At the current price, Chevron's stock trades at a favorable dividend yield of 3.31%. The current dividend payout ratio is 33.73%. Thirteen analysts recommend Chevron stock as a "Strong Buy" thanks to increasing dividends. Chevron is highly respected for its strong 100-year dividend payment history. This is evidenced by the fact that 64% of CVX stock is held by institutional investors.
Present Economic Outlook
Chevron has a long history of proven growth record going back to 1879. The company has a huge setup and strong systems that ensure quality in every business line. It employs nearly 57,000 skilled employees and 3,800 service station employees.
Chevron follows an aggressive investment plan and intends to start 28 new projects over next three years. According to the 2012 capital expenditure plan, the company aims to invest $32.7 billion, of which 87% of the funds will be utilized in the upstream activities. Chevron has 47.3% equity interest in the Gorgon project. The project is 40% completed, and around $32 billion of the contract has already been awarded. Gorgon's scope is one of the largest resource projects of Chevron. Wheatstone, another major project, is expected to start in 2016. Chevron has 72.1% equity interest in the project. The production capacity is estimated at 260 MBOED.
The Australian market offers a huge potential for Chevron. The company made 13 discoveries in Australia between 2009 and 2011. That is why CVX is going to drill four impact wells in 2012 and to continue LNG expansion in Australia. Chevron is in the phase of undertaking one of the largest drilling campaigns in Australia with two drill rigs. Indonesian projects are significant, as well. Both Gendato-Gehem and Bangka projects are in the development phase. As expected, these projects will facilitate income increases and ensure future economic growth for the company. These key facts promise current and potential investors long-term dividend yield gains.
Summary
The industry has strong potential due to growth in oil and gas demand. Thanks to its robust experience and aggressive investment plan, Chevron is able to take advantage of all opportunities. Its portfolio includes ongoing, profitable projects, which improve the company's bottom-line and benefit the investors directly. The company has an advantage over its competitors, as it has large gas resources in Asia-Pacific. Chevron`s investors will benefit directly from the growing gas and oil production in Mexico, Asia-Pacific and other important regions. Solid dividend yield and payout ratio make Chevron stock a strong buy and a highly attractive investment option. Clearly, investment in Chevron is a logical choice for investors who expect to enjoy high dividends even in globally turbulent economic times.
Disclosure: I have no positions in any stocks mentioned, and no plans to initiate any positions within the next 72 hours.