Introduction:
Not too long ago, I wrote an article that was titled: "Is There A Perfect Investment For Every Market?" In that article, I shared a narrative about my mother and her finances. As I pointed out, she was a master of the concept, "Laddering CD's." She used CD's with various maturities, to lock in interest rates that would pay her a larger rate than she could get with shorter term issues.
As her health declined, along with CD interest rates, finding cash-flow to meet her needs while in a nursing home became a primary objective. I had to find a way to replace the CD income stream, in order to be able to pay for the nursing home care she needed.
What You Should Know:
I am a Dividend Growth investor. I have used the strategy for my personal investments over the last 30 years and I have been able to achieve my own specific objectives with this style of investing.
Since I felt comfortable with Dividend Growth investing and my objective was to create an income stream for my mother, I put together a plan of attack, to build a Dividend Growth portfolio for her.
A Timeline For Transition:
When the first 100k CD matured in 2009, this is how we invested that money: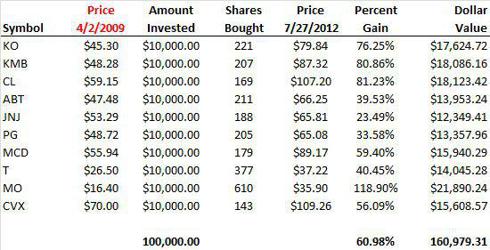 This basket of stocks has appreciated 60.98% through July 27th 2012, and the original investment of 100k is now worth 161k.
CD Number Two:
The second 100k CD matured the next year and we took that money and decided to invest in the same stocks that we already owned. Here is that basket: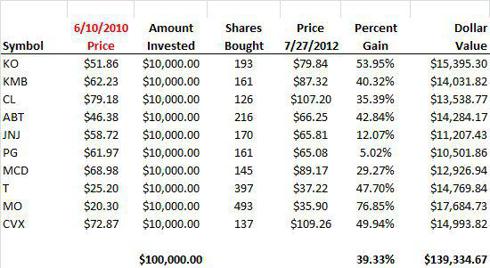 The money from this CD has grown 39% through 7/27/12 and is currently worth $139k.
CD Number Three:
The third and final CD matured in 2011 and was invested in the same stocks, but with the addition of five new entries. Here is a look at that basket: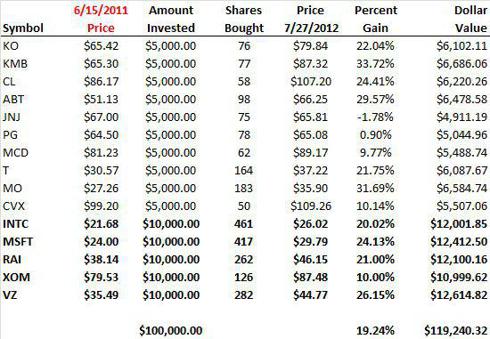 This third investment basket added Intel (INTC), Microsoft (MSFT), Reynolds (RAI), Exxon (XOM) and Verizon (VZ). This particular basket of stocks is a little over a year old and has returned 19% gain and is worth 119k.
Wrapping It All Up:
When we take each of the "baskets" and roll that into one single portfolio, we have a taxable portfolio that looks like this: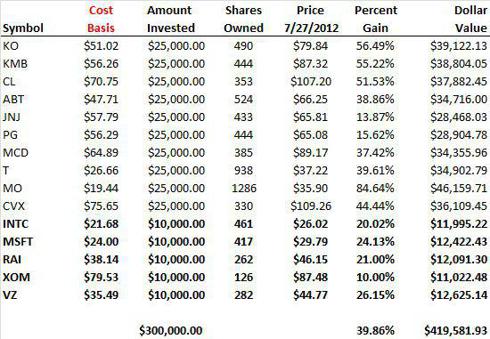 This portfolio was created by taking 300k over three years and investing it in individual Dividend Growth stocks as each CD investment matured.
As of 7/27/12, the value of the portfolio is $419k with a cost basis of $300k. Dividends were not reinvested in additional shares of stock.
Remember, my mother was using the interest from her CD investments, in order to help supplement her pension and Social Security income. As these CD's matured, that interest income stream was replaced by dividend income. The money received was used as it was paid, in order to help pay the bills.
Since this portfolio is held in a taxable account, the dividend payments to me are taxable every year. What I do with that money, though, is fund ROTH IRA's form my working children and my spouse.
Summary and Conclusion:
Dividend Growth investing is only one investing strategy. There are many different strategies out there. However, Dividend Growth investing is about purchasing stocks that pay a dividend, increase that dividend annually, and increase it at a rate larger than inflation.
The goal of Dividend Growth investing is to create an income stream that will grow every year, with increasing dividend payments.
The primary objective is not capital appreciation (although that is an objective for many DG investors). The primary objective is about the income stream. Many non-DG investors lose sight of that and often get confused as to what the DG investor is hoping to accomplish.
The first portfolio produced $4347 in dividends the first year or a 4.3% yield. That was a fantastic rate vs. the CD rates available in 2009.
The 2010 investment created a basket of stocks that earned $4127 in dividends or a 4.13% yield on that basket.
The 2011 investment, which added five additional stock positions created a dividend income of $3869 or a 3.87% yield.
Where things get very interesting is when you look at the growth of the dividends and the impact of each of the "baskets" to that goal of income growth.
In the second part of this article, we will be exploring the impact of dividend growth and the compounding effect that DG investing brings to the party.
We created a portfolio of 10 Dividend Champions. Companies that had a track-record of increasing dividends annually, for a long period of time; companies that were increasing those dividends at a rate that was larger than inflation; and companies with the earnings power to continue paying those dividends into the future.
Disclosure: I am long KO, KMB, CL, ABT, JNJ, PG, MCD, T, MO, CVX, MSFT, INTC, XOM, VZ, RAI.