By G C Mays
Despite continuing pressure from the effects of weather, Compass Minerals (NYSE:CMP) managed to keep pace with year ago numbers. Revenues were down less than 1 percent to $178.5 million, mostly due to record Q2 sales in the company's fertilizer operating segment. Offsetting those record fertilizer sales were production problems that drove both fertilizer and overall operating margins lower. Net earnings were $0.28 per share, which actually beat consensus estimates of $0.26 per share. However, the company's most difficult quarter lies in front of it.
Specialty Fertilizer
Fertilizer revenues of $56.2 million are 13.5 percent higher than a year ago, and they set a company record for the second quarter. The record revenues were the result of a 2 percent increase in average price received, and a 9.6 percent increase in tons sold.
(click images to enlarge)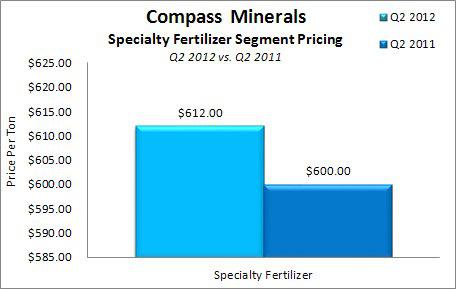 Source: The Mays Report
The spread between SOP, or sulfate of potash, and muriate of potash remained roughly $179 a ton in Q2, which is wider than the historical average of $100 to $150 per ton. At $433 per ton, the average price received by Potash Corp (NYSE:POT) dropped an average of $2 a ton from Q1, while Compass Minerals received an average of $612 per ton, $1 less than the first quarter. This illustrates how changes in the price of muriate of potash drive sulfate of potash pricing.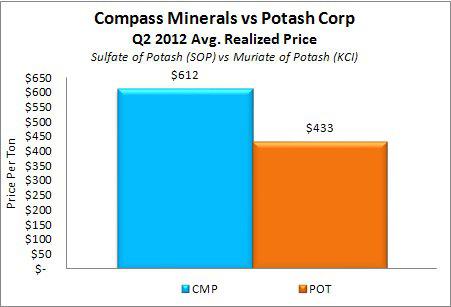 Source: The Mays Report
Intrepid Potash (NYSE:IPI), a small U.S. producer of both muriate of potash and a sulfate of potash variant called sulfate of potash magnesia, reported preliminary results before their earnings release today, and they expect an average net realized sales price of $460-470 per ton during Q2.
On the production side, Compass Minerals did not fare as well. In 2011, weather conditions were unfavorable for the evaporation process that extracts the raw materials the company uses to produce sulfate of potash. This constrained production as well as supply, which caused the company to buy more expensive potash to meet its customers' needs, in addition spreading fixed production costs over a smaller yield. This raised per unit cost by $100 per ton year over year, which contributed to lower margins in Q2.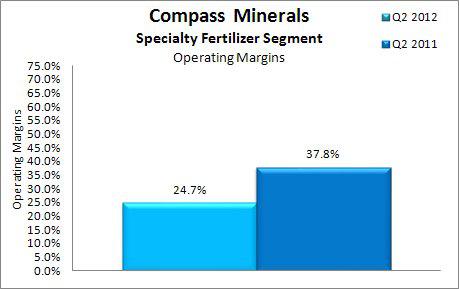 Source: The Mays Report
Conditions have been ideal this summer for solar-evaporation, and the company expects a better yield of raw materials needed to produce its potash. Compass Minerals expects to move all of its higher cost sulfate of potash inventory during Q1 of 2013, and for margins to return to 2011 levels after it finishes moving its higher cost inventory.
Salt
As expected salt revenues were down just under 6 percent to $119.9 million as highway deicing tons sold receded to 1.01 million tons sold, a 15 percent decline. Partially offsetting this decline was a 2 percent increase in consumer & industrial tons sold. One great aspect of the salt business is that prices are relatively inelastic, meaning they rarely fall year over year, even in the case of falling demand. Prices received for highway deicing salt during Q2 were 4.9 percent higher, while prices for consumer and industrial use salt were down by 4 percent over the same period.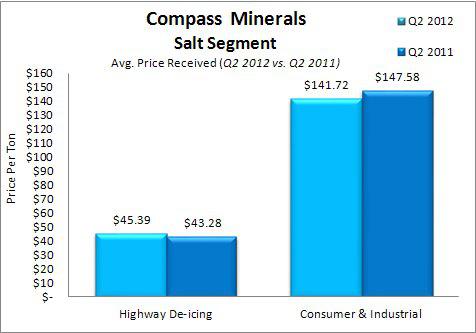 Source: The Mays Report
Operating margins were flat compared to last year. However, the company expects sales volumes for both consumer and industrial, as well as highway de-icing, to fall in Q3 due to customers having high carryover inventories. The company expects Q3 sales will see the greatest impact, since highway de-icing customers have more than enough inventory for any early winter weather. The company expects highway de-icing sales volumes of roughly 1 million tons in the third quarter, which is a full 48 percent lower than a year ago.
At a recent price of $71.20, stock is closer to my preferred entry below $70 than it was when I wrote an analysis of Compass Minerals' Q1 earnings in April. In fact, the stock did fall below $70 on two different occasions in June before being pulled higher along with its peer group, as persistent drought lifted all fertilizer company stocks.
Since the earnings release, the stock is down 4 percent. Weather is Compass Minerals' wild card year after year, since it impacts the company's potash production as well as salt sales. At the moment, it is unclear how much moisture we will see this winter. In my opinion, buying below $70 provides a margin of safety against another dry winter. A dividend yield of around 2.78 percent provides more price support in our ultra low-interest rate world.
Disclosure: I have no positions in any stocks mentioned, and no plans to initiate any positions within the next 72 hours.