For a number of reasons that I have recounted in a number of articles, we are likely to face a number of macroeconomic headwinds for the rest of the year. I have argued that we are likely to see pressure on all asset classes and that stocks would likely fare the best of them, while volatility (NYSEARCA:VXX) and safe-haven currencies (FXF, FXY) over commodity currencies (NYSEARCA:FXA) might provide investors some protection against rising market pressure. Somewhat counterintuitively, traditional safe-havens such as gold and treasuries are likely to suffer the greatest damage.
A summary of many of the main points can be found in an article written a couple weeks ago, where I attempted to synthesize separate calls into a larger narrative.
August will likely tell us how far off this narrative was, although some pieces might not come into play until September, while the massive and sudden rise in interest rates we are forecasting might not begin until well into 2013.
The earliest indicator with respect to the narrative rather than the individual calls as such will be a bottoming in the year-on-year ratio of crude oil alongside a bottoming in interest rates.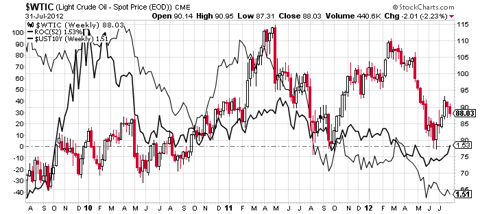 Click to enlarge
In brief, we are looking for a rise in crude oil prices (NYSEARCA:USO) that will, on a year-to-year basis, peak in August or September and that will coincide with significantly elevated treasury yields for the rest of the year.
This time last year, oil prices were collapsing, so we have some wind at our backs with respect to year-on-year percentages. Prices would have to give up their gains of the last month or so to keep those percentages down.
But, even if the year-on-year oil rise should not occur, based on a number of historical patterns materializing in rough proximity with one another (see the link to my previous article above), there is every indication that interest rates are set to rise for the rest of the year.
The timing appears to be now, and the bigger question appears to be that of speed and magnitude. A gentle rise in rates would likely be beneficial, while a sharp rise would be negative. Using my models, a sharp rise looks more likely, one that might be prompted by expectations of rising inflation (partly due to oil prices) that do not substantially materialize.
I would argue that this is the key chart to watch this month. A rise in these levels might at first appear to be beneficial, but are likely to show a more disagreeable face, especially when September comes.
The second most important set of charts are the following.
Sharp falls in the copper/gold ratio are often followed sixteen months later by weak or flat stock markets.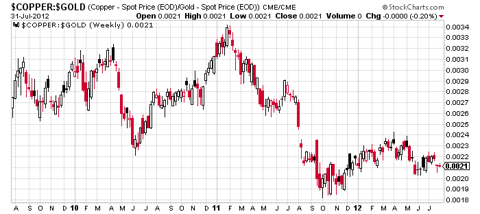 Click to enlarge
If we took that very literally, that would suggest that stock markets (NYSEARCA:SPY) should have bottomed in October of last year and then topped back in May of this year before slackening for the remainder of 2012.
As I have written before, the copper/gold ratio only gives an impression of momentum rather than of magnitude. Moreover, apart from a Leeb shock (an 80% year-on-year increase in crude prices, which remains a possibility) in the next couple months, the Dow (NYSEARCA:DIA) is not likely to fall more than 20-25% from its 2012 high. Another such fall from the 13000+ level in such close proximity to last year's fall without a Leeb shock would be unprecedented in the post-Bretton Woods era.
Rather the majority of the downward pressure is likely to be found in gold and treasuries (NYSEARCA:IEF).
The next chart is one of a rather short-term relationship (only the last decade).
The ratio of copper to ten-year yields has tracked very nicely with the price of gold and especially the gold/dollar-index ratio. The rise in interest rates last year was strong enough to seriously damage gold prices, from which they never recovered. I am still not clear on the mechanism of this reflexive relationship, but the 'energy' in the copper/yield ratio has found its way mostly into treasuries since then.
If we are on the brink of a more significant rise in interest rates, gold (NYSEARCA:GLD) will likely be trounced. In my previous article, I argued that there was good reason to regard gold as being in the midst of a major correction, until crude oil prices signal a bottom in gold by pushing to the top of the oil/gold ratio's historic range (i.e., over 0.12).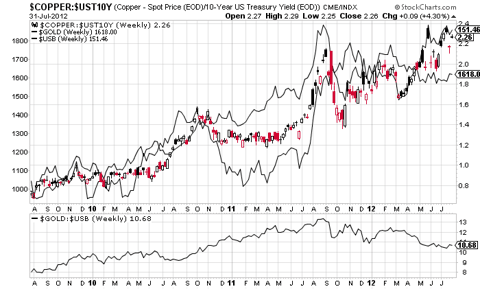 Click to enlarge
Gold hasn't even been able to hold it's own against the Dow, despite the rage for safety.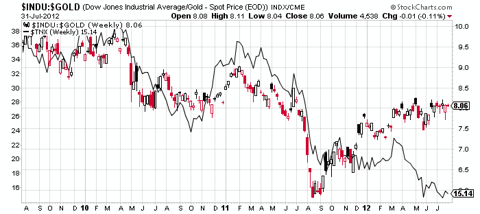 Click to enlarge
As always, there are lots of moving parts, and these techniques are designed to focus on the most decisive, those that relate to the interaction of ethereal monetary factors with down-and-dirty commodity prices. In the short-term, August will likely give us a fairly good idea of how the remainder of the year will progress.
In sum, there are major risks emanating from oil prices and interest rates. Sharp rises in either would be very difficult for the economy to handle. Although I am no Fed-watcher, perhaps news from the Fed this afternoon will start to push things along. Either way, August promises to point us in the right direction.
Disclosure: The author has no positions in any stocks mentioned, and no plans to initiate any positions within the next 72 hours. The author wrote this article themselves, and it expresses their own opinions. The author is not receiving compensation for it. The author has no business relationship with any company whose stock is mentioned in this article.