Investors love a good growth story. Stocks in rapidly growing industries are often able to carry investors alongside with them in their rise as the increasing potential of their business continues to unfold. Yet while companies with a strong long-term future often merit valuation premiums, the market can just as easily run away from reality.
One look at the recent case of Chipotle Mexican Grill (CMG) and the case can be made abundantly clear. Chipotle is a developing company capitalizing on a trend in the fast food industry that is shifting towards the use of fresh, organic, and locally grown foods. At its peak around $440/share, Chipotle carried a price-to-book ratio around 11, a price-to-sales ratio around 5.6, and an enterprise multiple (EV/EBITDA) around 26. Under these metrics and clearly in light of the rapidly rising share price, it should have been abundantly clear that this company was being priced for perfection. At the first sign of slowing growth after the company reported its last quarters' earnings, the stock crumbled as the premiums placed on growth became questionable.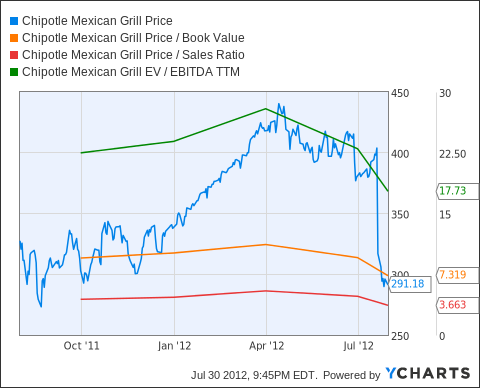 Yet Chipotle is just one of many growth companies in which investors failed to keep their enthusiasm in check. Additional examples in recent history can be found in household names such as Netflix (NFLX), Green Mountain Coffee Roasters (GMCR), and OpenTable (OPEN). While the reasons leading up to their collapses may have differentiated greatly, the reality lies in the fact that each of these companies had begun to trend well above easily understood metrics that help monitor a company's valuation. Comparisons to sales, book value, and earnings can all be tracked via a look at P/S ratios, P/B ratios, and EV/EBITDA ratios.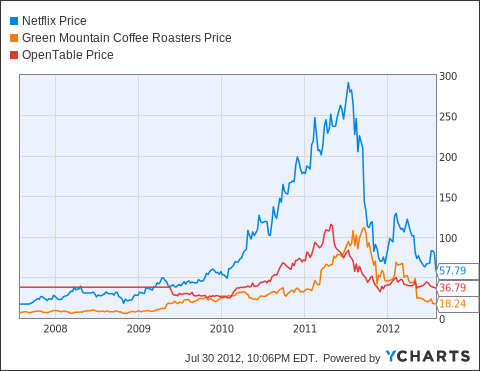 The following five companies offer similar trends when it comes to valuation metrics that are beginning to climb to the higher side. While undoubtedly each of these companies offer great future potential in their own respective industry, common sense begins to wonder if an investment at this point in time is as savvy a maneuver as one would like to believe. Accounting for the "unknown unknowns" in any business (ie. the unforeseen events that could alter the trajectory of a company) is a necessary component in any good investment. Opening a position in a company already well-priced for high growth can be as scary as it gets. All values in the chart below were taken as of July 30, 2012.
| Name | Mkt. Cap. | P/S Ratio | P/B Ratio | EV/EBITDA | Industry |
| --- | --- | --- | --- | --- | --- |
| Annie's (BNNY) | $660 Million | 4.44 | 9.51 | 31.66 | Organic Foods |
| Five Below (FIVE) | $1.61 Billion | 4.98 | ~7 | 55.65 | Discount Retail |
| salesforce.com (CRM) | $17.37 Billion | 7.38 | 10.03 | 169.83 | Cloud Computing |
| Amazon (AMZN) | $106.71 Billion | 1.97 | 14.29 | 51.67 | Online Retail |
| LinkedIn (LNKD) | $10.76 Billion | 17.32 | 16.24 | 126.42 | Social Media |
Annie's is the product of a recent IPO in which the company priced its shares at $19/share. On its opening day, the company jumped 89% by the end of the first day's trading. The company is capitalizing on the growth in the organic foods industry.
Five Below is the product of another recent IPO in which the company raised $163.5 million after pricing its shares at $17/share. The company popped 53% on its opening trading day. Despite only having total assets of $134.5 million as of January 2012, the company now carries a market capitalization of $1.61 billion. This growing company is riding on the coattails of the discount retailer trend.
Salesforce.com is a application software company that specializes in cloud computing and social enterprise solutions. The company is a large name in the popularized cloud computing space and is currently priced with a market capitalization for $17.37 billion despite only having total shareholder equity of $1.59 billion as of January 2012.
Amazon clearly leads as a titan in the online retail and distribution space. The company has continued to post meager earnings to date. Nevertheless, despite having only earned $0.96 in earnings since the quarter ending in September 2011, the company maintains a lucrative share price of $236.09 as of July 30, 2012.
LinkedIn operates as an online professional network. The company held a popular IPO last year in which its priced its shares at $45/share only to have them trade to intraday highs of $122.7/share on the first day. The company remains one of the few names that continues to trade near its all-time highs despite its affiliation with the social media IPO frenzy experienced over the last year.