In a 13D filing on MSC.Software (MSCS), Elliott Associates, L.P. disclosed a 5.5% stake (2,477,465 shares) in the company (9.2% collectively with Elliott, Elliott International and EICA).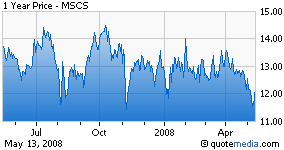 Elliott Associates has communicated to the company its belief that MSCS should consider exploring strategic alternatives, including a sale.
MSC.Software Corporation and its subsidiaries engage in the development, marketing, and support of simulation software and related services
Elliott Associates is a $9.8 billion New York-based hedge fund founded by Paul Singer. The fund has beaten the S&P 500 for 30 years.