The world's running out of everything: food, clean water, fossil fuels, metals. You name the resource and you're likely to hear that there's very little to go around.
Step back in time a mere 3 years, and there was a similar argument for real estate. Too many people. Too few places to build. Real estate prices will continue to skyrocket.
Step back to the year 2000, and dot-com bulls were equally myopic. Too many baby boomers are investing for their future retirement. Too few shares of companies are available. Stock prices will soar to Dow 40,000 by 2008.
Am I suggesting that the darlings of the ETF arena, "Resources ETFs," will tank? Not at all. Yet it's important to recognize the psychology of fear and greed.
Booms go bust... in every asset class, in every business cycle. It follows that investors must have a plan to sell. (Understanding the wisdom of avoiding the big loss is critical to long-term success.)
The prevailing winds on Resources ETFs would suggest that the boom shall continue. One can invest in natural resources companies through the iShares Natural Resources (NYSEARCA:IGE) fund, though nearly 70% of the sector weighting is in energy companies. If you prefer more iron, steel and silver, companies that extract minerals and metals can be had in the S&P Metals and Mining Fund (NYSEARCA:XME).
Where's the water? The Powershares Water Resources Fund (NYSEARCA:PHO) is a high-volume investment in water services companies. It is more of an infrastructure demand play than a direct investment in the commodity. One can diversify across the commodity landscape of oil, wheat, livestock, natural gas, gold, silver, steel and so forth with the Dow Jones Commodity Index (NYSEARCA:DJP). (See why I prefer a total commodity approach to a single commodity approach here.)
While Resources ETFs are currently booming in a very big way, what should we make of areas that have already gone bust? The consumer spending slowdown has crippled retailers. And the financial credit crisis made real estate investing trusts one of the least desirable areas in 2007.
Ahhhh... but some investors are out bargain hunting. The Vanguard REIT Index (NYSEARCA:VNQ) is above its long-term trendline and has outperformed the broader stock market in 2008. Ditto for the Retail HOLDRs (NYSEARCA:RTH).
That's right. Some of the worst investments in 2007 are outperforming in 2008.
The take-away? Recognize that there may be beaten-down value in the unloved areas of a stagnant economy. What's more, as powerful and as energetic as Resources ETFs have been, the possibility of "irrational commodity exuberance" requires your attention.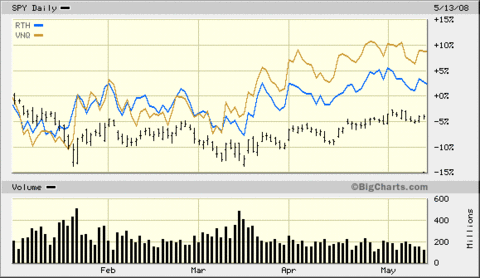 Disclosure Statement: ETF Expert is a web log ("blog") that makes the world of ETFs easier to understand. Pacific Park Financial, Inc., a Registered Investment Advisor with the SEC, may hold positions in the ETFs, mutual funds and/or index funds mentioned above. Investors who are interested in money management services may visit the Pacific Park Financial, Inc. web site.