Sodastream Share Valuation
Hello readers, due to a special request in my last article's comment section by fellow SA Contributor Josh Krause, I will be valuing a company with a very interesting product.
Sodastream (NASDAQ:SODA) is an Israel-based manufacturer of home beverage carbonation systems that enable its users to transform ordinary tap water into carbonated soft drinks and sparkling water.
Get to know Sodastream
Sodastream manufactures and sells soda makers and exchangeable carbon-dioxide (CO2) cylinders, as well as consumables, consisting of CO2 refills, reusable carbonation bottles and of course, flavors to add to its water. There are more than 50,000 retail stores in 42 countries which currently distribute Sodastream 's products. About 10,000 of those 50,000 retail stores were added during 2011. This includes more than 9,500 stores in the U.S., where its expansion plans are just beginning.
Growing in hand with retailers
Sodastream's growth has been fueled by recent retailer launches including Costco (NASDAQ:COST), Target (NYSE:TGT), Bed Bath & Beyond (NASDAQ:BBBY), Macy's (NYSE:M), Best Buy (NYSE:BBY), Kohl's (NYSE:KSS), JC Penney (NYSE:JCP) and others.
From its 10-k:
In the United States market, we are focused on identifying future retail partners, including opportunities with major mass retailers in the United States. Although Western Europe is our most developed region, we believe that we have significant opportunities to grow distribution as we are only in the early stages of development in many large markets such as France and Italy, and have not yet entered certain other sizeable markets.
New Product lines
The company continues to experiment with new products, such as an under sink dispenser, a soda maker with a built-in filter, a single-serve soda maker and products for the out of home segment. It launched a program known as "SodaStream Inside," where it manufactures a soda maker on behalf of a third party that is marketed under their brand name. Sodastream hopes to expand this program to include licensing its proprietary carbonating technology to third parties.
Business model
Sodastream has a "razor/razor blade" business model, which is designed to increase sales of soda makers (the razor) and to generate recurring sales of higher-margin consumables (CO2 refills, carbonation bottles and flavors; which are the razor blades).
The soda makers are typically sold in the United States at prices ranging from $79.95 for a basic plastic model that uses a plastic carbonation bottle, to $199.95 for the higher-end Penguin model.
Consumers typically pay either $29.99 for two 60-liter CO 2 refills or for one 130-liter CO 2 refill, $14.99 for two additional plastic half liter carbonation bottles or for one additional glass carbonation bottle and between $4.99 and $9.99 for a 500 ml bottle of one of Sodastream's flavors, which would usually produce 12 liters of carbonated soft drinks.
Its most obvious competitors, as far as carbonated soft drinks go, are Coca-Cola (NYSE:KO) and PepsiCo. (NYSE:PEP), which have prices of less than $30 for more than 14 liters (24 20-ounce bottles) and even a $10.28 price tag for 8 2-liter Pepsi bottles at Costco. Consumers with a sense for something different might justify the price of the consumables.
Higher corn and other input prices might put pressure on Coca-Cola and Pepsi to raise product prices in order to keep up, giving Sodastream's consumers another excuse to get their own home soda makers.
The company states in its 10-k:
There are about 5.5 million active customers, with many of the largest carbonated soft drink and sparkling water markets still remaining virtually untapped.

Our ability to successfully expand in the markets that we are targeting for growth depends, in large part, on whether we are able to establish relationships with strong retailers in those markets for the sale of our home beverage carbonation systems and the exchange of our empty CO 2 cylinders. Establishing or maintaining relationships with retailers may prove more difficult in the United States, our key market for growth, than in our other markets, as retailers in the United States may be more likely to be resistant to establishing and maintaining the reverse logistics needed for consumers to return empty CO 2 cylinders and exchange them for filled ones. There can be no assurance that we will be successful in establishing relationships with large retailers in the markets we are targeting for growth, or that if successful, we will do so in a time frame consistent with our projections or that will enable us to achieve significant sales.
Income Statement
If you need a visual representation of the company's Income Statement for the past 5 years, see the table below.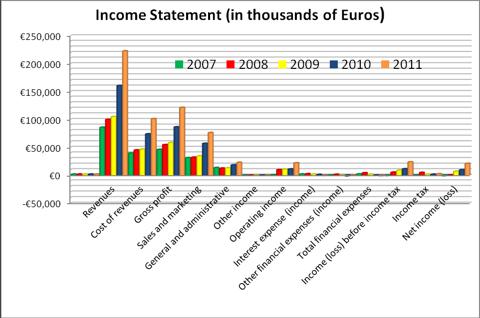 Revenues
Sodastream has two main sources of revenue, as you can see in the next chart, taken from Sodastream's 2011 10-k Excel version table 9 (in thousands of Euros):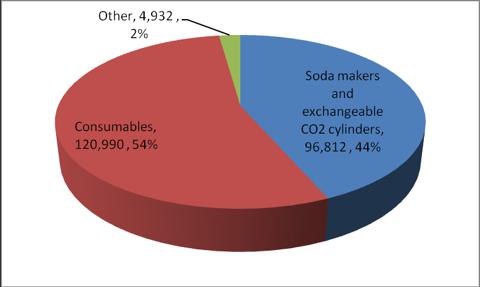 The business model indicates that the higher-margin consumables will have more impact on the company's revenue as the industry matures, which will give Sodastream wider gross and net margins.
Sales by Region
As you will see on the next graph, Sodastream is currently very dependent on Western Europe for its revenue. Its revenue from Western Europe has been falling in percentage terms, as the expansion plans for the U.S. keep on being successful.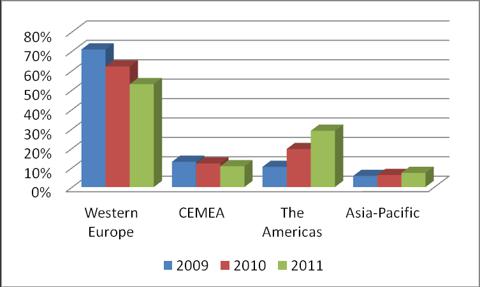 This decentralization of Sodastream's revenue will have to continue in case a Europe slowdown hits this company like a ton of bricks. Some would argue that it can have the opposite effect, since making your own soda would be cheaper if consumers bought and used Sodastream's products instead of buying regular brand cola or carbonated beverages such as Coca-Cola, Pepsi, or any other brand.
Cash Flows
Nothing can tell the story of Sodastream like its cash flows. Information taken from its 2011 10-k: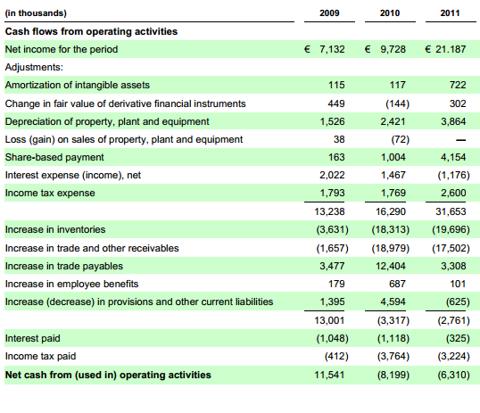 Operating cash flows are negative for the past two years, which would be a giant red flag if the company was not expanding. Notice how the inventories and receivable accounts have taken a giant leap forward, growing by about 5 and 11 fold from 2010 to 2011, with trade payables increasing by a factor of only about 3.5 times in the same time period.
These increases are due to Sodastream having its agreements with big chain stores like Costco, Target, Bed Bath & Beyond, Macy's, Best Buy, Kohl's, JC Penney and others. Sodastream is really getting the short end of the stick in this relationship, being treated like just another supplier, having to invest in inventory and delivering its products to said stores without having its money back for a while; therefore not being able to manage its operating cycle like it would want to.
Sodastream's expansion plans and its agreements with these stores are the reason why its operating cash flows are negative; as maybe the company got too accommodative with the distributors in the U.S. in order to gain more market share.
Sodastream will most probably have more bargaining power as a supplier as it grows and expands, becoming a more recognizable brand among consumers and non-consumers alike.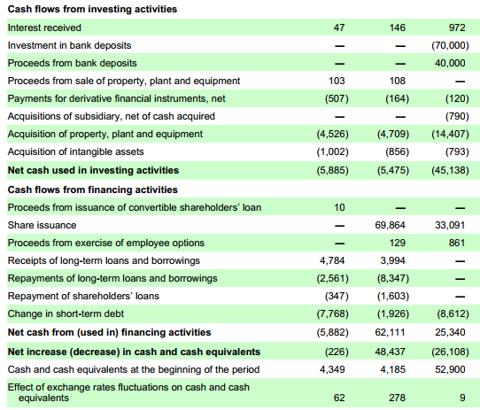 Sodastream went from buying around €5-6 million in fixed assets in 2009 and 2010 to over €14 million in 2011. This is a bright spot in its cash flow. Also, it has around €30 million negative cash flows coming from its investments in bank deposits, which is good if the company keeps growing organically while not burning through its cash reserves by expanding too fast.
The financing activities tell a much more interesting story, as the company has been paying back interest-bearing debt by issuing shares. Almost €70 million worth of new shares were issued in 2010 and over €33 million in 2011 as the company paid back every penny of its interest-bearing long-term debt.
Next up we have the expected Earnings growth that Sodastream will have, according to analysts who follow the stock: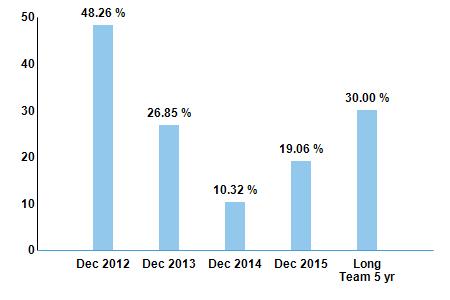 This year and 2013 are the most important for Sodastream in expansion terms, as the U.S. expansion can bring a huge earning growth as analysts expect.
Now it's time to take a look at Sodastream's most important metrics to see if there are any more cautionary signs we should be aware of.
Return on equity, assets, capital structure and liquidity
Company

ROE

ROA

Liquidity: Current Ratio and Acid-Test

Capital Structure:

Debt/Assets

Long-Term

Debt /

Assets

SODA

10.8%

7.4%

2.81 & 1.88

27.9%

0%
Sodastream's ROE and ROA have been growing to come in at almost double-digits each. This should be expected as the company doesn't have many assets, as it will not need brick-and-mortar stores to sell its product, investors should expect a higher ROA.
The company has enough liquidity to withstand more severe terms with its distributors or a mild recession. The low indebtedness of the company, stated earlier in the article, is something that I do find very attractive in growing companies, smart move paying off its debt with "free" equity.
Margins (4 year average)
Company

Gross Margin

Cost of Sales/

Sales

Operating Costs

Net Margin

SODA

54.7%

45.3%

43.7%

5.7%
Sodastream's margins are great, as its COGS is around 45% for every year since 2008. It does need to reduce its high S,G&A costs, which have represented around 43% of revenue for every year since 2008.
Its net margin has varied from a 0.5% low in 2008 to a 9.5% high in 2011. This will be closely watched by investors, who hope the company can at least maintain a net margin of above 8%.
Piotroski's F_Score & Economic Profit
| | | | | |
| --- | --- | --- | --- | --- |
| Piotroski's F_Score | Price/Book | EV/Sales Ratio | ROIC | WACC |
| 5 | 3.34 | $3.36 | 22.8% | 9% |
Economic Profit
Sodastream generated $14.4 million in Economic Profit in 2011, very healthy returns for this company.
Score: 5 out of 9
Sodastream scored average in the Piotroski's scorecard - its weak points being its negative cash flow, the seemingly ever-increasing equity offering, as the company increased its share count every year since 2007, from 5.5 million to over 21 million as of December of 2011.
This is one of the biggest red flags for short and mid-term investors: the dilution they will suffer as the company does not seem very interested in keeping its share price above water, and mainly focuses on longer-term expansion plans.
Investors are currently paying $3.36 for every dollar Sodastream sells, indicating a high degree of optimism for this company.
Return on Invested Capital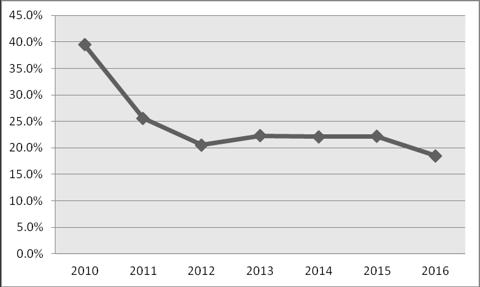 Projecting the "business as usual" scenario, these are the ROIC results that I expect Sodastream to have for the near future, its Return on Invested Capital is expected to be between 5% to 10% above its Cost of Capital. Any positive ROIC is good for investors, but they need to keep the company's share count in check, as it may need to keep issuing shares for its expansion plans.
Breaking down the pre-tax ROIC to derive an integrated perspective on the company's performance, we can see how Sodastream has Operating Margins of 12% and a Capital Turnover of 2.13, selling more than twice its Invested Capital each year.
DCF Valuation and Price Targets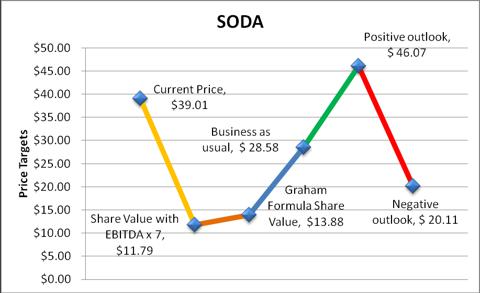 Using the EBITDAx7 valuation formula, we can see that the company would need to have EBITDA of around $88.5 million in order for its shares to be valued at $39.01, its current share price at the close.
It currently has $26 million in EBITDA and the projected EBITDA by 2016 is of over $80 million. This seems fair for investors who can wait for this company to keep growing and exploit a larger portion of its income as cash flows.
Next up we have the Graham Formula, which is still widely used by value investors to get solid companies at rock-bottom prices. Considering the $1.59 EPS it had for 2011, the company would need to report around $4.35 EPS to be valued at $39.01 per share. Not farfetched at all, as it is growing its top and bottom line very rapidly each year.
The expected EPS for 2012 is $2.52.
I used 3 scenarios for the DCF analysis:
The "business as usual" scenario: Sodastream keeps expanding its business at a pace it has had for the past years, with its revenues increasing 32% in 2012 through 2015, and subsequently dropping to a 30% increase in 2016. Its revenues grow 20% to perpetuity.
Its gross margins stay at 54.5% until 2016, when it drops to 53% due to competitive pressure and stays at 50% to perpetuity.
Its SG&A costs stay at 42.5%, its 3 year average from 2012 to perpetuity.
The investing to sales ratio remains at 10% for 2012, but drops to 7% in 2013, 6% in 2014, 5% in 2015 and 2016, and stays at 4% to perpetuity.
This means the company will invest an increasing amount of money each year for its expansion plans (it invested about $58 million in 2011). The investing cash flows range from $37 million to around $58 million in 2016, and stay at similar levels to perpetuity to keep up with its Capital Expenditures.
The Financing cash flows stay at around the same positive $20 million, mostly coming from share issuance and some short-term debt.
The "Positive outlook" scenario: Sodastream's U.S. expansion plans go better than expected, and its revenues grow at a 40% pace in 2012, then revenues grow at a 35% pace from 2013 until 2016. Revenues keep rising 30% every year to perpetuity.
The big-chain stores come to better terms with Sodastream, paying the company faster, lowering its cash flow requirement for increased inventory and accounts receivable. Sodastream gets even more efficient at lowering its COGS and S,G&A expense, improving its gross margin to 55.7% in 2012 until 2017, when it drops to 50% to perpetuity.
The "Negative outlook" scenario: Sodastream's expansion plans for the U.S. are a flop, the company's revenue is being hit by the economic crisis in Europe, which is now global.
Its revenues keep growing by 25% until 2016, and then grow 20% to perpetuity, held back by a slowing economy and increased competition.
Its gross margin stays at 54% until 2017, when they drop 50% to perpetuity.
Giving the "business as usual" a 50% chance of playing out, and the other 2 scenarios a 25% chance of playing out, my target price for December 2012 is $30.83.
I expect Sodastream's shares to fall 21% from here until December of this year, mainly driven by the company's continued dilution of its stock, not by the failure of the company in its expansion plans.
Technical Picture and Trade Ideas
Next up is the weekly chart for Sodastream.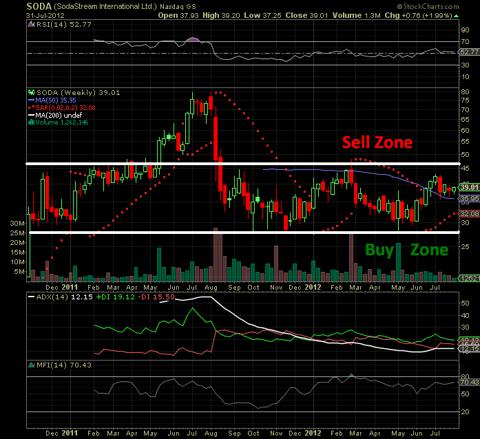 The weekly graph is pretty neutral, giving no bearish or bullish indication by itself, but it is trading above its 50 week moving average, which sits around $35.95.
Investors who want to initiate a position in the stock might want to take a look at selling cash-secured puts on a day when Sodastream is down for the strike price of $30. Try to get at least $1 of credit for the August contract, which expires in less than three weeks. This should be a very good buy zone as the stock has found pretty good support around the $28 level.
If you are already long, selling covered calls one or two strike prices above the current price when the stock is up or selling the stock when Sodastream hits $45 is a pretty good idea if you have no profit-taking strategy.
For my next couple of valuation articles, I am going to decide which of the following to value: Molycorp (MCP), Pfizer (NYSE:PFE), Apache Corporation (NYSE:APA), Google (NASDAQ:GOOG), Starbucks (NASDAQ:SBUX), Verizon (NYSE:VZ), AT&T (NYSE:T), Ford (NYSE:F), SandRidge (NYSE:SD) and Petrobras (NYSE:PBR). Feel free to give your input in the comment section below.
Disclosure: I am long TEF.
Additional disclosure: Also short SPY call spreads.