Investors should look past potentially disappointing first quarter earnings from BioteQ Environmental Technologies Inc. (OTC:BTQNF) due out today because profits from new projects won't trickle in until the second quarter.
Versant Partners analyst Massimo Fiore said the Canadian water treatment company's expected weakness come from expenses incurred from two new plants in Australia and China that were commissioned in the first quarter, but their revenues will not be collected until the second quarter.
In an interview Mr. Fiore said:
Q2 will look absolutely phenomenal. I think the stock's going to have a tough summer, but it's going to really recover in the late summer and early fall. This is a good cash flow machine.
BioteQ builds, owns, and operates plants that treat acid-contaminated water to recover saleable metals from the water.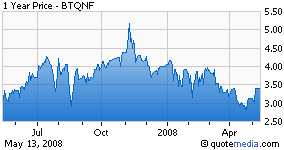 Mr. Fiore said that BioteQ's growth strategy will pay off for investors who buy in at current prices given continued strength in base metal prices and a healthy growth model. Its plans include another plant coming online in the third quarter and three to four plants per year in following years.
Q1 results are expected to be down 39%, or C$445,000, from the same period last year at C$692,000 in total revenue. Nonetheless, Versant has a one-year target price of C$5.45 and a "buy" recommendation on BioteQ.