CKX Lands, Inc. (NYSEMKT:CKX) is an oil and gas royalty company that owns a total of 10,375 net acres of land in Louisiana. The land use is:
Timberland - 6,371 acres.
Agricultural Land - 3,014 acres.
Marsh land - 741 acres.
Development Land - 249 acres.
The development land is contiguous to the city limits of Lake Charles, LA.
Most investors confuse this company with CKX Inc.(NASDAQ:CKXE), which is the company that produces the American Idol television show.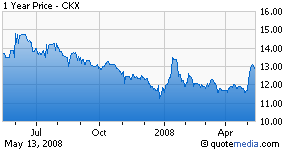 CKX Lands, Inc. (CKX) reported first quarter of 2008 (ending 3/31/2008) earnings on May 12. CKX does not hold a conference call or communicate with the Street. There is no web site for the company, and it typically releases earnings using a 10-Q filing, without even issuing a press release. Arthur Hollins, the CEO, retired on April 18, 2008, and Joseph K. Cooper, is the new CEO and President. It is unclear what effect this change will have on communication with the investment community.
Q1-2008 Earnings Summary
Revenues - $827,265
Operating Income - $605,290
Operating Margin - 73%
Net Income - $492,019EPS - $0.25
Dividends - $0.07
Cash and Equivalents - $7.0 million. (includes CD and securities available for sale)
Segments
Oil and Gas - $ 794,040
Agriculture - $32,587
Timber - $638
It is unclear why timber was so weak this quarter. In the same quarter of 2007, Timberland revenue was $33,634. CKX produced 5,068 barrels of oil in the first quarter at an average realized price of $96.43, and 33,338 MCF of natural gas at an average realized price of $8.25.
My Commentary
CKX's land is valued on its balance sheet at only $2.7 million., or $227 an acre. It is certain that the land is worth more than that. However, it is difficult to get a sense of the value due to lack of disclosure by management, and the dispersion of land holdings throughout Louisiana.
Two recent land sales may hold clues to what the land is worth:
In October 2007, CKX sold 3,495 acres in Cameron Parish, Louisiana, for approximately $3.14 million, or $900 an acre.
In April 2007, an entity in which CKX Land has a 16.67% interest sold 100 acres in Calcasieu Parish, Louisiana, for $1.9 million, or $19,000 an acre.
CKX still has 249 acres of land in close proximity to this sale.While CKX's quarterly dividend of $0.07 seems paltry relative to its cash flow, the company will usually pay out a special year end dividend. Last year it paid out an additional $0.40 in dividends, giving a trailing yield of 5.5%. In 2006, total dividends paid were $1.38.
Insiders own 21% of CKX land.
Disclosure: I am long this stock.