The Healthcare industry doesn't get its fair share of attention. In fact, I dare anyone to not have this recession-proof industry on their radar. While other sectors of the economy have weakened, this segment continues to outperform its peers. Here's the agenda:
Brief review of the healthcare industry
Technical review of the Health Care Spider (NYSEARCA:XLV)
Analysis on a pharmaceutical play for your portfolio
It's no secret that as the largest block of our society (28% of our population), the baby boomer generation born between 1946 and 1964, is quickly entering into retirement and will certainly need more medical attention as a natural part of the aging process. Health costs will inevitably rise and there is plenty of money to be made, not just within the industry itself, but also for those investors who are savvy enough to reap big profits in the stock market.
Why all the fuss about the industry?
Well, it is one of the world's largest and fastest growing industries, consuming over 10 percent of the gross domestic product in most developed nations. In 2003, health care costs paid to medical professionals consumed 15.3 percent of the GDP of the United States, the largest of any country in the world. If this statistic wasn't depressing enough, you are probably not excited to hear that by 2016, the industry will reach 19.6% of our entire GDP.
Last year, US healthcare expenditures totaled $2.2 trillion, which would equate to an average of $7,498 being spent on every person in the United States alone.
With the upcoming presidential elections in 2008, healthcare is rising quickly as a topic of choice, not just by Democrats, but Republicans as well. As costs ramp up, there will be intense debate as to how to curve the financial burden to citizens while maintaining and/or improving medical care and treatment options.
There are plenty of examples on how all of this industry will begin to change the dynamics of our economy. One thing's for sure; in the quest to produce better medicine and patient service, career opportunities will soon be in higher demand than they already are. Graduates from college and healthcare school programs will enter into health care positions that are expected to rise 27% by 2014.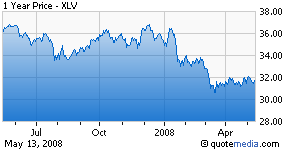 With regards to related markets, the Health Care Spider (XLV:AMEX) index bottomed out in late 2004 and is doing the same right now! In fact, we've seen significant buying interest just in the past two months alone, which has resulted in a steep ascension of its shares. These upward trends are unlikely to change course in the foreseeable future.
In mid 2006, the index broke out from its typical trading range into a new phase of price appreciation. This accelerated movement now has shares of XLV resting near $31.48 and poised for more gains in the months ahead.
Among many opportunities that exist in the market, I'm about to reveal one of many companies that I follow with great promise for your portfolio in the years ahead.
Savient Pharmaceuticals (OTC:SVNT) is a company within the healthcare industry that focuses on the development and marketing of products that address the medical needs of its customers.
If you were to take a look at the three-year chart of SVNT, you'd notice that the stock has made a huge run from around $2 all the way to $16.
Since then, the stock has been trading relatively flat for pretty much the entire year. Normally, most investors would look at the chart and yawn. Conventional thinking would argue that the fork has been stuck in SVNT. It's not moving right now; it's not sexy enough to get into, blah…blah…blah.
I've heard it all before. But you know something; you and I are not the average investor. Those who go against the grain and raid the market for profits stand to gain the big payout. Sexy stocks of today are not where the new money is. Their stories are already played out…finished.
On a surge from the current trading range between $11 and $16, you should expect a rather similar movement in magnitude to what was seen in late 2006 when the stock tacked on a $10 gain following a breakout from consolidation.
More recently, shares have surged to $24.60 on above average volume – the third highest volume day in three years, which occurred near the end of '07.
You could play this setup one of two ways. Either you can buy in now and place a stop loss just below major support near $23, or you could wait for the push past resistance at $25 and ride it.