Last week, WiMAX (wireless broadband data communications) took center stage in the tech sector with the announcement on Wednesday by Sprint Nextel Corp (NYSE:S), and Clearwire Corp. (CLWR), that they had finally decided, after many months of prevarication, to merge their WiMAX networks. Backed financially by giants such as Intel Corporation (NASDAQ:INTC), Google Inc. (NASDAQ:GOOG), and cable companies Comcast Corp. (NASDAQ:CMCSA) and Time Warner Inc. (NYSE:TWX), the move has rekindled excitement among investors about the technology.
Of the Israeli companies in the sector, Alvarion (NASDAQ:ALVR) soared 28% over the week, most of which I attribute to traders who had sold short and then purchased shares and have now been "crushed" for two reasons. Last Monday, Alvarion unveiled better-than expected results and guidance, and this was followed two days later by the aforementioned announcement from Sprint and Clearwire. Latest figures released last Friday show that short interest in Alvarion had doubled to 2.8 million shares in April.
Alvarion, it will be recalled, is not involved in the Sprint project, but another Israeli company, Ceragon Networks Ltd. (NASDAQ:CRNT) has been participating in the preliminary trials for some time, a fact confirmed by company president and CEO Ira Palti in an interview with "Globes TV" two weeks ago. "We've been deeply involved in Sprint's project, and I hope that we'll get a share, once it gets underway," he said. Ceragon gained 22% over last week, edging past the $10 level for the first time since January.
Whether Ceragon will start winning large-scale orders from this project this year remains unclear, since on the one hand it was disclosed that the project would not get underway until the aforementioned merger closes in the fourth quarter, while at the same time, the two companies have gone on record as stating they intend to expand coverage to 15 million users by the year end.
In any case, it may well be that the US cellular infrastructure market could be galvanized into action by the Sprint announcements and should that be the case, Ceragon is likely to beat the 25-30% growth estimate it issued when it unveiled its first quarter results, since its working assumption was based on the expectation that the US market would come to a total standstill.
Another Israeli company likely to benefit from the revival of the WiMAX venture is billing and customer relationship management software giant Amdocs (NYSE:DOX). In early January, the company and Sprint formally announced that Amdocs had been selected to provide a billing and customer care platform for the venture, and there is no reason to assume that this will now change, despite the impending redistribution of the venture's ownership. Amdocs has close ties not just with Sprint, but also with cable television operator Comcast, one of the partners in the venture.
Getting back to Alvarion, the leading pure play company in the WiMAX sector, Sprint's announcement coupled with KDDI's project in Japan (both of which, incidentally, are backed by Intel), have finally laid to rest the fears that this technology will never take off, as some had been alleging. Although Alvarion is not involved in Sprint's project and also didn't pick up anything in the first round of orders in the KDDI project, the company said in its conference call that its full-year guidance was based on one or two major wins by the end of the year. It still hopes to win a share in the KDDI project thanks to its demonstrably superior technology, and it also expects to win a significant contract in Taiwan, following the frequency tenders recently announced there.
The need to switch from broadband, but wireline-based communications networks, such as cable or DSL, to wireless networks with a range large enough to cover an entire city, is immense, and existing cellular communications technology does not offer a solution since it is still slow. WiFi points are also inadequate since they are only good for extremely short ranges such as in coffee shops and airports. WiMAX appears to be a good and readily available solution, and I believe the day is not far off when we will be able to connect to the Internet at exceptionally high speeds, just as we do at home, from laptops, and eventually, from advanced handsets, while sitting in a cab stuck in a traffic jam in the city center.
Omrix - Back from the brink?
Biopharmaceutical company Omrix Biopharmaceuticals Ltd. (OMRI) has tumbled 60% since the beginning of the year after it well and truly missed the highly optimistic estimates of all the analysts covering it. "Weak guidance management and poor communication with Wall Street," was how the analysts described the company's disappointing results for the fourth quarter of 2007 and full-year guidance for 2008, which set in motion the share's collapse from $34 at the beginning of the year.
I put Omrix back in my portfolio tracked by "Globes" a month ago, since I believe it is a most interesting niche company in the rapidly expanding field of biosurgical sealants, with the giant Johnson & Johnson Inc. (NYSE:JNJ) alongside it as its R&D and marketing partner. Last Friday's unveiling of its results for the first quarter of 2008 appear to have done little to dispel the confusion on Wall Street, since otherwise I have difficulty fathoming why Oppenheimer believes it beat the market estimates by a cent ($0.14), while UBS thinks it missed them by the same amount, when it actually reported earnings per share of just $0.12. (See Transcript)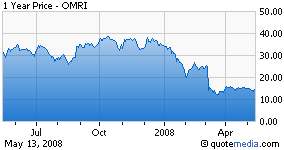 Omrix has still not appointed a full-time CFO, following the surprise resignation in February of Ana Stancic who was only in the post for a brief spell. The appointment of a full-time CFO might have prevented the misunderstandings that analysts still have about what they should and what they should not be paying attention to in the company's forecasts. Getting back to the crux of the matter, Omrix has swung back to rapid sales growth, beating the market forecasts hands down in the process, with sales of $17.7 million for the quarter against the market estimate of $15.8 million only.
Omrix's growth engines are its biosurgical sealant product line, which grew by an annualized 120% in the first quarter, an increase that will ensure the company delivers on the target it gave in its full-year guidance - 75% growth in this niche in 2008 as a whole. Of the investment houses and banks covering the company, Oppenheimer, which as mentioned earlier believes Omrix beat the earnings per share target, has set an exceptionally high price target of $29 for the company, while UBS, which also rates it "Buy" is satisfied with $16. In the middle is Citi which also rates Omrix "Buy", with a target price of $20.
Published originally by Globes [online], Israel business news - www.globes.co.il
© Copyright of Globes Publisher Itonut (1983) Ltd. 2006. Republished on Seeking Alpha with full permission.