Welcome to the dog days of summer. It is generally that time of year when I take both a physical and mental break from the markets, but there are just too many interesting developments currently to back away too far. I will however keep it short.
The Aussie punched out a new high of the move this week to shift its secondary pattern higher on the heels of a better than expected building approvals number on Tuesday. Those higher prices combined with this customary slower time of the year however, prevents us from participating in more upside, at least not on a position basis. Another development which should caution longs is those beautiful micro bear patterns we've seen in the S&P 500 two days in a row. Perfect bearish intraday patterns in our book seen in both stock indices and the Aussie pairs, despite two days in a row of bullish numbers - an uptick in consumer confidence on Tuesday and a higher than expected ADP employment figure on Wednesday. Hate to go all micro on you, but it beats losing. The FOMC statement was a wash, given it told us what we already knew and the stock market yo-yo'd it up a bit afterwards, but ended up down by a bit less than 0.5% on the close. We would love to see a correction in AUDUSD to cheaper levels, and are currently running the risk of missing out on a move on 1.08 in favor of patience.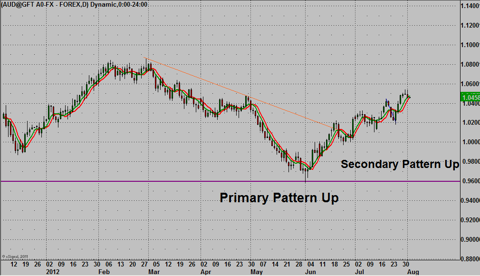 Figure 1. AUDUSD Daily Chart
The Euro continues its institutionalized weakness and even without a much weaker than expected German Retail Sales number on Tuesday, we see the short-side still attractive for everyone from position traders, to swing traders, to day traders. Just use stops and never forget: "lose your opinion, not your money". That the pattern we see on the chart is a reflection of everything naturally, socio-politically, and economically, is gospel for us, so we aren't shy about leaning short here in the face of a familiar "southern slant" formation on the chart. Instead of giving us a double top, the market is such a weakened state that it keeps coming up shy on that right side top. We also like that our old friend the 14 bar RSI held below 50 on this most recent short-covering correction to 124.00. The risk in this market in our estimation is in missing the drop-down to 1.18 - 1.19. Keep in mind the German economy benefits from a cheaper currency.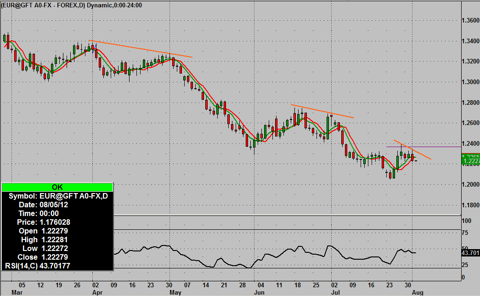 Figure 2. EURUSD Daily Chart
USDCAD is showing signs of life following today's FOMC business, after finding support at par -- 1.00. A weaker than expected Canadian GDP figure on Tuesday kept a lid on the Loonie and supported USDCAD at that 1.00 level. We like setting up longer-term buys at that level, particularly in light of the risk on the trade. Stops just below .9975 ought to do it. If not the loss is a small one. The U.S. non-farm payroll looms on Friday and we expect volume and trading activity will taper off steadily into the month afterwards.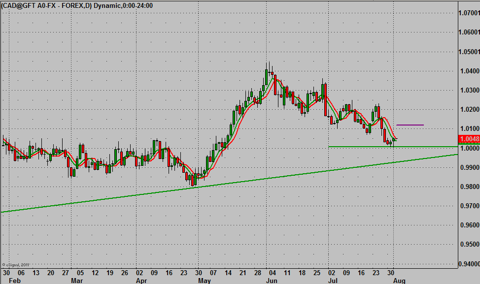 Figure 3. USDCAD Daily Chart
Trading involves risk of loss and is not suitable for all investors!
Disclosure: I have no positions in any stocks mentioned, and no plans to initiate any positions within the next 72 hours.