This should be an exciting day!
Yesterday's action was much the same as Monday's, with an irrational rally based on $125 oil cheering up the energy sector. Solars went nuts as a CitiGroup analyst Tim Arcuri claimed his "contacts indicate the House Ways and Means Committee is likely to propose a new bill that will extend most of the credits for at least several years — longer than the one-year extension that has been discussed to date. The House is hoping to pass a bill before the Memorial Day recess."
Unfortunately, there was absolutely NO confirmation of this whatsoever and we're sure it's entirely coincidental that C initiated coverage on Friday with a buy on First Solar (NASDAQ:FSLR) and a hold on SunPower (NASDAQ:SPWR). Citigroup calls FSLR a buy on Friday with a p/e of 120 and on Tuesday one of their analysts claims to have inside information that the House is going to be extending solar tax credits. No, no sign of manipulation here… Speaking of manipulation - Of course Cramer had to herd his sheep in AFTER the 7% run on the day. FSLR is already featured on IgotCramered.com as it has often been featured on his show long after the momentum has slowed.
We sold into the excitement and picked up puts on FSLR, which is a train wreck of a company anyway as the exuberance was beyond irrational for a company that sells solar cells in Europe, and the extension of the bill will have little or no impact on their future sales. What FSLR has is production problems and cost problems and materials problems and pricing problems and the nagging problem of a market cap ($24Bn) that is 48 times total revenues and 153 times last year's earnings. That means sales need to double and double and double again, just to get the p/e down to 35 IF they are able to keep costs down over the next 3 years. This company is simply an accident waiting to happen and this is going to be an excellent opportunity to grab the Sept $330 puts, probably for less than $60 and I'm in no particular hurry to sell the June $290 puts, now $15.75 as I'm fairly confident they will be back to the $30 they were at on Friday very soon.
FSLR's panels require Tellurium and it is a very rare metal that was $10/Kg when FSLR started using it in 2004 but ran up to $860 last year and, as of April 9th, was selling for $2,060 per killogram! Why is this? Because FSLR, in order to make just $158M (at an average of $400 per kg last year), USED UP 10% OF THE WORLD'S ANNUAL SUPPLY OF TELLURIUM! So beware Cramer fans, this is a trap that can spring pretty fast - BooYa!
Asia had a pretty good morning with the Nikkei up 1% and the Shanghai Composite picking up 3% as the earthquake damage is being spun as "not too bad" and there are rumors that a Chinese company is buying a stake in BHP Billiton (NYSE:BHP), which sent the whole mining sector flying. Banks also did well but Pioneer dropped 18% on an earnings warning, the same kind of thing our markets are ignoring this week.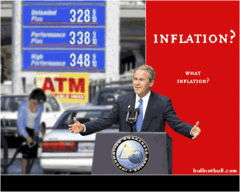 Europe was heading straight down in the morning as BNP Paribas posted a 21% decline in net profits and ING Group (NYSE:ING) took a 19% hit and the BOE warned inflation was heading past the 3% tolerance limit and said there was "a significant chance that it could spike above 4%." Europe has, however, perked up with our CPI report.
Our markets are taking off on a very tame CPI report, showing just a 0.2% rise and just 0.1% ex food an energy. Despite the pause, Consumer prices are up 3.9% over the past 12 months with just a 2.3% rise in the "core," so any increase in the cost of goods in your life is either an illusion you are experiencing or the result of your irresponsible shopping habits because it's sure not showing up in the government data!
According to the report:
Energy prices were unchanged
Gas prices fell 2%.
Natural gas prices rose 4.8%
Food prices rose 0.9% (that is in a single month!)
Transportation prices fell as new car prices AND airline fares (???) dropped.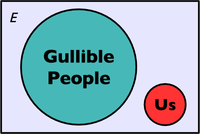 In a separate report, the Labor Department said the average weekly earnings of U.S. workers, adjusted for inflation, fell 0.5% in April, suggesting incomes aren't keeping pace with prices, which could weigh on consumer spending. How this all translates into the Dow up 40 points pre-market is beyond me. Of course this data is very suspect, but what are you going to do about it? I am simply amazed that the media just spits out whatever garbage they are handed as unquestionable facts.
We have the oil inventories today and if we can knock oil down I may even want to buy into this rally, but I am remaining cautious until we get a firm breakout of our levels. If I wasn't already covered, I'd be covering into this morning's pop, which is taking us near enough to the week's high to make me happy to cover. We need 12,850 to shape up as a real floor before we can embrace the statistical BS that's been handed to us this morning and, let's not forget, it's options expiration week - anything can happen!
Be careful out there!