Shares of Bed Bath & Beyond Inc. (NASDAQ:BBBY) have plummeted 21% from their 52-week high of $75.84, primarily owing to the company's lackluster Q1 2012 earnings release. The plunge has resulted in a 52-week low P/E (see chart below). I believe the market has overreacted to the disappointment over the announcement, given that BBBY's growth prospects remain robust and the company's fundamentals are sound. Now is a great time to bargain-hunt this solid stock. In this article, I will illustrate the rationales supporting my bullish view on the stock.
Click to enlarge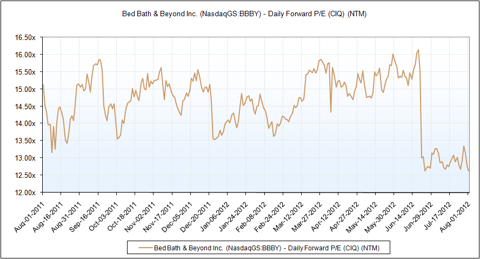 Click to enlarge
The value analysis described below includes a set of specialty retailers in the United States as BBBY's comparable peers. The estimated BBBY stock value is then determined by equally weighting the valuations calculated by five different peer average multiples - EV/Sales, EV/EBITDA, P/S, P/E, and EV/FCF.
BBBY's top line is expected to grow at a 2-year CAGR of 10.8%, substantially faster than the peer average of just 5.5% over the current and next fiscal years. Although both the EBITDA and EPS are estimated to rise by a slower pace, the difference is just marginal (see comparable analysis table below).
BBBY's profitability is also superior. The company significantly outperforms the group averages in all of the margin metrics. Its ROE is in line and ROIC is also higher (see comparable analysis table below) than group average.
Moreover, BBBY's liquidity condition is excellent. Its LTM FCF margin almost doubles the peer average. The company assumes no debt and is able to maintain lofty current and quick ratios relative to the group (see comparable analysis table below). BBBY has approximately $1.7B cash in the balance sheet, which amounts to about 12.3% of the current market capitalization.

Click to enlarge
As such, it would be reasonable to assume BBBY trading at a solid premium over its peers, likely at 10% to 20% to account for its superior financials and growth prospects. Nonetheless, the current stock price of $60.24 implies a 7.3% valuation discount to the five peer average multiples, suggesting the stock is undervalued and the market reaction is likely overblown (see relative valuation below). Applying a more reasonable 15% valuation premium, the estimated stock price would be 22% higher at $73.68.

Click to enlarge
In addition, the consensus estimates for the company's revenues, EBITDA, and EPS have experienced multiple upward revisions over the past few months, indicating that market's confidence in the company remains strong, even after the announcement of a disappointed Q2 guidance (see table below).

Click to enlarge

Click to enlarge
In conclusion, the company's operations and fundamentals remain intact. In the light of the low valuations, I encourage investors to establish a long position in the stock by either buying the shares at the current price or selling out-of-money put options.
Comparable analysis table and relative valuation table are created by author, and estimates table and P/E chart are sourced from Capital IQ, and all financial data is sourced from Capital IQ and Morningstar.
Disclosure: I am long BBBY.