While the broad Russell 2000 index is flat over the past year, several dividend stocks have sunk to new 52-week lows. In general, investors are unloading the shares of these dividend payers for several reasons, including weak sales growth due to a more challenging macroeconomic environment, sales declines due to outdated business models, stiff competition stifling growth, and industry dynamics pressuring margins and profitability.
Some of the companies hovering around their 52-week lows could represent good value and income plays. However, the very fact that prices have dropped, in some cases substantially, does not mean that stocks are cheap or safe for investment. Investors should be cautious about initiating long positions in some of the noted stocks because they may represent value traps. Attractive yields should be closely scrutinized in the context of the dividend sustainability and total return potential in the coming years.
Here is a snapshot of five dividend-paying companies whose shares have touched 52-week lows recently:
Click to enlarge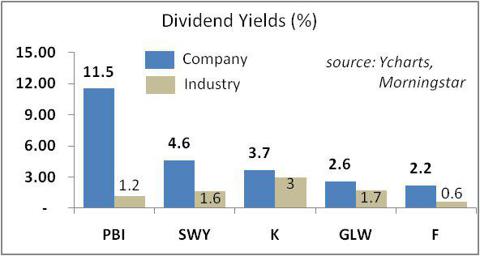 Click to enlarge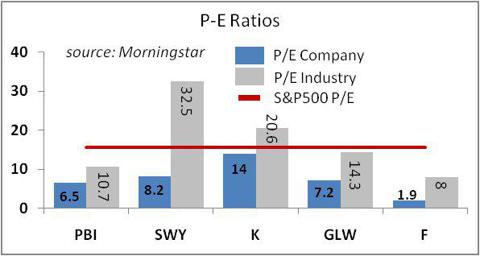 Pitney Bowes (NYSE:PBI) is a dividend aristocrat that has increased dividends for 30 consecutive years. It is a $2.7-billion company providing mail processing equipment. It pays a spectacular dividend yield of 11.5%, the highest among dividend aristocrats. The company's payout ratio is 44%. Its peer Neopost SA is privately held, while competitor Xerox (NYSE:XRX) pays a dividend yield of 2.5%. While the company boasts a lucrative yield and attractive valuation - with its P/E about a half of that for its respective industry - the company's model is generally perceived as outdated. New technologies have been fast replacing the traditional mail handling business. In light of the limited growth potential, analysts forecast that the company's EPS will grow at a meager 1.4% per year for the next five years.
The company still generates large free cash flows, which help sustain the dividend at high levels. However, the substantial declines in Pitney Bowes's share prices have inflated the stock's dividend yields. While dividends grew 2.8% per year over the past five years, the stock plummeted more than 70%, including a plunge of 38% over the past year alone. The shares are currently trading at $13.36, half a buck away from their 52-week low. Investors will be better served to find other high-yield stocks with sustainable growth that have a potential to generate positive total returns. Notwithstanding its high-risk profile, the stock is popular with fund managers Israel Englander and Cliff Asness, both of whom significantly hiked their stakes in the company in the first quarter.
Safeway Inc. (NYSE:SWY) is another high-yield dividend stock, currently yielding 4.6% on a payout ratio of 38%. This grocer boosted its dividend at a remarkable 20.4% per year over the past five years, mostly at the expense of a higher dividend payout ratio. Plus, the dividend yield is currently exacerbated by the steep decline in the stock price of some 23% over the past year. At present, the stock is trading at $15.55 a share, little more than 5% above its 52-week low. The company is operating in a fiercely competitive environment. Price wars and a weak economic environment have produced thin margins and sluggish sales growth. These challenges will likely persist in the medium term. The company has high debt-to-equity ratio and has been using borrowed funds to repurchase shares. It is relevant to note that the stock price has fallen precipitously since the beginning of the year despite the company's using $1.24 billion to buy back its own shares.
Safeway shares appear to be valued below the company's peer group. However, its debt burden is excessive as its debt-to-equity ratio rests at 267%, about 5.6 times higher than that for its industry on average. The future growth potential is limited, with same-store sales hardly growing. The company's competitors Wal-Mart (NYSE:WMT) and The Kroger Co. (NYSE:KR), which pay dividend yields of 2.1% each, are in better competitive positions. Despite its weaknesses, the stock is still a large holding in the hedge fund portfolios of Howard Marks (Oaktree Capital Management) and Ray Dalio.
Kellogg Company (NYSE:K) is another stock hovering around its 52-week low. This cereal maker has been a dividend payer since 1925. Over the past five years, it grew its dividends at 8.1% per year. Currently, the stock is yielding 3.7% on a payout ratio of 52%. The company's peers General Mills, Inc. (NYSE:GIS) and Kraft Foods (KFT) are paying dividend yields of 3.4% and 2.9%, respectively, while competitor Ralcorp Holdings Inc. (RAH) does not pay any dividends. The company is likely to be affected adversely by the drought-induced spike in grains prices. Also problematic is the company's high debt load, totaling 283% of equity, which is five times as large as that of its industry on average. The shares are now down 14.5% over the past year to the current $47.70 a share. Its 52-week low is at $46.33 a share. The company is attractive value: its current and forward P/Es are below those of the respective peer group and the company's own historical ratios. Among fund managers, the stock is popular with billionaires Ken Griffin and Cliff Asness.
Corning Inc. (NYSE:GLW) is a $17 billion maker of specialty glasses, ceramics, and related materials. The stock is paying a dividend yield of 2.6% on a payout ratio of only 21%. Its competitors Sony Corporation (NYSE:SNE) pays a dividend yield of 2.4%, while rival Universal Display Corp. (NASDAQ:PANL) does not pay any dividends. The company has been overly dependent on sales of LCD display technologies in a market that is overburdened by oversupply, shrinking margins due to large price drops, and thus declining profits. These negative trends are likely to persist in the near future.
Corning's specialty materials segment producing "Gorilla Glass" screen covers, the favorite among smartphone makers, has seen strong growth due to the smartphone boom, although margins remain low. Vibrant growth has also been recorded in the Corning's telecom business, driven by optical fiber, data centers, and wireless. It should be noted that the company has a solid balance sheet, with very little debt. Corning's valuation is also attractive, as the shares are trading on a low P/E and below book value. Fund managers Lee Ainslie (Maverick Capital) and John A. Levin (Levin Capital Strategies) each hold more than $100 million in the company's stock.
Ford Motor Co. (NYSE:F) is another stock hovering around its 52-week low. The shares are currently trading at $9.24, close to their 52-week low of $8.83. This automaker reinstated its dividend payouts this year after a long pause since 2006. Currently, the stock is yielding 2.2% on a very low payout ratio of 5%. Its rival General Motors Company (NYSE:GM) does not pay any dividends, while competitor Toyota Motor Corporation (NYSE:TM) pays a dividend yield of 1.2%. Despite the U.S.-based recovery in auto sales, plunging vehicle sales in Europe and weak performance in emerging markets are hurting profits in the near term. The strengthening dollar is also weighing on the financial performance.
Once the European crisis stabilizes, the world economy accelerates growth, and the global employment picture improves, auto sales will rebound. The aging vehicle fleet reaching record age in the U.S. bodes well for the new vehicle substitution. While the company is managed well, a major source of concern is the sustainability of Ford's large debt load, which totals 6 times the automaker's equity. In comparison, GM has little debt on its balance sheet. Still, Ford is attractive on valuation, as its current and forward P/Es are well below those of the automakers on average. The stock is popular with Jonathon Jacobson (Highfields Capital Management) and Appaloosa Management's David Tepper, both of whom initiated new positions in the stock in the first quarter of 2012.
Disclosure: I have no positions in any stocks mentioned, and no plans to initiate any positions within the next 72 hours.