At $82.64, shares of Caterpillar (CAT) have declined 29% from its 52-week high of $116.95 in February. I believe the plunge has created an excellent buying opportunity for this quality long-term dividend investment as the current valuations offer a solid margin of safety relative to the company's strong fundamentals. In this article, I will illustrate the rationales that support my bullish view on the stock.
My value analysis described below includes a set of industrial machinery manufacturers as CAT's comparable peers. The estimated CAT stock value is then determined by equally weighting the valuations calculated by four different peer average multiples - EV/Sales, EV/EBITDA, P/S, and P/E.
In terms of growth potential, consensus estimates predict CAT's revenues, EBITDA, and EPS to rise by a significant 2-year CAGR of 13.1%, 16.0%, and 20.4% over the current and next fiscal years. These estimations are substantially higher than the peer averages of 8.2%, 6.4%, and 10.2% for the same period (see comparable analysis table below).
CAT's profitability also stays substantially above averages. Gross, EBIT, EBITDA, and net income margins are generally 20% to 30% above the peer averages, and the company's capital return measures such as ROE and ROIC also significantly outperform the group (see comparable analysis table below).
Although CAT's FCF margin is fairly in line and leverage is a bit higher, the firm is able to maintain a higher-than-average interest coverage rate. CAT appears to only underperform the group in the measures of current and quick ratios. But on an absolute basis, those ratios remain healthy (see comparable analysis table below).

Click to enlarge
As such, one would expect CAT stock to trade at a solid valuation premium (approx. 15% to 25%) to account for its financial excellence and the firm's strong global market position in industrial machine supply. Nevertheless, the current stock price of $82.64 only implies a small 6.7% premium over the four peer average valuation multiples, suggesting that a price downside is likely limited (see relative valuation table below).

Click to enlarge
In addition, after the recent plunge, the stock's forward P/E has dropped to a 52-week low (see chart below), and a technical price chart shows that the stock has been trying to break its 30-day simple moving average recently (see chart below). Once it breaks through, I believe the 50-day SMA will likely serve as a technical support for some time.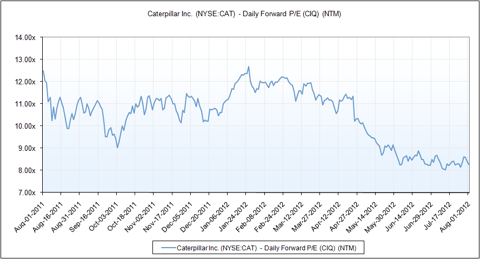 Click to enlarge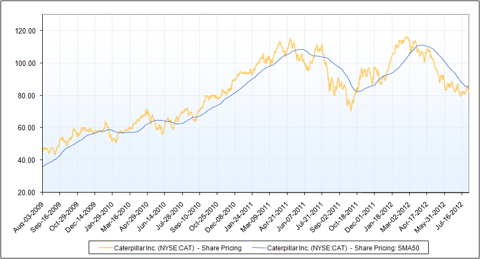 Click to enlarge
Bottom line, I strongly recommend investors taking this opportunity to add the shares of this strong company in your portfolio in light of the attractive valuations.
Comparable analysis and relative valuation tables are created by author, technical price chart and P/E chart are sourced from Capital IQ, and all financial data is sourced from Capital IQ and Morningstar.
Disclosure: I have no positions in any stocks mentioned, but may initiate a long position in CAT over the next 72 hours.