We previously analyzed and evaluated The Boeing Company (BA) versus EADS (OTCPK:EADSY) and we concluded that despite Boeing's recent troubles with the Dreamliner, we would prefer to invest in Boeing due to its superior profit generation versus EADS. While Boeing will be seeing headwinds to growth in its Defense, Space and Security unit due to the military budget sequestrations associated with the "fiscal cliff", we believe that it is much better positioned for growth than Lockheed Martin (LMT) or Northrop Grumman (NOC) due to its larger portfolio of commercial operations. Despite the fact that Boeing has a slightly higher percentage of revenues from government contracts than EADS, we prefer Boeing because it has much less exposure to the European macroeconomic environment.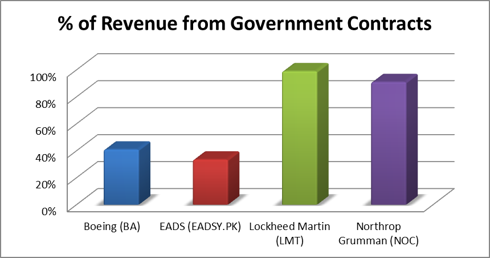 Sources: Company press releases
Commercial Air Businesses:
Both Boeing and EADS/Airbus checked in with strong commercial results. Boeing regained leadership in this segment with regards to planes delivered and revenues generated from Airbus. Boeing delivered 150 planes during Q2 2012 and 287 for H1 2012, up from 118 and 222 in the respective prior periods. Boeing received 694 new orders in H1 2012 and has a 4,000 plane backlog which will enable it to generate $302B in revenue in future years. Boeing is looking to increase its production further in order to ease that backlog and enable customers to get the new fuel-efficient airplanes in their fleets sooner. Even with the dilutive impact of 787 and 747-8 deliveries, Boeing Commercial Airplanes generated 34% increase in revenues and 32% increase in segment operating income for the quarter. Year to date results were even stronger as the division generated 43% revenue growth and 60% segment operating income growth.
EADS's Airbus subsidiary also enjoyed strong in 2012. Airbus achieved 17% revenue growth in Q2 2012 versus the comparable period last year and 15% for the first half of 2012. We took note of Airbus's strong improvements in EBIT for the quarter. Airbus EBIT grew by 310% for the quarter and accounted for its H1 2012 EBIT growth in euro terms. Airbus Commercial delivered 279 airplanes to customers and booked 230 net orders during the first 6 months of 2012. Net orders were down versus the 640 achieved last year at this time.
Defense Related Businesses:
Boeing, EADS, Lockheed and Northrop saw mostly positive results in each company's defense related operations. Boeing enjoyed revenue growth of 7% for the quarter and the year, however operating income growth was soft due to lower sales volumes associated with the Brigade Combat Team Modernization program and a one-time boost in 2011 from a positive contract adjustment at United Launch Alliance.
EADS saw positive growth overall in its Defense related business. EADS generated €8.5B in its portfolio of defense related businesses during the first half of 2012, up from €7.7B in the prior period. The division shook off weakness in its Airbus Military operations and enjoyed growth from Eurocopter, Astrium, Cassadian and its other defense related operations in order to enjoy a 45% increase in EBIT for the half. Even though EADS has taken steps to improve its results here, Boeing still outperforms EADS in this segment.
Lockheed Martin had 3.3% revenue growth and benefited from reduced growth in operating expenses, the absence of $97M in severance charges and a reduction in shares outstanding to post a 10.2% growth in its EPS from continuing operations for Q2 2012.
Northrop Grumman had overcome reduced product revenue volumes and slow growth in its services portfolio in order to generate 3.9% EPS growth in Q2 and 10.3% year-to-date. Northrop Grumman's EPS growth was due exclusively to an 11% reduction in shares outstanding for the periods. We think that it was a rational move for Northrop to buy back shares in the wake of softening defense and government spending headwinds.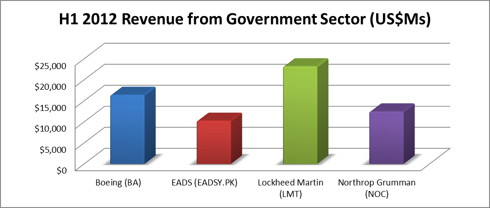 Sources: Company press releases
Boeing came into 2012 with a heavily levered balance sheet due to its accrued liabilities for underfunded pension plans and retiree health care plans. Despite growing its assets by 2% in the first half of 2012 relative to the close of 2011, Boeing actually reduced its outstanding liabilities by $600M and boosted its total shareholders' equity by 65%. Boeing made a discretionary pension plan contribution of $763M for the first half of 2012 and will make a similar contribution in the second half of the year. We also believe that increased cash collections in the second half are achievable and that Boeing could potentially generate $5B in operating cash flows for 2012. Factoring in $2B in planned CapEx for 2012, we believe that the company could generate $3B in free cash flows, which would further shore up Boeing's balance sheet.
In conclusion, Boeing, EADS, Lockheed and Northrop all posted positive results despite facing challenging macroeconomic headwinds. Of these four leading aviation and defense companies, we would prefer Boeing because it is the worldwide leader in the commercial aviation segment and because of its progress in resolving the 787 Dreamliner issues. We were especially pleased to see that Boeing's Q2 revenues were the fourth straight quarter than Boeing had grew its revenues faster than EADS. Boeing also grew its revenues faster than Lockheed and Northrop Grumman. Lockheed and Northrop saw its EPS growth come primarily from share buybacks. We believe that once Boeing reduces its pension plan deficit and generates profitability from the 787 Dreamliner, it will be able to join Lockheed and Northrop in buying back shares or boosting the dividend per share. We continue to see growth in Boeing's commercial segment offsetting the weakness in the defense segment. We continue to expect faster growth from Boeing than EADS in the future because we see the European debt crisis resulting in weaker economic growth in the European market versus the US market. While EADS saw improvements in its profitability, its H1 2012 profits were less than Boeing's Q2 profits. Another reason why we like Boeing versus EADS is that Boeing still has its founders name as the name of the company while EADS and Airbus seem like generic names thought up by committees. Our last reason why we prefer Boeing over EADS is that not only does Boeing pay a bigger dividend but that it hasn't been cut since 1970, whereas EADS has had to cut or skip dividends since its 2006 dividend peak.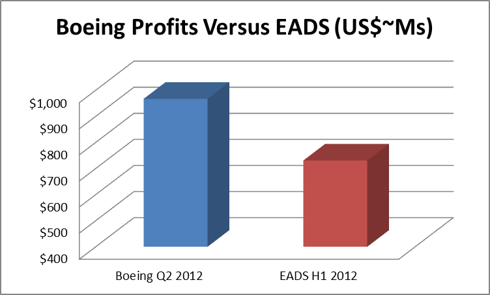 Source: Boeing and EADS Press Releases
Disclosure: I have no positions in any stocks mentioned, and no plans to initiate any positions within the next 72 hours.
Additional disclosure: Saibus Research has not received compensation directly or indirectly for expressing the recommendation in this report. Under no circumstances must this report be considered an offer to buy, sell, subscribe for or trade securities or other instruments.