The S&P/Case-Shiller home price index was released Wednesday, showing month over month strength and lower year over year weakness (less weakness is strength in the housing market). Among the datapoints released were (data and charts from S&P/Case-Shiller):
Average home prices increased by 2.2% in May over April for both the 10- and 20-City Composites.
Home prices fell annually by 1.0% for the 10-City Composite and by 0.7% for the 20-City Composite versus May 2011.
All 20 cities and both Composites posted positive monthly returns. No cities posted new lows in May 2012.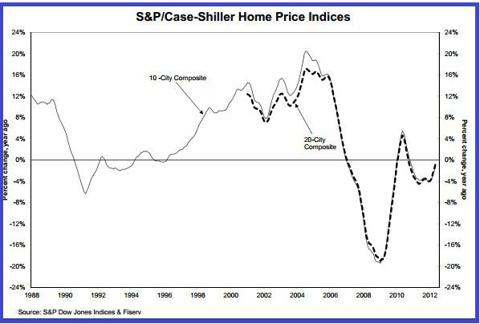 Click to enlarge
As the chart above shows, weaker YoY home prices stabilized at the end of 2011 and early 2012 and have begun to climb out of their hole.
The coming months will show us if the increases are sustainable, as spring and early summer are traditionally strong months while fall and winter are weaker. If we see a continuation of these gains, then we will be able to breathe a little easier and feel better about the gains.
The data for the 20 MSAs is: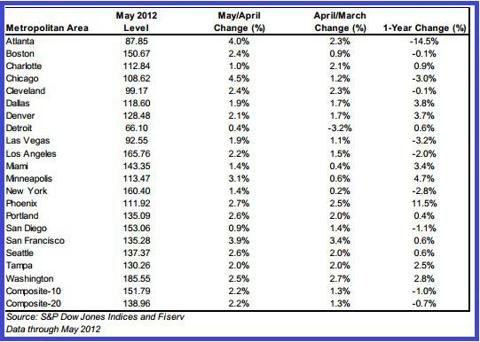 Click to enlarge
Expressed graphically: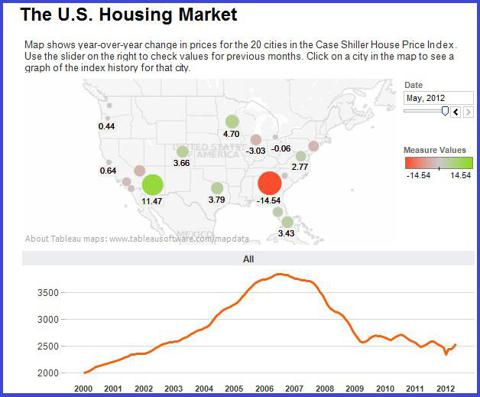 Click to enlarge
Source: Reuters
As a result of the more favorable data, homebuilders have been on a tear this year. The following graph shows the price return of builders Toll Brothers (NYSE:TOL), KB Homes (NYSE:KBH), Lennar Corp (NYSE:LEN), Pulte Group (NYSE:PHM) and D.R. Horton (NYSE:DHI).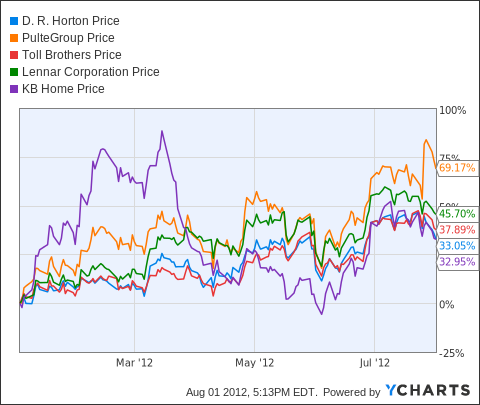 As I have said in these pages multiple times, I believe housing has found the floor and is recovering. That said, the homebuilders have outperformed the market by nearly 5x, which is a little heady.
Bottom Line: I continue to like real estate, but feel the builders may have come too far, too fast.
Disclosure: I have no positions in any stocks mentioned, and no plans to initiate any positions within the next 72 hours.
Additional disclosure: This article is for informational purposes only, it is not a recommendation to buy or sell any security and is strictly the opinion of Rubicon Associates LLC. Every investor is strongly encouraged to do their own research prior to investing.