We have held a long position in Brookfield Infrastructure Partners (BIP) since the beginning of 2011 and we have been pleased with the results of the company during this time. We published our research analysis report reaffirming our thesis behind our investment in BIP two months ago. On July 30th after the market closed, BIP announced a US$445M secondary equity offering consisting of the issuance of 9,680,000 L.P. units in the U.S. and Canada and the concurrent private placement of 3,860,000 redeemable partnership units to Brookfield Asset Management Inc. (BAM) for aggregate gross proceeds of $445,071,200. This will finance the acquisition of 85% in Inexus Group as well as BIP's share of the remaining 45% of the Autopista Vespucio Norte toll road. This toll road is a key artery in the ring road network surrounding Chile's capital city of Santiago.
Brookfield Infrastructure and its institutional partners have executed definitive documents to acquire the remaining 45% of the AVN toll road not currently owned for approximately $590 million, comprised of $290 million in cash and the assumption of $300 million of debt. BIP will invest ~$165 million, which will result in a 51% ownership interest in AVN upon completion. This Chilean toll road is a key artery in the ring road network surrounding Santiago, and it benefits from an attractive revenue framework whereby tolls escalate annually at inflation plus 3.5%. Furthermore, tolls may also increase from congestion pricing once traffic exceeds threshold levels. AVN's traffic has increased at a compounded annual growth rate of 8% for the past three years and 12% for the six months year-to-date over the prior year period. The transaction, which is subject to customary closing conditions, is expected to close in October of 2012.
The Inexus Group is a specialty utility networks and infrastructure services conglomerate based in Cardiff, Wales. Its subsidiaries plan and manage the installation of electrical, gas, water and telecommunications supplies. It was formerly a subsidiary of the French integrated oil group Total S.A (TOT) and was acquired by a consortia lead by the Challenger Infrastructure Fund for £465M. BIP and its institutional partners are paying £36M to acquire Inexus. BIP will merge Inexus into its existing UK regulated distribution business and invest approximately $450 million, including the contingent payment, to reduce leverage of this entity to investment grade levels. Inexus operates under the following nine subsidiaries: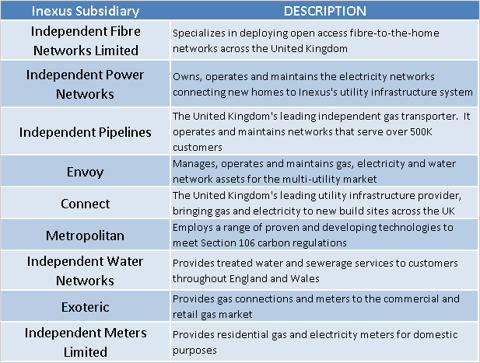 Click to enlarge
Source: Inexus Group About Us Website
We previously discussed the challenging macroeconomic environment facing its Timber operations. The Timber segment posted a sharp decline in FFOs on a year-over-basis in Q1 2012 versus the prior year period. Performance was negatively impacted by reduced demand from China due to high inventories and decelerating growth in that market and management is seeing this trend continue into Q2 2012. BIP is exploring strategic alternatives with regards to this segment as well as other non-core assets.
We like that BIP's unique, hard-to-duplicate infrastructure assets provides the company the ability to generate cash flows from operations. Because BIP is a publicly traded limited partnership, it is required by law to pay out a sizable proportion of its income to partnership unit holders in order to remain tax-exempt at the entity level (BIP is a publicly traded limited partnership and one buys "partnership units" of BIP rather than common shares). This actually works to the advantage of unit-holders because even though these dividends are not qualified dividends for the purpose of the 15% maximum dividend tax rate, unit-holders only pay one level of taxation at their marginal individual income tax rate on distributions from BIP. This avoids the corporate tax of 35% and saves investors outside of a tax-advantaged account 10-30% based on the direct and indirect impact of double taxation of corporate dividends versus the singular taxation of partnership level dividends.
For the ninth time in the last ten quarters, BIP's Fund Flows from Operations exceeded consensus estimates published by sell-side analysts. BIP preannounced Q2 FFOs of $.60 per unit. While it was a 7.7% decline versus Q2 2011 FFOs, it still beat analyst estimates by $.02/unit. BIP's per unit FFO declined due to an increase of outstanding units. Total FFOs increased by 8.8% year over year and were $111M for the quarter. Weighted average units outstanding for BIP in the quarter increased by 28.1M (17.8%) year over year due to an October 2011 secondary issuance and will increase further throughout the rest of the year due to this secondary public offering. We are expecting that cash flow from this investment will ramp up over the rest of the year and throughout next year. BIP's FFOs saw growth from the Transportation and Energy segments, solid performance from the Utilities segment and the aforementioned weakness from the Timber segment. We were disappointed that certain non-cash charges that totaled approximately $40 million during the current period primarily attributable to the recent refinancing completed at its North American gas transmission business and an impairment charge relating to a restructuring at one of BIP's European ports, which offset the increase in FFO. These non-cash charges are non-recurring in nature and do not materially impact BIP's operations.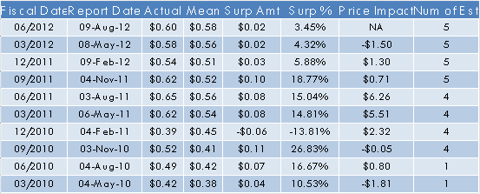 Click to enlarge
Sources: FactSet Marquee and BIP Secondary Offering Notice
BIP and its institutional partners recently entered into discussions with Abertis Infraestructuras, S.A. to create a joint venture to acquire a 60% interest in Obrascon Huarte Lain Brasil S.A. for approximately $1.7 billion. This deal is expected to be funded with $1.1 billion of equity and $600 million of assumed liabilities. Brookfield Infrastructure and its institutional partners would own 49% of the joint venture and Abertis would own the remaining 51%. If the parties are able to execute definitive agreements to acquire the 60% interest in OHL Brazil, the joint venture would, if required, undertake to launch a tender offer to acquire the remaining 40% of OHL Brasil that is publicly traded, resulting in a final ownership interest of between 60% and 100% depending upon the outcome of the tender offer. If successful with the potential transaction, Brookfield Infrastructure expects to initially invest approximately $250 million, with the possibility of follow-on investment pursuant to the tender offer.
OHL Brasil is one of the largest owners and operators of toll road concessions in Brazil, with over 3,200 km of roads in states that account for approximately 65% of Brazil's GDP and that are home to nearly two-thirds of the country's approximately 70 million vehicles. OHL Brasil's toll road concessions are expected to benefit from projected increases in traffic and rates that are indexed to inflation. With a combination of established assets and toll roads in an expansionary phase, BIP expects the OHL Brasil portfolio to generate stable cash flows and growth.
In conclusion, we still like what we see from Brookfield. We reiterate that our investment in the partnership units is a diversification away from traditional stocks and bonds and being able to utilize a high-quality asset manager for this specific segment. We like that management isn't afraid to prune the portfolio and to continue to refine its focus. We also like BIP specifically because of its unique, hard-to-replicate assets, which have provided unit-holders with strong returns from capital appreciation and partnership unit distributions since it went public in 2008. We can see why Brookfield Asset Management decided to subscribe to 70% of the offering from Brookfield Infrastructure. Despite the 2% decline in July 31st trading, the company has generated a positive total return of nearly 11% from May 18th (when our original report was published) to July 31st. While we are not saying that this will repeat itself, we believe that the company's value to the market will continue to be realized because of the company's ability to generate FFOs and pay a steadily growing dividend to unit-holders.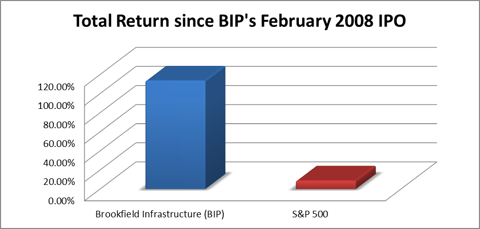 Click to enlarge
Source: FactSet Marquee
.
Disclosure: I am long BIP.
Additional disclosure: Saibus Research has not received compensation directly or indirectly for expressing the recommendation in this report. Under no circumstances must this report be considered an offer to buy, sell, subscribe for or trade securities or other instruments.