Every now and then, investors may want to add a speculative piece to their portfolio. While it's not a great idea to go all-in on some of these companies, there's nothing wrong with a small position in your portfolio. While you could lose everything, the potential returns could be tremendous as well. Here are five speculative names to consider now.
Dendreon Corporation (NASDAQ:DNDN)
I mentioned that Dendreon would be a name to watch this week because of its earnings report, and surely I was right. Dendreon on Monday afternoon reported its second quarter results. I'll admit it, the results were not good. Dendreon reported revenues just under $80 million, while analysts were looking for about $85.8 million. Unadjusted earnings per share came in at a loss of $0.65, with the adjusted loss at $0.61. Both figures missed the $0.59 loss that analysts were looking for.
But the hope for Dendreon relies in the restructuring plan that Dendreon also announced. Dendreon is looking to cut some of its operating expenses as well as its cost of goods sold. It already has seen some improvement, because last year's second quarter loss was $0.79. While analysts don't expect much improvement in profitability this year (a $2.23 loss versus 2011's $2.31 loss), analysts are expecting the loss in 2013 to only be $1.38. Should this restructuring plan work, maybe they can only lose $1 per share.
Dendreon shares plunged to $4.76 on Tuesday, something I said would definitely happen if results were weak, and they were. This stock probably would be at $4 if the restructuring plan had not been announced, because that's how bad the Q2 results were. But the promise of a better future is giving some investors hope and keeping shares from dropping too much right now. Shares could still go towards $4 in the next few weeks, but Dendreon is trying to move in the right direction. However, it can only cut so many costs. Right now, the company needs to increase sales of its prostate cancer treatment Provenge. Those sales are not meeting expectations right now, which is why shares have fallen from more than $17 since February. I don't think Dendreon can get back to last year's highs around $45 anytime soon, but if this name can start to show some progress, I don't think it is out of the question for Dendreon to get back to $15 or $20 in the next couple of years.
Coinstar, Inc. (NASDAQ:CSTR)
Shares of the coin counter and video and game rental name have been hammered in recent months, and I think that provides a nice opportunity for investors.
Coinstar's reported revenues of $532 million missed by $13 million, but earnings per share of $1.25 beat by 6 cents. However, guidance was mostly in-line. Q3 revenue guidance of $550 to $575 million was above expectations for $545 million. It appeared that seasonality led to soft Q2 sales that would be made up in Q3. Earnings per share guidance of $1.09 to $1.24 was mostly in line with expectations of $1.17. For the full year, revenue guidance of $2.21 to $2.31 billion was a little light compared to expectations of $2.28 billion. Earnings per share guidance of $4.60 to $4.90 was in-line with expectations of $4.74. The company did state that swapping out some of the NCR kiosks would result in some extra expenses, but that these costs were not applicable to its "core results." Thus, they are a one-time issue.
Coinstar shares had backed off their 52-week high near $72 in recent weeks and were just above $59 going into earnings. That was a 17.5% decline in itself. But Coinstar fell $8 after the earnings report, and has dropped another $4 since then, putting shares just around $47.50. It has now lost more than a third of its value since the 52-week high, and the guidance wasn't really terrible. I think Coinstar's drop has been a bit too much, and I would expect shares to rally back towards the mid $50s over the next month or two.
Shaw Group Inc. (NYSE:SHAW)
Shaw Group announced an agreement Monday to be acquired by Chicago Bridge & Iron, now known as CB&I (NYSE:CBI). Under the terms of the deal, Shaw shareholders would receive $41 in cash and $5 in equity (0.12883 shares based on a CBI price of $38.81). It isn't 100% clear if you will get $5 in equity or the 0.12883 shares in the end. Usually in these types of deals, you will get the 0.12883 shares. I don't think they will change the share ratio at closing, which is expected to be in the first quarter of 2013.
But the interesting issue here is that Shaw shares are trading well below the purchase price. In fact, they are well below the $41 cash value of the transaction, and that ignores the additional stock portion of the deal.
I put together the following "deal table", showing where Shaw shares theoretically should be based on CBI's price and a 0.12883 share ratio. The "gain" column represents the gain you should make, dependent on where CBI shares are. At the moment, you should be making more than 5% just on the cash value of the deal.
| | | | | |
| --- | --- | --- | --- | --- |
| CBI Price | Cash Value | Stock Value | Total Value | Gain |
| $0.00 | $41.00 | $0.00 | $41.00 | 5.26% |
| $30.00 | $41.00 | $3.86 | $44.86 | 15.19% |
| $32.50 | $41.00 | $4.19 | $45.19 | 16.01% |
| $35.00 | $41.00 | $4.51 | $45.51 | 16.84% |
| $37.50 | $41.00 | $4.83 | $45.83 | 17.67% |
| $40.00 | $41.00 | $5.15 | $46.15 | 18.49% |
CBI closed at $35.74 on Tuesday, meaning that Shaw Group shares should be trading at more than $45.50 right now. But Shaw Group shares closed Tuesday under $39.
This is called a "merger arbitrage" play, because the acquired name is trading at a deep discount to where they should be. Some investors may not be convinced that this deal will go through, and remember, Shaw shares were below $27 before this deal was announced. Should the deal not go through, expect shares to head back down towards that level. But there's a good level of upside as well.
Zynga (NASDAQ:ZNGA)
The social game company has taken a beating since reporting its second quarter earnings. Shares are under $3 now, losing 50% of their value in 6 weeks and well off the high of $15.91 set in March.
I covered Zynga's earnings recently, and yes, guidance was not pretty at all. For the full year, Zynga expects bookings (revenues) in the range of $1.15 billion to $1.225 billion. Analysts were expecting $1.44 billion. Zynga expects non-GAAP earnings per share to be in a range of $0.04 to $0.09, well below the $0.27 expected.
But at this point, the bar has been lowered so much, and the stock has been hit so much, that it may provide an opportunity for investors looking for a long-term speculative play. At under $3 currently, the stock is basically a long-term option. When you look at this name in a few years, either you are going to lose all $3, or this name could gain a few hundred percent. There's even been some rumors out there that Facebook (NASDAQ:FB) may just buy Zynga at some point. With a current market cap of just over $2.1 billion, Zynga wouldn't be too large of an acquisition for Facebook, or maybe even a private equity firm. While these social media names have been beaten down, Zynga is definitely a good speculative play at these levels.
Netflix, Inc. (NASDAQ:NFLX)
Netflix provides a good opportunity for a speculative short-term trade, but I am not recommending this as a long-term buy. As I detailed last week, Netflix is not very strong right now.
However, as you can see from the following chart taken from Yahoo Finance, Netflix always seems to rally after these large scale drops, one of which we've seen since the latest earnings report.
Click to enlarge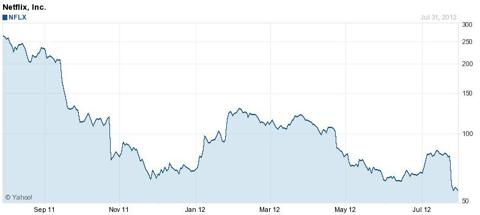 Click to enlarge
A couple of the latest moves in Netflix were from $120 to the low $60s, and we've seen a few moves from the upper $80s to the low $60s as well. Netflix dropped from $80 to $60 after earnings, and has lost another couple of dollars since then. I wouldn't be looking to purchase shares just yet, but if we get down to the $45 to $50 range, I might buy some for a quick trade. Netflix always seems to rally due to short covering or some hourly streaming metrics that the company boasts about each month. Even if the name goes from $50 to $60, you're looking at a 20% return. I still am recommending Netflix as a good long-term short opportunity, described in detail in the article above, but for a quick speculative trade, I think you can pick up $5 to $10 of profit if we get a little lower.
Now remember, I am recommending all five of these names as speculative plays only, and some of them just as short-term trades. I would not base a large portion on your portfolio on any one of these names. Also, all of the price data used in this article was as of Tuesday midday, so prices could and probably will change before publication. Keep that in mind, and before entering any of these names, all investors should do their own due diligence. I wouldn't bet the farm on any of these names, but for a small piece of the portfolio, adding one of these as a "lottery ticket" type investment could be a wise decision.
Disclosure: I have no positions in any stocks mentioned, but may initiate a long position in NFLX, CSTR, SHAW over the next 72 hours.