We are certainly disappointed in the recent stock performance of Supervalu Inc. (NYSE:SVU) since it released its challenging first-quarter results. We are shocked as to the reversal of fortunes that Supervalu endured with regards to its sales momentum. We were not expecting 5%-10% organic growth from the company, not by any stretch of the imagination. We were expecting Supervalu's identical sales to reduce its decline in FY 2013 and stabilize in FY 2014.
We were also expecting Supervalu to continue to rationalize its cost structure, which would ensure that operating income was stabilized and to enable the company to keep generating over $1B in annual operating cash flows. We were expecting its $400M in free cash flows to stabilize and to continue paying down debt, which would provide leverage to the company's EPS by reducing its interest expense.
Still, as bad as Supervalu has performed, at least it isn't RadioShack Corporation (NYSE:RSH). We previously pondered allocating 2% of our portfolio to RadioShack as a turnaround candidate back in October. We were attracted to the fact that RadioShack was trading at 60% cash, (60% of RadioShack's market cap was represented by its gross cash at the time). As weak as Supervalu has been since we purchased it in May and also since October, RadioShack has done worse during this period. We ultimately decided NOT to buy RadioShack because after analyzing the company's results, we were unimpressed with the regression the company was making.
When we purchased shares of Supervalu, we were expecting it to merely meet expectations and to steadily pay down debt. The company had been devoting its free cash flows to paying down debt since its highly-leveraged acquisition of Albertson's. While we were attracted to the 8% dividend yield at the time, we were more attracted to the 40% free cash flow yield (SVU's FY 2012 and expected FY 2013 was $400M for each year, which was 40% of SVU's market cap).
Supervalu's acquisition utilized a significant amount of financial capital and financial reporting leverage. The financial capital involved the increase of its outstanding debt from $1B to $8.2B to pay for the acquisition. The financial reporting leverage involved the quadrupling of its quarterly depreciation and amortization expense allowances. Depreciation and amortization is a non-cash operating expense. Part of the reason why the company saw a rapid increase in these expenses was because new acquisition accounting rules require these assets to be revalued at its current market value when the acquisition takes place. More often than not, this increases the value of the assets and increases the depreciation and amortization expense allowances of the combined company versus if each company was separate. This actually benefits acquirers since these expenses are tax deductible as an ordinary and necessary business expense and can save companies up to 40% of the purchase price. That tax quirk depends on how much is allocated to amortizing assets like intangibles other than goodwill and tangible assets other than land.
We did not ignore the sales regression that the company saw. We didn't play silent assertion when we saw that the company was caught flat-footed, while others were upping the ante on promotions. So what did we see in Supervalu, that we didn't see in RSH. Why do we expect that Supervalu will be more likely to survive (either independently or selling off its parts to other companies)
Why we bought SVU and not RadioShack:
SVU's stores sell necessities. RadioShack sells electronic items which are more discretionary in nature.
SVU's stores sell consumables and RadioShack sells goods you expect to be durable.
SVU's free cash flow/equity was 40%, while

RadioShack

's was one-third of that (13%).
SVU's dividend yield at the time was 8%, while

RadioShack

's was 4%.
SVU cut its organic sales decline in half from 6% to 2.8% and we were expecting it to reduce it to 2% flat in FY 2013 and stabilize it in 2014.
We felt that SVU was addressing its weak situation better than

RadioShack

. SVU has been paying down debt since 2006 while as recently as last year

RadioShack

was buying back stock and boosting its dividends even though it had weak financial results.
We saw that SVU was making steps to improve its competitive position before its weak Q1 2013 report
Why we are expecting SVU to have a greater likelihood of survival than RadioShack:
SVU sells consumable necessities that people buy regularly whereas

RadioShack'

s purchases are less recurring and more discretionary in nature.
SVU's $6.3B worth of outstanding debt: In this case, we have to agree with Donald Trump when he said that when you owe a million dollars, your creditors own you. When you owe billions of dollars, you own your creditors. While most of SVU's debts are in bonds, we expect that most of these bonds are either direct assets that financial institutions own on the balance sheet or indirect assets managed by banks on behalf of high-yield bond mandates in mutual funds or separate accounts. SVU's new asset backed credit facility replaced its existing senior credit facility and term loan and consists of a $1.65B asset-backed lending revolving credit facility and an $850M real estate secured loan. Four banks are involved in this credit facility.

RadioShack

may have more cash and less debt on the balance sheet, but half of

RadioShack

's debt is due in the next year. We are surprised that

RadioShack

is seeking to pay this upcoming with 50% cash and 50% refinancing rather than refinance it all, but we appreciate the efforts the company is making to pay down any portion of its debt.
SVU has dedicated over $2B in free cash flows to repaying debt in the last three years and we believe that because it has been working hard to return money to debt-holders in the last three years, lenders would be more willing to work with SVU than say

RadioShack

. Even in the wake of the challenging quarter, SVU's management was targeting paying down its $388M in maturing long-term debt with cash rather than refinancing it.
SVU was at least free cash flow and GAAP Income positive during the most recent quarter.

RadioShack

saw its quarter and year-to-date free cash flows turn negative, as well as its GAAP Net Income.
Both companies are exploring strategic alternatives. SVU hired Goldman and Greenhill to serve as its corporate financial advisors in order to evaluate strategic alternatives for the business. We believe that even though SVU's performance has been weak compared to the performance of these stores under Joe Albertson's management (when these stores were owned by Albertsons Inc and led by Albertson himself), we believe that there is value because a sale of the company or its underlying store assets would provide a tangible and intangible benefit.
The tangible benefit would be acquiring assets that are providing cash flows and the opportunity for merger synergies. The intangible benefit would come from eliminating the third largest traditional grocery store company from competition and avoiding a long and nasty price war that no one wants. The conclusion to our previous report identified a number of synergies we saw that in our professional opinion would allow SVU to at least be a desirable takeover target. In contrast, RadioShack is teaming up with Hon Hai (FoxConn) to grow its Chinese store base. Worse comes to worse, RadioShack could beg Hon Hai to take it over.
In conclusion, we are not pleased with the recent performance of SVU in the market. However, we think the reaction by the market has been nothing short of shocking. SVU is still profitable and generating free cash flows and we see the potential for value recovery for the company. One reason why we are expecting a potential turnaround for the company is based on the fact that SVU's Board of Directors recently replaced CEO Craig Herkert with the Chairman of the Board Wayne C. Sales. For a company that is struggling with maintaining and growing its sales, we believe that hiring a guy with the last name of Sales is a good sign.
Our most recent published research report on SVU was even quoted by Mark Reilly, Managing Editor of the Minneapolis/St. Paul Business Journal. We're glad that publication agrees with us that Mr. Sales presented a fair and balanced assessment of what the company is up against. In an email to SVU's team members, we liked that he referred to them as Team, as opposed to staff, associates, help etc. We have had first-hand experience working in front-line retail operations and we can share stories about how thankless and low-paying the work is.
We believe that Sales sees SVU's 130,000 employees as his teammates and that he wants them to join him in transforming this once great company and to restore it to its rightful place in the industry. Lastly, we have high hopes for Wayne and his team because we believe that there is value to be realized in SVU either as a turnaround or by selling its subsidiaries to other firms and based on Wayne's experience leading Canadian Tire, we believe that he will help SVU's stakeholders realize it.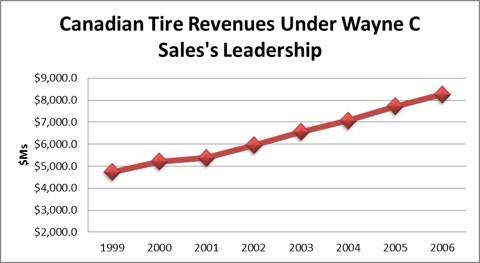 Source: Canadian Tire 2006 Annual Report
Disclosure: I am long SVU.
Additional disclosure: Saibus Research has not received compensation directly or indirectly for expressing the recommendation in this report. Under no circumstances must this report be considered an offer to buy, sell, subscribe for or trade securities or other instruments.