There has been a lot of chatter back and forth regarding Sirius XM's (SIRI) share price. On the one hand, there's the camp who believes Sirius XM is about to take off running, blowing right up to $2.35, $2.50, or higher. On the other hand, there's the camp who believes Sirius XM is overvalued, and due to plummet any day as it trades above what they feel is an implied cap by Liberty Media's (LMCA) forward contract price, or $2.15. In the middle? Everyone else. Likely the silent majority who feel the share price has stagnated for the time being waiting for Sirius XM's earnings call on August 7th.
For right now, you'll find me in the middle. Though I am quite bullish on the stock longer term, I'm waiting for a signal that says we're off to the races again and that very well may come with the August 7th earnings call. I disagree with those who feel Liberty Media has imposed some sort of price cap at $2.15, and I disagree with those who believe that shares are due to run to $2.35 this week or even $2.50 before the conference call.
I've been speaking of technical analysis lately, and it has paid off rather well in trading Sirius XM. Buy and hold, or short and wait, aren't the only two strategies around when dealing with stocks. In a stock like Sirius XM, one can make considerable additions to their position by trading their shares. Understanding the technical aspects of a stock can assist in those trades. Consider the chart below :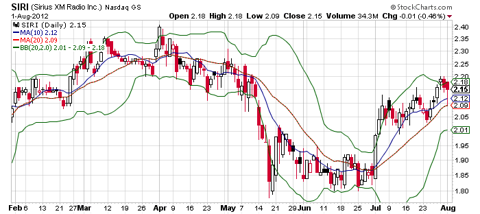 There are some important things to notice which can assist in making successful trades. With Sirius XM's recent run since early July, three technical indicators have provided strong boundaries, and thus, trade points, for the share price.
The first line of 'defense' in the current uptrend, is the blue line, or the 10 day simple moving average. This has provided considerable support with opening and closing prices rarely dipping underneath. The second line of defense is the red line, or 20 day moving average. The share price has not dropped beneath this line since the breakout in early July, even on an intra-day basis.
Bollinger bands are drawn in green, and delineate the upper boundary for Sirius XM. Very rarely does the price exceed the upper bollinger band, and even when it does the prices return below it within a few days.
Knowing these three things, trading Sirius XM becomes a bit easier, and I have used these lines to execute successful trades myself. My most recent trade was Wednesday, selling at open at $2.17, just below the upper bollinger band and rebuying at $2.12 as the share price hit just over the 10 day moving average. While these were not the absolute best prices of the day, it did allow for an addition of nearly 2.3% to my position. It's always best, in my opinion, to leave a bit for someone else, and never chase the absolute highs and lows of the day. Don't be greedy. While there's the possibility of a bad trade here and there, understanding how Sirius XM trades can put your wins well ahead of your losses.
I enjoy trading out and back into Sirius XM in this fashion every few days, and I rarely ever stay out of the stock for more than a few hours. Why? I'm bullish, long term, and in less than a week on August 7th I expect Sirius XM to deliver not only the already known stellar subscriber additions, but to also raise financial guidance for FY2012.
It's really a no brainer. If you felt that $2.15 was a good investment point last year, then now, a year later, with much improved financials, massive subscriber additions, and a well received price increase with stable churn, the decision to own Sirius XM stock should be simple. Yes.
There are so many things going on that currently look great for Sirius XM.
Addition of over 622,000 subscribers in Q2, far exceeding estimates, and early increased guidance.

Announcement that Sirius XM will pay off $186 million in high interest debt in September, reducing interest payments and driving cash to the bottom line.

July auto sales strong, continuing with the 14 million SAAR trend.

A stock buyback as one of Liberty Media's (LMCA) first orders of business after obtaining control can be assumed.

A forthcoming resolution between Liberty Media and Sirius XM on how a reverse Morris trust will be structured is likely in the works.

A usual run up on hopeful expectations of earnings due out on August 7th before the market open. With 622,000 subscriber additions pre-announced, hopes are high for better than expected numbers in many areas of the report, and for increased guidance for the full year.
My $2.75 target is still in my sights. And I feel August could be the month that Sirius XM finally touches at least $2.50. With the current uptrend and the way Sirius XM moves quickly at times, $2.50 is not that far off.