By Carla Fried
To the extent Cisco Systems (NASDAQ:CSCO) makes it into any tech investing conversation these days, it's typically as the poster child for Silicon Valley laggard, limping along laughably behind Apple (NASDAQ:AAPL) and others in this stock chart.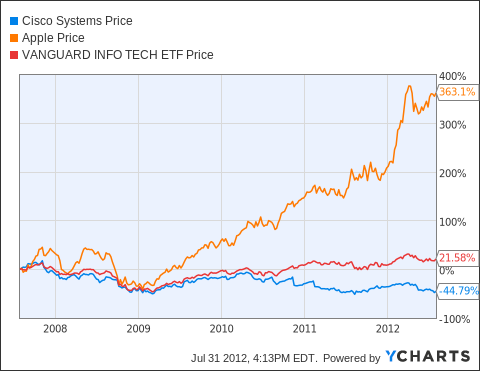 Money manager Don Yacktman has a different take on Cisco. His two mutual funds currently own about 37 million shares, adding 11 million shares during the second quarter when a Cisco earnings warning sent the stock tumbling.
About 4% or so of the combined $14 billion in the Yacktman fund and Yacktman Focused are now riding on Cisco.
Yacktman, obviously, has a value bent. And a stellar long-term track record. The 8.3% annualized gain for Yacktman Focused over the past 15 years is nearly double the 4.3% gain for the S&P 500 index. And it's not like he's resting on past laurels; according to Morningstar the fund's 1-yr, 3-year, 5-year and 10-year gains all beat the S&P 500.
So what does Yacktman like about Cisco? Cash. A hallmark of Yacktman's investment process is to look for dominant market players that are spinning off plenty of free cash flow and have a dominant market position that gives them a leg up on continuing to churn out the cash.
Yacktman started buying Cisco in late 2010. Its cash flow certainly hasn't mimicked the falling stock price.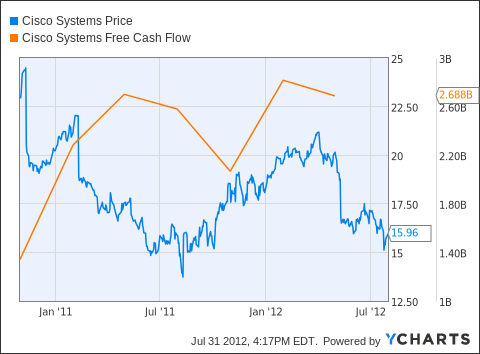 The result is that Cisco's free cash flow yield (per-share free cash flow divided by stock price) is on the rise, meaning investors are paying less per share for Cisco's earnings.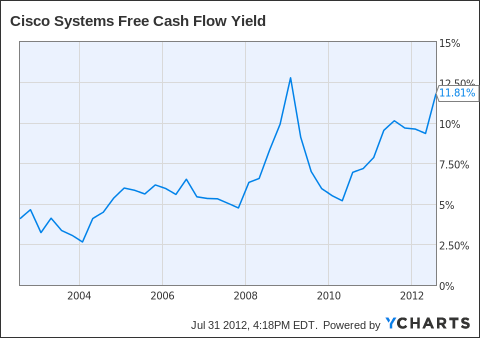 CSCO Free Cash Flow Yield data by YCharts
Given its cash generation engine, and low valuation -- the current PE ratio is 11 -- Yacktman noted in his second quarter letter to shareholders that Cisco stock is compelling even without a huge catalyst:
"The company has over $5 per share in excess cash and investments on the balance sheet, and we think the business can generate more than $1.60 per share in free cash flow. This puts the stock at less than 8 times adjusted free cash flow, a multiple which we believe hardly requires robust business results."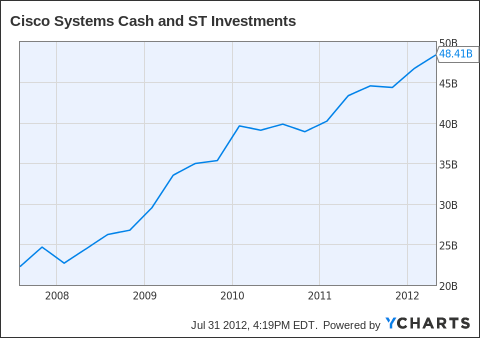 CSCO Cash and ST Investments data by YCharts
That said, one other thing you need to know about Yacktman is that he has the rarest of money management skills: patience. The average annual turnover rate for the Focused fund over the past 10 years is less than 30%. A 100% turnover rate is more typical for actively managed stock funds. Yacktman is looking out years and sees a compelling rationale for owning Cisco at today's current valuation given expectations for free cash flow generation. How the street values the stock this quarter, or next, isn't of primary concern.

Disclosure: I have no positions in any stocks mentioned, and no plans to initiate any positions within the next 72 hours.