Shares of Phillips 66 (PSX), the refinery arm recently spun out of Conoco Phillips (COP), are trading near an all-time high. However, there are three reasons why investors should consider buying PSX.
Options Activity
Option Monster reported on the high level of bullish options activity recently: 2,000 November 39 calls were purchased. At the same time, an equal number of August 33 calls were sold. This action indicates that a previously existing position was closed and rolled to a higher strike. The large block trade likely represents institutional money. Institutional money is usually smarter, thus worth following. In summary, the recent options activity points to more upside ahead for PSX over the medium term.
Brent/WTI Spread
The recent widening of the Brent/WTI spread, as shown by the chart below, is bullish for the entire refinery sector. Barclays recently published a research note discussing how major refinery companies including PSX, Holly Frontier (HFC), Valero (VLO), Tesoro (TSO), and Marathon Petroleum (MPC) benefit from a wider Brent/WTI spread. In short, refineries with access to U.S. crude will see higher profit margins because refined product is often priced more in line with Brent than WTI.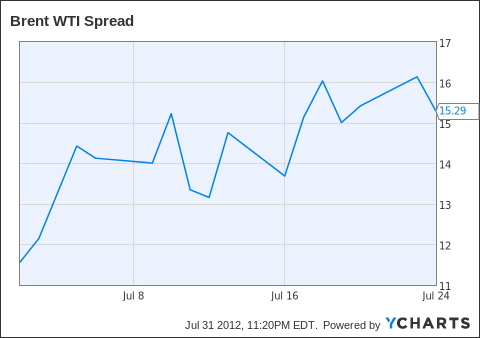 Brent WTI Spread data by YCharts
Dividend Yield
Currently, PSX pays a dividend of 80 cents per share or 2.13%. While this is not a huge dividend, when considering the current interest rate environment, 2.13% is significant. If profits increase due to better refining margins, I suspect PSX will increase the dividend. Management continues to talk about its belief in a strong dividend policy, so it makes sense that an increase in earnings could lead to an increase in the dividend.
Conclusion
Despite PSX trading near an all-time high, I think the stock can continue to move higher. The bullish options activity, widening of the Brent/WTI spread, and dividend are all reasons to consider going long PSX.
Disclosure: I have no positions in any stocks mentioned, and no plans to initiate any positions within the next 72 hours.