Weeks of record-setting temperatures and widespread drought this summer have clobbered the U.S. Corn Belt. As of early July, the U.S. Department of Agriculture (USDA) considered only 40 percent of the U.S. corn crop to be in good or excellent condition, compared to 70 percent in a normal year. (see "Corn Comes a Cropper")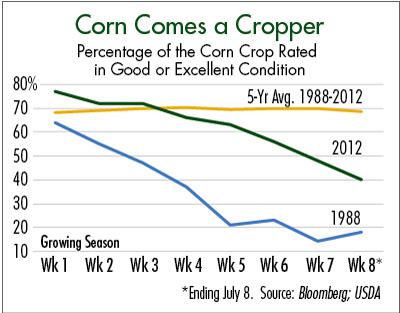 To make matters worse, half of the U.S. corn crop has now 'silked', compared to less than 20 percent in an average year at this point in the growing season. When corn silks, it has reached the pollination stage and is most vulnerable to drought. Even if the Midwest does see relief, much of the crop damage is irreversible.
The USDA has sharply lowered its estimates of the size of the crop for this growing season. And it's not just corn; poor growing conditions are pushing up prices for other key agricultural commodities such as soybeans and wheat.
Corn prices have already surged nearly 50 percent from their May low to a recent high of more than $7.30 per bushel. This year's drought is the worst in the U.S. since 1988, when prices almost doubled between May and July. Drought now plagues roughly 56 percent of the contiguous U.S., the most extensive water shortage in the 12-year history of the USDA's Drought Monitor.
Although farms may not produce as large a crop this year, the surge in prices should more than compensate for any loss in volumes, bolstering US farm incomes. In the near term, weather conditions will drive the bull market for agricultural commodities. However, the long-term outlook appears equally sanguine, thanks to surging meat consumption in emerging markets, epitomized by China. (see "China Takes to Meat")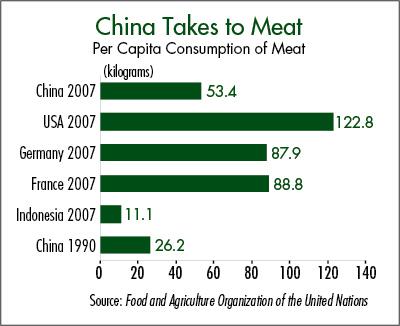 As I said in Global Food Crisis, as consumers increase their meat consumption, there's a massive multiplier effect. It takes 7 kilograms (15.4 pounds) of feed grain to produce 1 kilogram (2.2 pounds) of beef; 4 kilograms (8.8 pounds) of grain to produce 1 kilogram of pork; and 2 kilograms(4.4 pounds) of grain to produce 1 kilogram of chicken.
Surging prices for agricultural commodities fuel demand for products that enable farmers to boost crop yields, including genetically modified (GM) seeds, fertilizer and farm equipment. Here's how to play the coming boom in agriculture stocks.
CF Industries Holdings, Inc. (NYSE: CF), the largest North American producer of nitrogen-based fertilizer, is a direct play on surging corn prices. Natural gas prices account for up to 90 percent of the cost of producing nitrogen-based fertilizers. U.S. natural gas prices are by far the lowest in the world and should remain depressed over the next few years. This cost advantage gives CF Industries a considerable leg up on overseas competitors.
Corn is the most nitrogen-intensive major field crop; increased U.S. corn acreage relative to soybeans and wheat will boost demand for the nutrient. See Profitable Themes in a Tough Market for more on my short-term outlook for the market.
Disclosure: I have no positions in any stocks mentioned, and no plans to initiate any positions within the next 72 hours.