The first half of 2012 was not terrific for the stock market, and the second half does not promise to be much better. At the same time, we all want to find those investments that can make a difference in your portfolio. At The Oxen Group, we use a technique of analyzing long-term investment opportunities by investigating each company for Financial Health, Growth, Profitability, Management, and Value. Additionally, we price each company on a 12-month time frame and give them a Buy/Sell/Hold rating. In this article, we have taken a look at the over 150 companies we have coverage on and done a cross-reference of the scores from the five categories above with price targets and ratings to find the best companies in each industry to outperform this market. We are not guaranteeing these stocks are the ones that will be the best growth stocks that will grow to unbelievable PE ratios, but these are great investments for your portfolio with low-risk, great fundamentals, and great value.
Here are the nine companies we like best for the rest of 2012 and five honorable mentions:
Apple (NASDAQ:AAPL) - It may seem like the obvious choice, but for some reason, the stock still has some of the best value in the industry when compared to its growth. We have an extremely conservative price target of $790 that only prices in about 30% operating income growth over the next five years. The company is pricing in right now about 5% growth in income for five years. The company ranks very high in our EquityAnalytics scores with our top overall score of 87/100 with strong scores in Growth, Financial Health, and Profitability. The company has now introduced a dividend as well, which only increases their appeal. The company's future PE is 11, which is below the 14 level that shows strong value. The stock is begging to be bought right now with its value. The stock will explode on the iPhone 5 announcement, and we believe that it will have a strong 2013 as well with new iPad models as well as Apple TV.
Apple Scoring Radar: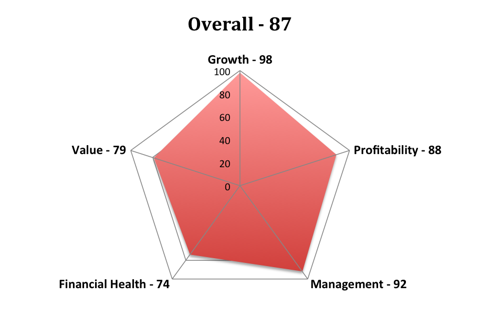 Dollar General (NYSE:DG) - Recent weakness in the discount store industry is a buying opportunity we believe. These companies are still outpacing many other retailers as far as earnings growth, and Dollar General has taken on a task to remodel their stores to provide even more convenience, which we believe will only help their margins increase even further. On top of that, while employment is creeping back, the economy is still nowhere near strong, and these types of stores still have a lot of value. Additionally, discount stores do great during tough market conditions, outperforming other retail companies. If we do get a strong finish to the end of the year, all ships are lifted. We look at DG as a great way to add retail with safety. We see upside as limited to the high $50s for the rest of the year, but we like the fundamentals here once again. The company scored overall at 85/100 on our EquityAnalytics model with strong scores in Growth, Profitability, and Value. Future PE is at 15 right now, which is moderate value, but we believe that the company is a nice hedge growth investment. Those are hard to find.
Dollar General Scoring Radar: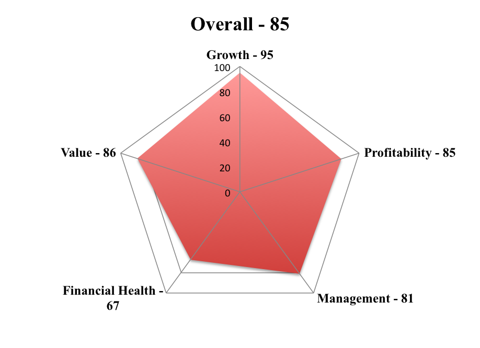 Papa Johns (NASDAQ:PZZA) - Looking for growth in China? PZZA is a great way to get growth in China. The company is growing at a very strong rate right now, and we believe that Papa Johns has a lot of value right now going into the second half of the year. We have a $64 price target with a Buy rating. PZZA scored at only a 66 due to weakness in their Growth rating because domestic sales are going to be slower than other companies in fast/casual dining. Yet, their international growth is extremely high, and it is providing a strong level of growth for the company. We believe that growth will continue to be strong in international markets. The company had a great Value score at 80 and Management at 87. Future PE is now over 17, so value is not as strong, but this stock has turned from a value stock to a growth one.
Papa Johns Scoring Radar: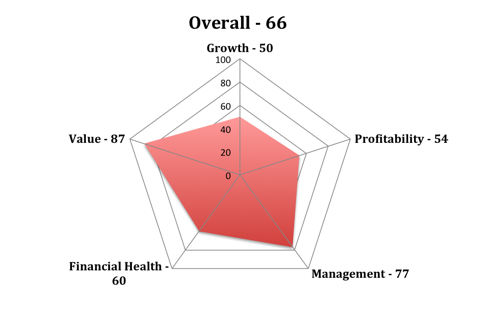 Equinix (NASDAQ:EQIX) - Equinix may be the most exciting stock of the bunch. The company is in the application software industry, which is full of high valuations and very strong growth. The company is expected to grow income 50% this year, and we believe they have replaced Salesforce (NYSE:CRM) and F5 Networks (NASDAQ:FFIV) as the most exciting application software company. What's most exciting about EQIX is that the company is growing at these high rates despite a lot of economic headwinds that are creeping into other cloud networking companies. European issues and Asian slowdowns have not hit EQIX at all, and the company has made some strong acquisitions this year. We have a $250 PT on the company, and the company scored excellently on our EquityAnalytics ratings. They scored an 86 Overall, and we were very impressed with their Profitability and Management, which seem to be well above other competitors.
Equinix Scoring Radar: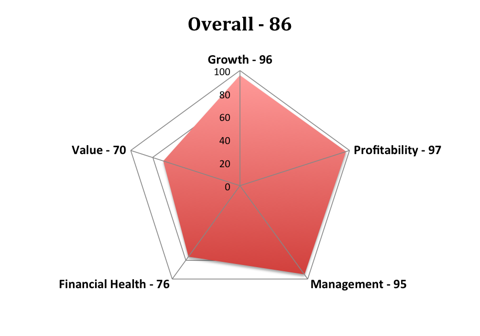 Finish Line (NASDAQ:FINL) - We really like what is going on with Finish Line, and the latest quarterly earnings season showed you there is a lot of strength in footwear right now. The company has a lot of potential moving forward as it has a lot of solid organic growth moving forward. The company is also innovating their shopping experience, taking on actions to improve margins that include giving tablet devices to stores to improve supply chains as well as having interactive tables where clients can have a better shopping experience. We believe the company is effectively changing the shopping experience and taking on actions to improve margins. We have a $28 price target and Buy rating. The company scored well on EquityAnalytics as well as it was our top scorer in footwear with a 96 overall. We believe this company has amazing fundamentals, strong potential growth, and value with an 11 future PE.
Finish Line Scoring Radar: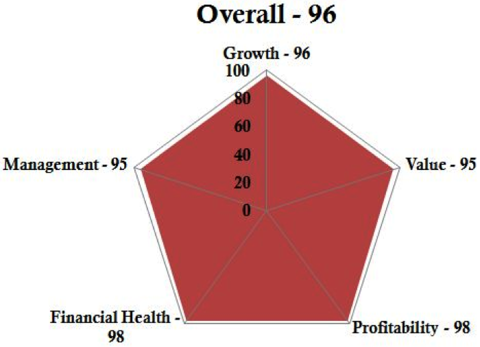 Meritage Homes (NYSE:MTH) - Residential construction will continue to be strong in the second half of 2012, and we like MTH as the best in th residential construction industry. We believe that demand will continue to be good for housing in the second half of 2012 as the economy bottoms. Companies in the housing industry are very cheap right now if housing is bottoming, and we like MTH the best fundamentally. The company scores the best on our radar, and we like their management best. The management team has kept this company profitable despite a lot of tough times, and we believe they will do very well post-2012. We are not sure their upside at current growth rates is very strong, but a lot more value can come into the stock if housing has bottomed.
Meritage Homes Scoring Radar: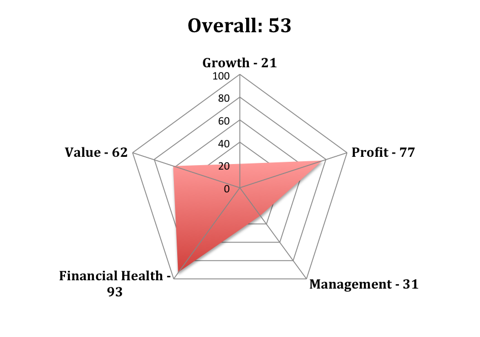 Panera Bread (NASDAQ:PNRA) - Panera has remained one of our favorite companies throughout the entire 2012 year despite its weak performance, but we believe at some point this stock has to make quite a move. The company has a lot of growth, and what they are doing is maintaining very strong margins despite a lot of commodity cost issues. PNRA's latest earnings continued to show the company's strong growth and ability to maintain strong margins. The company has good Profitability scores and Growth scores, and we see a lot of potential upside. The company's value has become much more attractive as of late as future PE has come down significantly to 23 now. We have a PT of $193 currently, and we see a lot of upside for the company moving forward through the end of the year as they have proved once again that their margins are solid and growth is strong.
Panera Bread Scoring Rotation: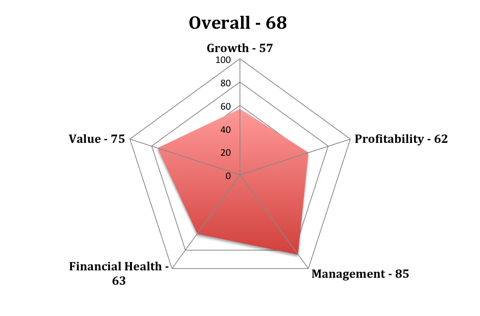 Tesla Motors (NASDAQ:TSLA) - Tesla Motors is one of our favorite stocks for speculative investing right now. We believe that TSLA can become a very solid growth stock in the future and as the company starts to sell more of their Model S, we believe they will start to see their stock price develop quickly. The company truly is redefining the automotive industry right now, and we believe they will see a lot of upside in 2012 as those sales of the Model S start to turn into profits. We should see the company profitable in 2013, and if the company can meet their Q4 goals, this stock will skyrocket. We have a $40 PT and Buy rating.
Tesla Motors Scoring Radar: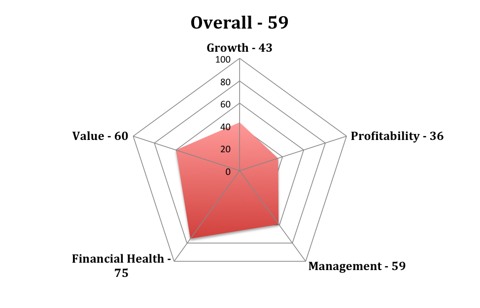 True Religion (NASDAQ:TRLG) - What appeared at first to be just a fashion trend is turning into a solid company that is returning money to investors and doing things the right way. TRLG recently introduced a dividend, is growing at strong rates still, and has not seen the slowdown that other apparel companies have seen as their trends die down. It looks that TRLG has become a household name that will continue to cater to the high-end retailer and has created the very difficult to do fashion moat of luxury. We see the stock being able to increase to $35 by the end of the year with over 10% growth in revenue in each of the next two years. The company has a lot of potential for organic growth to open a lot more stores and their business line will continue to develop further from here. Value is also great with a 12 future PE and sub-15 PE. That PE ratio with better than average growth is a recipe for a lot of potential upside for this stock. We like the combination of value, income, and growth.
True Religion Scoring Radar: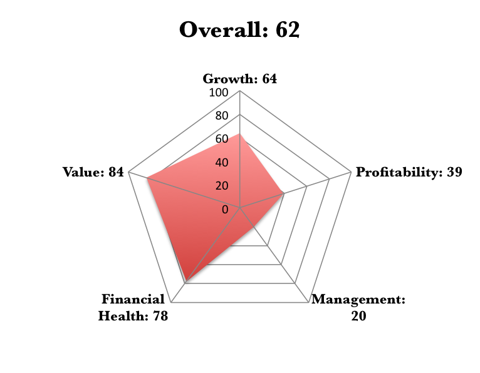 Honorable Mentions:
The others we like a lot right now are Wal-Mart (NYSE:WMT), Dominos (NYSE:DPZ), Teradata (NYSE:TDC), Netease (NASDAQ:NTES), and Nike (NYSE:NKE). These five stocks all have similar values as the ones above, but they were crossovers for industries.
Good Investing!
Disclosure: I am long PNRA.