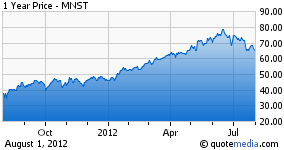 In two recent articles, I outlined reasons why I believe Monster Beverage (MNST) is a strong buy. I further suggested how to play it by buying ahead of the Q2 earnings report August 8th, as three beverage space competitors, Coca-Cola (KO), Pepsi-Co (PEP) and Dr. Pepper/Snapple (DPS) all reported strong quarters, and have been rewarded with higher share prices since those earnings reports. MNST, in short, is a super growth story that is growing into an iconic brand that is more than simply an energy beverage producer and distributor. However, its premium valuation of a 39.31 price to earnings multiple, on a share price of $64.86, means that any slip up could lead to the stock getting crushed. Given the recent strong quarters of KO, PEP and DPS, I believe MNST is set up to deliver an earnings beat. Analysts are expecting on average 62 cents per share. One specific indicator that can provide clues to whether a company will report weak or strong numbers is to examine insider trading ahead of the quarterly report. Such examinations may have saved Zynga (ZNGA) investors a lot of cash, had they examined the insider trading in the months leading up to the quarterly report.
After considering the recent buy recommendations I have given MNST, I thought it prudent to examine insider trading heading into the Q2 earnings report due next week. Since the last stellar quarter reported by MNST in early may, there have been six instances of insider selling, but nothing that would make me suspect Q2 earnings were in jeopardy. Insiders sold 626,324 shares this quarter. However, in the prior two quarters, insiders sold 1,288,436 shares in Q1 2012 and 785,618 shares in Q4 2011. Both Q4 2011 and Q1 2012 were blowout quarters, and these insiders sold ahead at a higher pace then they are for Q2. The following is a summary of Q2 insider selling of MNST:
The insider selling in the past quarter is limited considering the historical selling at the company in the last few quarters. Given the strong reports from KO, PEP and DPS, I expect MNST to report a stellar quarter. Further, the limited insider selling ahead of the quarterly report (compared to prior quarters) is, in my opinion, a strong buy indicator for MNST, especially after its recent sell-off.
Disclosure: I am long MNST. I also hold out of the money put options on MNST for downside protection