As one of my favorite growth stocks, it is nice to see Gigamedia (GIGM) hitting on all cylinders. The company released 1st quarter of 2008 results Tuesday and the growth continues at a great rate. GIGM is managing to rapidly grow its existing platforms and at the same time enter new markets with new products with even greater growth potential. I will break down some of the facts and financial highlights here.
You can think of Gigamedia's business as two business units. The first is what it refers to as gaming software. This unit consists of the company's flagship Everest Poker (internet poker) and online casino games. New initiatives by the company are working to cross sell between poker and casino games. Even bigger, GIGM is planning to offer sports betting to its gaming software line. It has also signed a multi-year sponsorship agreement with the World Series of Poker. As the unit stands now, the company is showing some excellent growth numbers:
Q1 revenues for Everest Poker were up 56% year-over-year (YoY) and up 11% over Q4.
Casino game revenues were up 17% over Q4, 2007.
Operating margins for the company have risen to 23% in Q1 vs. 19% in Q4.
The second unit is referenced as Asian online gaming. This unit offers a combination of video games and Asian style real money games in Hong Kong, Taiwan, China and Japan. Gigamedia's push into Asian online games is fairly new, so revenues are are small compared to gaming software, but growing rapidly.
Asian online game revenues grew greater than 100% YoY and 28% over Q4, 2007. This growth is without adding any new games in Q1. Q2, Q3 and Q4 will see the company add some new, high demand games from companies like Electronic Arts (ERTS) that should accelerate revenue growth. Finally, the commercial launch of the Japanese real money games will occur in June. Another potential huge revenue stream. For the first quarter the Asian gaming had an operating margin of 28%.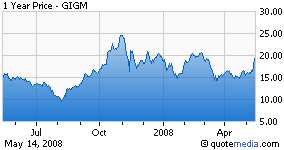 Not to forget earnings: GIGM earned 20¢ in the first quarter, up 43% from Q1, 2007. Analysts (4 of them) are projecting 80¢ earnings for 2008. My little calculator comes up with 93¢ if earnings grow at 10% per quarter. I think Gigamedia can grow revenues and earnings at 50%+++ for years and currently trades at 27 times the last 4 quarters combined earnings.
Some days I think I should sell everything else and just own GIGM. I think the $1 billion market cap company will be $5 billion then $10 billion in a very short period of time. The company has virtually an unlimited market for its products and very low additional cost to add customers, games and revenues. I will probably not put everything into GIGM but will keep a nice portion in my stock portfolio and the site's Special Situations Portfolio.
Note: I have a long position in GIGM.