Shopping center REIT portfolio fundamentals are improving as national tenant demand has pushed box occupancy above 95 percent. That means that many landlords are gaining more leasing leverage - especially in the higher quality shopping centers.
Landlords and investors both benefit from these improved fundamentals as explained by Nathan Isbee with Stifel Nicolaus,
We expect (REIT) fundamentals will continue to improve over the next 12-18 months as national retailers are looking to add stores and new supply is extremely limited. However, there is even more at play here, as shopping center REITs are slowly upgrading their tenant bases which should benefit the REITs over both the short term and long term. In addition, while there are quite a few at risk tenants, the REITs are actively working to minimize exposure to these tenants either by leasing space to a stronger tenant when the lease matures or cutting the store size and leasing the remainder of the space to another retailer.
Most shopping center REITs have faced significant challenges over the last few years and the majority of REITs have rebounded from the recession and occupancies are trending higher. Some of the better REITs have orchestrated "wide moat" risk control strategies that include both improving tenant credit quality and asset recycling. These "fortress-like" REITs have built their new "post-recession" strategies around higher quality tenants and higher quality markets - in essence these REITs are distinguished by a higher "flight to quality".
Nathan Isbee (with Stifel Nicolaus) explains the fortress philosophy:
Most REITs have recovered a significant amount of lost occupancy, especially in the box and mid box portions of their portfolios. REITs have replaced the tenant bankruptcies in their top tenant lineups with higher quality retailers, including, Bed Bath and Beyond, Dick's Sporting Goods, PetSmart, and Whole Foods. The tenant upgrades reflect the strong focus shopping center REITs are placing on asset quality today. While the bankruptcies caused occupancy and NOI to decline, REITs have emerged with top tenant lists featuring higher quality and better credit tenants. The new tenants should help draw more shoppers to the centers, improve leasing demand and rents at the center, and position the respective centers to better withstand another downturn.
Kimco Realty: The Cream Rises to the Top
Kimco Realty (KIM) recently announced the company's second quarter results and the impressive mid-year update including company gross occupancy (in the combined and U.S. shopping center portfolios each) increases of 40 basis points during the quarter to 93.5 percent and 93.4 percent, respectively. Kimco also revised its full-year guidance as it reported second-quarter FFO of $138.0 million, or 34 cents per share, up from $126.0 million, or 31 cents per share, earned in the year-ago period.
Kimco's portfolio metrics continue to deliver solid results as U.S. occupancy (on a pro rata basis) increased 50 basis points from the first quarter level to 93.3 percent and up 20 basis points from the beginning of 2012 and 70 basis points from a year ago. These occupancy improvements can be attributed to several strategic initiatives including improved credit quality, asset recycling, and select acquisitions. These initiatives can be best explained (on the company's second quarter earnings call) by Kimco's executive chairman and co-founder, Milton Cooper:
We have reason to be proud of our ability to withstand headwinds and improve our core metrics in a soft economy. Notwithstanding these uncertain times, we've strengthened our portfolio, we have divested non-core assets, acquired high-quality assets in top MSAs and focused on generating higher recurring FFO and creating value.
Kimco: A Flight to Tenant Quality
As the largest shopping center landlord in the country, Kimco owns and operates 926 properties across 44 states, Puerto Rico, Canada, Mexico, and South America. This diverse portfolio includes many brand name retailers and the "fortress" platform remains the largest landlord of Costco, Home Depot, TJX, Target, Ross Stores, Walgreen and Bed Bath & Beyond, all strong investment grade companies.
As further evidence of Kimco's exceptional risk-management platform, the company was able to re-lease 17 of the vacated Borders boxes that were vacated as a result of the book chain's bankruptcy. These replaced deals should start to further influence the company's NOI metrics over the next few quarters.
Potential tenant risks for Kimco include 27 leases that the company has with SUPERVALU. The concentration risk is minimal as SUPERVALU's exposure to Kimco is less than 1 percent (of base rent) and more than two-thirds of the sites are considered below market (based on rent per square foot).
Here is a snapshot of Kimco's top ten tenants: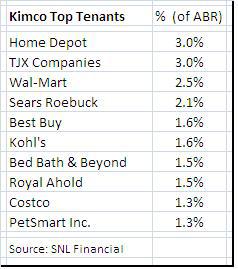 Kimco: A Flight to Asset Quality
Kimco's asset recycling initiatives have been extremely successful. Since announcing the focused initiatives (at the company's Investor Day in September 2010), Kimco has made great strides in improving the overall quality of the portfolio that includes both buying high-quality well-located assets (in core markets) with good demographics while selling non-strategic shopping centers.
These recycling efforts were explained by Michael V. Pappagallo, Kimco's Chief Operating Officer and Executive Vice President, on the company's second quarter earnings call:
We have sold more assets than we have bought in terms of numbers; 63 versus 42, but have acquired larger properties, and as a result, had a net addition to GLA of about 125,000 square feet. The assets bought were 93.8% occupied. The assets sold were 80.9% occupied. Average rent of property sold, $9.35; of acquired, $13.60. And while populations were roughly on par, the average household incomes of the acquired properties were almost 30% higher. Bottom line is that there has been a real impact on the portfolio base from these activities. We estimate that the properties acquired, since late 2010, now represent a bit under 6% of the U.S. shopping center gross asset value.
Here is a snaphot of Kimco's reported recycling strategies: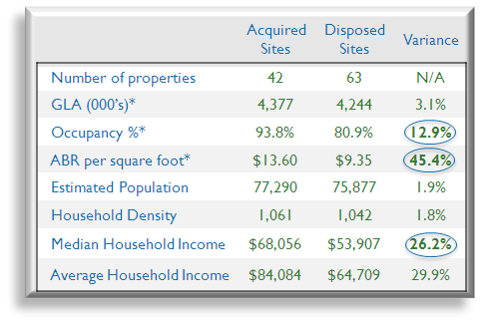 Click to enlarge
Kimco: A Flight to Capital Quality
Kimco's balance sheet continues to produce fortress results as the company's liquidity position is in excellent shape with over $380 million of cash on hand at the end of the second quarter and over $1.7 billion available on our revolving credit facility. The balance sheet metrics are strong with a consolidated net debt-to-EBITDA had adjusted up 5.6x (including transaction income, the net debt-to-EBITDA stands at 5.1x).
Kimco has prefunded an anticipated redemption of our $460 million 7 3/4% perpetual preferred issuance, which becomes redeemable on October 2012 with a new $400 million 6% preferred issuance, which was completed in March, and most recently in July completed a new $225 million perpetual preferred issuance at 5 1/2%, which is believed to be the lowest coupon ever for this type of security.
The above referenced balance sheet results and the company's well- staggered debt maturities should enable the fortress brand to weather any prolonged economic downturn or softness.
Kimco: This SWAN Can Fly and Weather Any Storm
A SWAN (sleep well at night) alternative is one in which an income investor can sleep well at night by waking up in the morning and watch principal being protected (assets appreciate) and income (dividends) grow. In today's market it is difficult to find a SWAN that can provide both.
Accordingly, interest rate risks pose the biggest threat for SWAN investors as the quest for yield is often bifurcated with principal preservation and asset quality. REITs provide a well-balanced solution as Milton Cooper explains (during the second quarter earnings call):
One question on everyone's mind is where is the market going from here? Four years ago, we were at the onset of a strong rally in corporate bonds. Investment grade corporate bonds yielded as high as 9.5% in October of 2008. Since then, yields have plummeted. Corporate BAA yields are below 4.8%. Real estate is, above all, an income-oriented investment, and cap rates are tied at the hip to interest rates. This is just one of the factors hinting at further cap rate compression. Lack of new development in our sector is another. Just from a purely income-based perspective, real estate and REITs should be beneficiaries in the current environment.
Shopping center fundamentals are improving and this recovery bodes well for many well-capitalized REITs. Kimco is likely to continue its dominating risk-management practices by utilizing its in-depth experience and fortress-like balance sheet. Kimco has a BBB+ S&P rating and the company is one of just eleven REITs with a BBB+ or higher rating. The macro-economic headwinds should propel Kimco (and other well-capitalized REITs) as explained by Kimco's CEO and president, Dave Henry:
The neighborhood and community shopping center sector continues to improve across the board as new supply remains extremely limited and national retailers of all types accelerate expansion plans and store counts.
Kimco has a current market cap of $8.06 billion and the current stock price is $19.81. The current dividend yield is 3.9 percent. Kimco has a complex preferred equity makeup and my favored issue (KimPrH) (yield of 6.07 percent) appears to be a risk-aligned option worth considering (for more on Kimco's preferred issues click on Michael Terry's Seeking Alpha article here).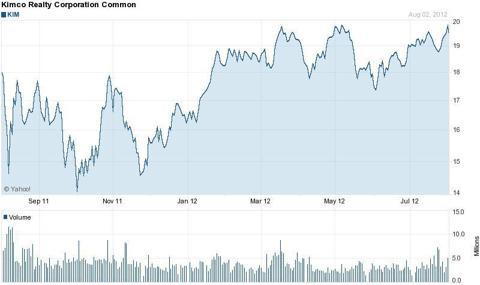 Click to enlarge
Disclosure: I have no positions in any stocks mentioned, and no plans to initiate any positions within the next 72 hours.