If all you ever did was watch CNBC, you'd probably hear an enormous deal made about the Dow and the S&P 500. These benchmarks are for the largest companies on the U.S. exchanges... and their poor YTD showing has the bulls battling the bears claw and jagged toenail.
Even those who are "cautiously optimistic" about a 2nd half bull run for stocks are keeping the "mute button" on their enthusiasm. After all, both the Dow Jones Industrials Trust (NYSEARCA:DIA) and the S&P 500 SPDR (NYSEARCA:SPY) are still down year-to-date. And both have yet to convincingly rise above long-term 200-day trendlines.
(Note: The chart below illustrates the Dow's effort to get above its 200-day. SPY's comparative performance is shown, but its 200-day is not.)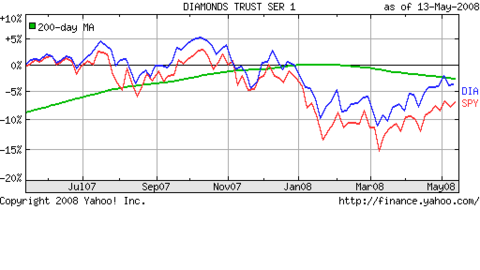 Persistent concerns about an economic recovery have kept many away from small-caps. Consider the premier indicator of small-cap well-being, the Russell 2000. The iShares Russell 2000 Fund (NYSEARCA:IWM) is noticeably negative in 2008. IWM is also struggling to get above its long-term moving average.
And yet, a paradox has emerged. If small is risky, and if large hasn't been much better, can anyone explain the confidence being shown in the mid-cap arena?
I first noticed the "momentum" victory for the iShares S&P 400 Mid Cap Growth (NYSEARCA:IJK) in February. At that time, I was looking for the best performers off of the January lows. Of course, extreme levels of fear returned in March, and that fear decimated every category. (See "Mid-Cap Growth Has Been Super-Resilient.")
I noticed the "momentum" issue repeat the same pattern in April, as iShares S&P 400 Mid Cap Growth was the top size/style performer of the 9 groupings. With "cautious optimism," one could say that mid-cap growth was charting a new uptrend.
While growth has out-hustled value in the mid-cap space, It's important to recognize that mid-sized companies are beating the competition clear across the board. We can see that all of the major mid-cap indicators are actually positive in the year 2008. And they are all above long-term trendlines.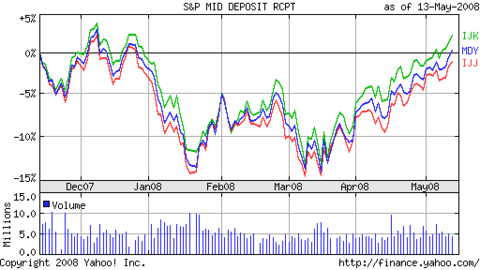 In contrast, we simply can't say the same things for large- or small-caps. All categories of small-caps (i.e., growth, blend, value) and all categories of large-caps are still trying to break on through to the up side.
So why have investors embraced the middle path? A variety of forces may be at play.
First, there are those who may be betting on an economic recovery. Small- and mid-sized companies historically thrive in recovery periods and growing companies tend to receive premiums. Yet a "slow-to-fully-take-effect" recovery hinders a smallest company revival. Meanwhile, mid-sized companies are more established then their smaller brethren, and they will likely make the eventual leap to large, even in a slow growth environment.
Second, the long-term investor may be intrigued by the 5-year outperformance of mid-cap investing. Or as Trang Ho for Investor's Business Daily puts it, "mid-caps represent the market's sweet spot."
Finally, normal rotation may be occurring; that is, investors were getting the most bang for their buck in small caps from 2003-2005. From the 2nd half of 2006 through 2007, the largest companies seemed to be getting capital inflow in a later stage economic cycle. It follows that we may be seeing a rotation into a perceived recovery play that is safer than small, yet craftier than "going large."
Disclosure Statement: ETF Expert is a web log ("blog") that makes the world of ETFs easier to understand. Pacific Park Financial, Inc., a Registered Investment Advisor with the SEC, may hold positions in the ETFs, mutual funds and/or index funds mentioned above. Investors who are interested in money management services may visit the Pacific Park Financial, Inc. web site.