Before I go any further, I own Safety Insurance (NASDAQ:SAFT) in some of the accounts that I manage. It is hard to find companies that we can say directly benefits from higher gas prices and global warming, but Safety Insurance is one of them. Any investor who considers her/himself a value investor should take a close look; it is a great company at a great price. However, this is not some quick trade, but rather a long term position that will likely yield attractive returns.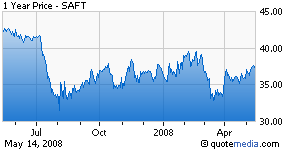 Safety Insurance is relatively easy investment to understand. It is the number two automobile insurer in Massachusetts. It has several other insurance products it sells, but most of its business comes from selling auto insurance. Safety Insurance currently trades at approximately 1x book value and has a dividend yield of greater than 4%. Both these valuation metrics are at a significant discount and premium to insurance industry. In addition, the board has authorized a $30 million stock repurchase program. The company has averaged a return on equity of approximately 17% over the last five years. More recently, it has fallen to 14.7% but still an attractive return on equity, given that the Ten Year Treasury is yielding less than 4%. Finally, the management team has been together for more than ten years which probably explains why they have been doing such a good at running the business.
Safety Insurance is also a direct beneficiary of global warming and higher gas prices. Global warming has helped the company's business, because less snow in the winter season leads to fewer car accidents. The roads are not as slippery. Higher gas prices leads to less miles driven, so people stay home; and when you drive less, you will have fewer accidents. So higher gas prices and warmer winters result in lower claims. Of course, it is hard to exactly quantify but it is clearly a positive trend.
Not all investors may entirely understand how the insurance industry works or how Safety Insurance makes money, but it is worth understanding. Safety Insurance makes money two ways through selling insurance premiums and its investment portfolio. When insurance claims are less than the premiums written, the company records a profit. In addition, any money the company makes from investing those premiums , the company also gets to keep as profit.
Of course, Safety Insurance is cheap for a reason and has risk. The Massachusetts Insurance Commissioner has been rolling back insurance premiums for consumers. Unlike many states, the Massachusetts auto insurance market is a regulated or a closed market meaning the insurance commissioner sets the rates. In the near term, it is uncertain what these rate roll backs will do to earnings. So near term, the next several quarters, the earnings outlook is possibly uncertain, and this can lead to price volatility as investors get more familiar with these changes and the impact on the company.
However, all this does not change the fact that consumers still need auto insurance, the company sells at book value with an attractive dividend yield, and you have a very strong management team focused on shareholder value.
Disclosure: Author has a long position in SAFT