McDermott (NYSE:MDR), an engineering and construction firm, announced a terrible quarter, sending its stock from 60 to 53. MDR disappointed. The Street expected 69 cents, MDR delivered only 54 cents. The poor results were confined to its oil section; its smaller power and government divisions had strong results.
Oil:
revenue 550 million (Q1 2007) to 645 million (Q1 2008)
earnings 121 million (Q1 2007) to 52 million (Q1 2008)
Power:
revenue 655 million (Q1 2007) to 616 million (Q1 2008)
earnings 43 million (Q1 2007) to 76 million (Q! 2008)
Government:
revenue 161 million to 191 million
earnings 35 million to 38 million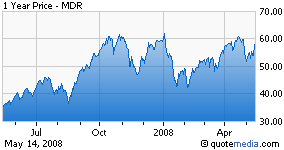 MDR's oil revenues and earnings fell way short because of horrendous weather conditions that prevented them from working for most of Q1. As their CEO explained:
Weather is a regular issue in offshore construction, but what we saw in the first quarter was really beyond anything I've experienced within one fiscal quarter...In the Asia Pacific region, we had to mobilize and demobilize four different times in Australia due to the path of multiple cyclones.
This, he notes, is a one time event which has corrected; except for a $20 million period charge, no orders have been lost and work is moving along apace.
So far in April and May, we have been operating on a much more traditional weather pattern.
E&C firms have "lumpy" quarters. Their revenues and earnings may fall off for a quarter due to execution problems, order changes, and, in this case, the weather. But nothing has fundamentally changed about McDermott. Usually the company targets operating margins of 10-12% but then beats that. Other companies in their peer group, such as Fluor (NYSE:FLR) and Foster Wheeler (FWLT) have lower margins. FLR just had a blow-out quarter where everything went right but produced only a 5.2% operating margin. MDR, with their worst performance (literally in a cyclone), made an 11% operating margin.
I expect that next quarter, "the weather will be better" and MDR will bring its oil revenues and earnings in. In addition, MDR had an unusually high tax rate this quarter owing to where it made its profits. Its government and power divisions produce income from higher tax locations. As the oil division ramps up, expect a much lower tax rate: this quarter 25% versus last year's 17%.
Further, imagine that the weather pattern had been normal this quarter. Instead of its $52 million oil earnings, MDR "should" have brought in $135 million, an additional $83 million. Take away taxes and I think they would have made 83 cents rather than 54 cents. I say that not because of wishful thinking but rather as a prediction of next quarter.
Disclosure: Long MDR, no position FLR, FWLT