There exists an irony to the fall of Knight Capital Group (NYSE:KCG).
Knight Capital had been extremely critical of the Nasdaq OMX Group's (NASDAQ:NDAQ) handling of Facebook's (NASDAQ:FB) IPO. Somewhat understandable, given that Knight Capital claimed a loss of $35 million as a result of the botched opening day trading during the IPO. However, Knight Capital CEO Tom Joyce's extreme criticism seems like short-sighted arrogance now:
This was arguably the worst performance by an exchange on an IPO ever.
How quickly the tables have turned. Knight Capital may now have the claim of "worst performance by a High Frequency Exchange, ever."
The irony with Knight Capital is in the "speed" of its decline. Knight Capital has been around since 1995. Its business is built around speed; from its 2011 annual report (pg. 7):
We conduct the vast majority of our market making activity as principal through the use of automated quantitative models. When acting as principal, we commit our own capital and derive revenues from the difference between the amount paid when our securities are bought and the amount received when the securities are sold. Another component of our trading strategy employs the use of non-client principal trading models which interact with street flow. These non-client principal models leverage our sophisticated trading technology and infrastructure to buy and sell equities and other financial instruments at a high rate of speed and for very short holding periods and are generally designed to benefit from pricing and arbitrage opportunities within the marketplace.
It has only taken about 24 hours for 17-year-old Knight Capital's stock to plummet from about $10/share to where it sits now at $3.53 a share. A "speedy" decline if there ever was one. An estimated $440 million loss in one day! This is larger than Knight Capital's current $357 million market cap.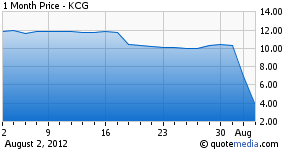 Joyce had an interview on Bloomberg News this morning, where he had a much more reserved tone. He mostly spoke in generalizations about damage control that were basically non-answers. However, he did speak a bit about the source of the problem.
NYSE Euronext's (NYSE:NYX) retail liquidity program went live yesterday. Also yesterday at the open, Knight Capital had its huge problems. Joyce confirmed during the interview that the firm had implemented a new software program designed to work with the Retail Liquidity Program. He said the software had a "bug" and that the bug was what caused all of the abnormal trading.
One really has to wonder about a company that is still working out the bugs in new software that it employs to move billions worth of shares. Pretty unbelievable, to be honest.
Oh, the irony.
Disclosure: I have no positions in any stocks mentioned, and no plans to initiate any positions within the next 72 hours.