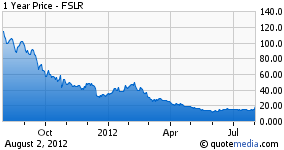 First Solar (FSLR) surprised the solar bears with a big profit jump for its most recent quarter, and plans to dramatically increase production.
The results were a big surprise because most of the market is talking about a production glut, because the efficiency of First Solar panels trails that of Chinese leaders like Yingli Green Energy (YGE) and JA Solar (JASO), and because governments are cutting back support for the space.
What's going on?
First Solar is selling its U.S. production through utility-scale projects, where it becomes its own customer.

First Solar sales are expanding rapidly in Asia, where there is often no alternative to solar power from grid energy.

First Solar has been increasing production most rapidly in Malaysia, where it has labor costs competitive with its Chinese competitors.
Today's bump is scant comfort to long-term holders of the stock, who have seen the value of their investment cut by 84% in the last year. And the gains weren't shared by its major rivals, with YGE actually down on the session so far.
It's interesting to note that one of the gainers is Ascent Solar (ASTI), which is still in the process of developing its CIGS thin-film technology. You can argue, then, that this is just a call on polysilicon vs. thin film.
But that would be wrong. The fact is that much of the developing world has no grid for solar panels to compete with, and that's where global growth has been concentrated for years. It's also true that solar panels can now compete, in the market, with grid energy in some of the developed world - like Hawaii. And it's also true that panel costs keep declining as technology improves - witness Semprius' delivery of panels with efficiencies near 35%.
The fact that the market seems to have turned is no guaranteed of profit in any one issue. Green investors are hot for profits right now, which is why FSLR's surprise is being welcomed so avidly. But in the long run this is a growth story, not a profit story, and it's a technology story, not a market share story.
FSLR will fall over the next few months, as the whole sector's problems drag on it, and you might want to look at it then. And you have plenty of time to get into an ETF like KWT (KWT) or TAN (TAN). A turn like this takes time to materialize, and if you're a solar investor time is still on your side.
Disclosure: I have no positions in any stocks mentioned, and no plans to initiate any positions within the next 72 hours.