Previously, we recommended Freeport-McMoRan Copper & Gold Inc. (FCX) as a potential candidate to play on a possible recovery in the Copper Industry (expected by the end of this year), which is currently suffering due to a macroeconomic meltdown and a tight copper market. Now, we add another major copper producer, Southern Copper Corporation (SCCO) to our recommended portfolio, due to its high correlation with copper prices, along with its high sustainable dividend yields. The stock is currently trading at almost $32, while our year-end target price is $46.
A risk-averse investor can hedge his long positions in SCCO and FCX by taking short position(s) in Copper ETF, Global X Copper Miners ETF (COPX), and/or in Copper ETN, iPath DJ-UBS Copper TR Sub Index ETN (JJC).
Company Description:
SCCO is an integrated producer of copper. Other valuable byproducts include molybdenum, silver, and zinc.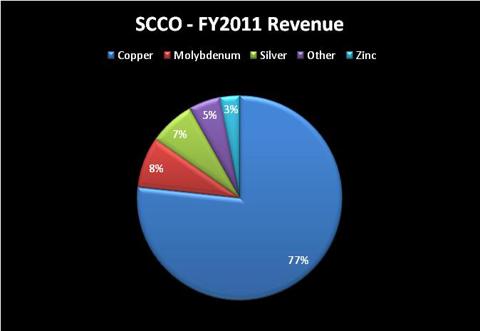 Market Performance:
The fact that SCCO is a pure play on copper makes its share price highly correlated with copper's price movements. So, if an investor wants to play a rebound in copper, SCCO can be a good potential buy.

Source: YCHARTS
Bullish Factors:
Possible Improvement in Copper Prices and Demand from China
According to SCCO Financial Planning Manager Raul Jacob, global copper supply is far behind demand this year due to "strikes, power shortages and depleting mines curbing output." In addition, China's copper demand is expected to grow by 6%-7% this year, while emerging economies are also extending their support to copper demand. Hence, we see a possible improvement in copper fundamentals.
Furthermore, the Chinese government is expected to take further monetary easing measures so as to bolster economic growth, which is currently following a downward trajectory. This will also improve demand for the red metal. As according to Aurubis, Europe's biggest copper smelter, two important drivers that spell a possible improvement in copper demand in China are "continued urbanization and measures to improve the energy supply and energy efficiency." The recent positive housing data in China, where home prices rebounded from eight consecutive months of a decline, is a positive indicator in this regard.
High Dividend and Free Cash Flow Yields
The best thing about having a company like SCCO in your portfolio is its ability to pay high dividends on a sustainable basis. In addition, its free cash flow yield has also traditionally remained at high levels (quarterly average from 2010 onwards = 5.4%).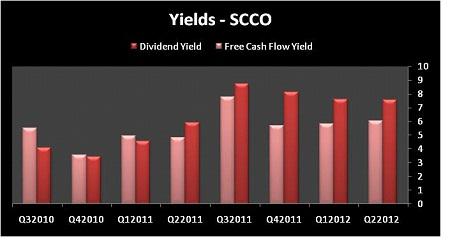 Bearish Factors:
Decline in Revenue and EPS in 2Q2012
Due to prevalent low copper prices, its 2Q2012 earnings dropped by 14.4% relative to the last year. Revenue also declined by almost 8%, despite a production increase of 10%. However, the decline is primarily attributable to low global copper prices. According to the company chairman, German Larrea:
The quality of our assets and expansion plans, combined with our positive long term view of copper prices gives us confidence in the sustainable cash generating ability of our business.
We expect a rebound in copper prices in 2H2012, which will improve SCCO's revenues and EPS.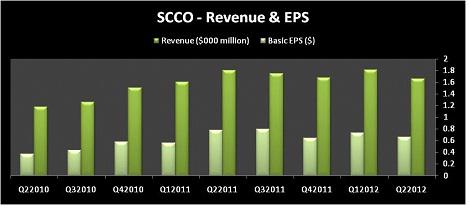 Valuation & Target Price:
| | | | |
| --- | --- | --- | --- |
| | SCCO | FCX | NEM |
| Dividend Yield | 6.31% | 3.68% | 3.09% |
| Forward P/E (1 year) | 12.56 | 6.96 | 9.02 |
| PEG (5 year expected) | 1.48 | 2.61 | 0.16 |
| EV/EBITDA (TTM) | 7.16 | 4.53 | 5.97 |
Relative to its peers FCX and Newmont Mining Corporation (NEM), SCCO is expensive as its forward P/E ratio of 13x and EV/EBITDA of 7x are the highest among the lot. However, SCCO's high dividend yield of 6.7% more than justifies its expensive valuations.
The following calculations show a target price of almost $46 based on EBITDA estimates for 2012 and 2013.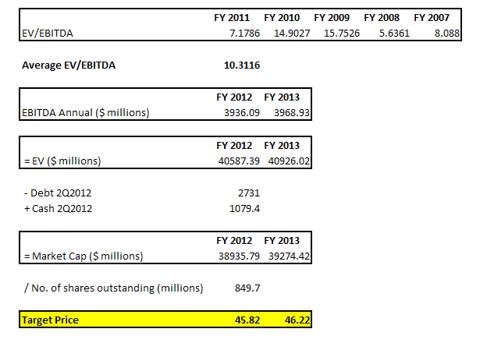 Disclosure: I have no positions in any stocks mentioned, and no plans to initiate any positions within the next 72 hours.