Here's the thing, Westpac (WBK) seems a nice little yielder with a dividend yield of 6.9% and it doesn't even look incredibly expensive at 12.2 times earnings.
But remember what Westpac is. It's an Australian bank, financing families and businesses in Australia. It's basically financing a large real estate bubble, and a bit less worryingly, the construction of that real estate bubble. It's also financing mining companies and the like. All of this is supported by an economy that's been goosed by real estate and mining investment and exploration.
The Real Estate bubble
To know if there's a real estate bubble, you can check either income/price ratios or rent/price ratios. Here is the behavior of housing prices vs rents in Australia compared to other recent bubbles (source: The Economist.)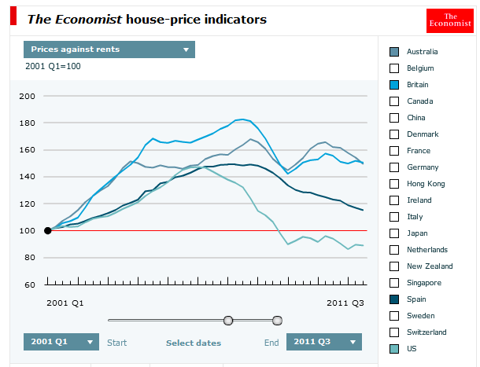 We also know that prices are already falling. Here's the recent behavior of housing prices, and how they track from the top vs two large bubbles (U.S. and Japan, source: whocrashedtheeconomy.com):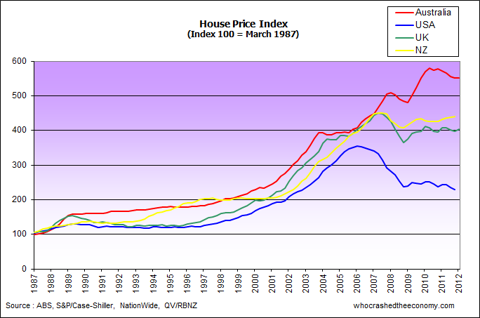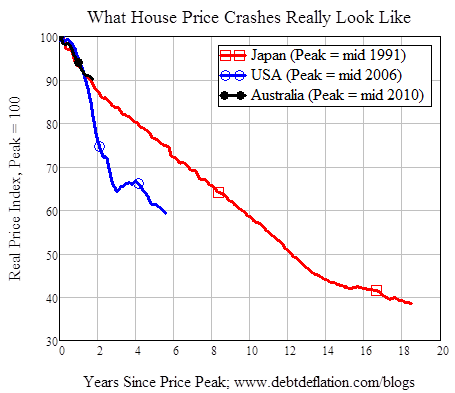 So basically there's good reason to believe Australia had its real estate bubble and the bubble is now collapsing. There's also data showing households in Australia are quite indebted, at 105% of GDP, again consistent with such a bubble popping.
Since the local banking sector will hold most of the housing debt, buying Westpac today is similar to buying Spanish or U.S. banks as the housing bubble burst in either place. That didn't go well.
Mining
Additionally, Australia had a huge mining boom. This was tied to China's economic boom, with 23.7% of Australia's exports being for China. Also, just five commodities, iron ore, coal, gold, copper and aluminum, represented 45.6% of Australia's exports (source: Department of Foreign Affairs and Trade, "Composition of Trade Australia, 2010-2011").
Any deceleration in these exports would naturally have a direct impact on Australia's economy. And that deceleration is already happening, especially due to price. Below is a chart of iron ore's falling price (Source: Bloomberg):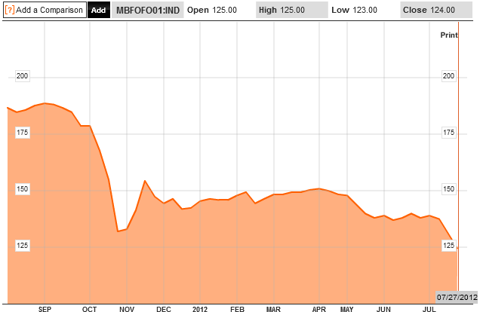 The same has going on with metallurgical coal, aluminum, and to some extent, copper.
Mining has a second large impact on Australia's economy. Australia's economy is highly reliant on investment for the expansion of mining. Now, with reduced need to proceed with large expansions of output, those investments get delayed or cancelled quite quickly, as already started happening.
Valuation
Westpac, while being in a situation similar to U.S. or Spanish banks just a few years ago - during the initial stages of the housing bubble collapse - still trades at a large valuation premium to said U.S. banks.
From a price/book value perspective, Westpac trades at 1.63 times book value, this compares to Bank of America (BAC) at 0.36, Citigroup (C) at 0.43 or JP Morgan (JPM) at 0.75. Banco Santander (SAN) comes in at 0.62. This large void will probably be filled by Westpac trading lower as the effects of Australia's housing bust together with the economic effects of Australia's mining sector cooling down take their toll.
Conclusion
Given Westpac's valuation and the prospects for Australia's economy and banking sector, it would seem better to sell Westpac here ($122.43).
Disclosure: I have no positions in any stocks mentioned, and no plans to initiate any positions within the next 72 hours.