I've been focused on unconventional oil producers for the past couple of years. My portfolio is loaded with them, and I very much like their growth prospects over the next decade.
I recently read through the recent Range Resources (RRC) (one such unconventional producer) conference call and came away impressed with the land position that the company has in two of the highest return plays in the United States.
This comment from the Range Resource team caught my attention:
"We have got such a huge position that is predominately derisked and again you can look in our IR presentation, but we have literally got the opportunity to grow tenfold from where we are today. We're only a 5 TCF company and not counting ethane or those things, we have got the opportunity or resource potential to grow 44 to 60 Ts. And again some of the highest rate of return plays out there."
Like many of these unconventional players Range has an inventory of drilling locations that essentially turn the company into an oil and gas manufacturing machine, not an exploration and production company. Range and the other "unconventionals" have more than a decade of solid growth ahead of them.
The two most profitable plays that Range is involved in are the wettest acres in the Marcellus and the Mississippian Lime.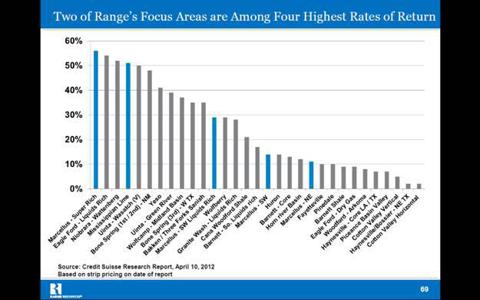 Click to enlarge
The chart above shows that these two plays rank in the top four as far as return on investment in the United States according to Credit Suisse.
Range operates in the Marcellus along with big companies like Chesapeake (CHK) and smaller companies like Cabot Oil and Gas (COG) and Rex Energy (REXX) and in the Mississippian Lime Range alongside big companies like Sandridge (SD) and smaller companies like Redfork Energy (RFE) and Petro River Oil.
After reading the Range conference call I decided to have a look at how the stock market is valuing the company. After all, it doesn't matter how good a the assets of a company are if the stock price already fairly values them.
Calculate Range Resources Enterprise Value
Shares Outstanding - 160 million
Share price - $62.60
Market Capitalization - $10 billion
Net Debt - $2.6 billion
Enterprise Value - $12.6 billion
Annualized First Half 2012 Cash Flow Run Rate - $560 million
Data source: Edgar online
Range Resource Enterprise Value to Cash Flow
Enterprise Value / Annual Cash Flow - $12.6 billion / $560 million = 17.88 times
Now, I've been a big believer in the fact that these unconventional players should be priced at high multiples because they are growth companies. The land bases many of these companies hold virtually guarantees a long stretch of growth for most of them.
And at 17 plus times cash flow I think we can safely conclude that Range is trading at a pretty high multiple.
Take a Look North of the Border For Your Unconventional Investments
As I look at unconventional oil producers I continue to notice a very clear trend. The American unconventional producers are valued at much higher multiples than their Canadian peers.
Consider the valuation of a Canadian unconventional oil producer Petrobakken (PBKEF.PK):
Petrobakken Enterprise Value
Shares outstanding -- 188 million
Most recent closing stock price -- $12.37
Market Capitalization -- $2.326 billion
Total debt outstanding -- $1.3 billion
Enterprise Value -- $3.625 billion
Petrobakken Valuation Metrics
First Quarter Cash Flow Annualized -- $740 million
Enterprise Value / Annual Cash Flow -- 4.90 times
If we compare Range Resources to Petrobakken, the valuation difference is quite remarkable.
Range with an annual cash flow run rate of $560 million has an enterprise value of over $12 billion, while Petrobakken with a higher annual cash flow run rate of $740 million has an enterprise value of only $3.6 billion.
Yes, Range has some great long term growth prospects, but so does Petrobakken which as over 2,000 drilling locations in front of it and that excludes 120,000 acres of the emerging Duvernay play.
I'm not bashing Range or any of the American unconventional producers which are more richly valued. Instead, I'm suggesting that if you like exposure to these tight oil resource plays that you take a look north of the border where valuations are much more attractive.
Disclosure: I am long PBKEF.PK.