Since touching a low of around $77 a barrel in June, oil (WTI) has roared back above $90 amidst improving European volatility, general stock market rally, speculation on quantitative easing (QE3), and renewed focus on the Iranian tension, albeit on lighter trading. Natural gas (Henry Hub) front-month prices on the other hand, continued its fearsome recovery rally from around $1.90 in April to a close above $3, fueled by the nationwide heat wave and high power demand. Oil and gas producers have mostly tracked this momentum and rallied toward near term resistance. Things seem to be on the up and up, but really?
Bear Trap
In a world of well-supplied markets the key to oil price is the macroeconomic environment affecting demand. Even the US has reversed the long-term trend of declining production and is now producing above the 6-million-barrel per day mark. When examining the price actions the past month, one would notice that the supply effects of Tropical Storm Debby and the Norwegian oil strike barely registered. The mind of market participants has definitely been focusing on different things.
Click to enlarge.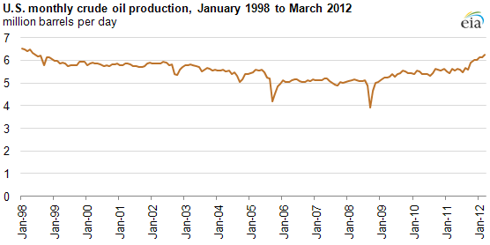 The Greeks may or may not exit the Euro, but the structural competitiveness problems of some big euro zone economies will not be resolved for a while. With the coming "great slowdown" of the emerging economies (coined by the The Economist) and the protracted nature of the European debt crisis there is plenty of scope for oil to turn back down. The US economic recovery is sluggish and inconsistent. The effects of QE3-induced economic stimulus is likely to be limited at this point and smaller than the first two stimulus packages. Whatever drop in the US Dollar resulting from QE3 will surely provide some fuel to oil price but is likely to be short-lived.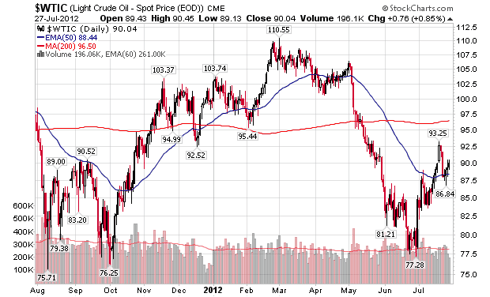 While selling by the $100-a-barrel believers is done for now, from a technical standpoint the overhead resistance in the $90-$100 range is tremendous. The sentiment is bearish for the next few quarters, and whoever did not get the chance to sell when oil crashed hard in May will jump in when it gets close to $100.
What does it mean for Oil Producers?
The new reality of sub-$90 oil environment is just beginning to set in. The majors with their strong balance sheets and diversification of assets are in much better position than the small operators. With the proliferation of horizontal drilling and hydraulic fracking there is fierce competition in the domestic oil and gas scene, where most mid- to small-sized producers compete. However, the breakeven point of many producing basins is in the $50-$70 range. Unless oil price crashes to that range and stays there for a few quarters producers will likely not cut back on drilling. As a matter of fact, two major factors will make it even harder to cut production.
First of all, many producers have a mix of natural gas and oil. Where margins are hurt by low gas price, operators are looking to oil to offset the loss. Witness the massive movement of rigs from gas to oil properties in the past few years. Oil even at $60 provides much better return than gas at $3. With reduced revenue from oil, small and mid-sized producers will be under intense pressure to drill more to make up for "lost" revenue.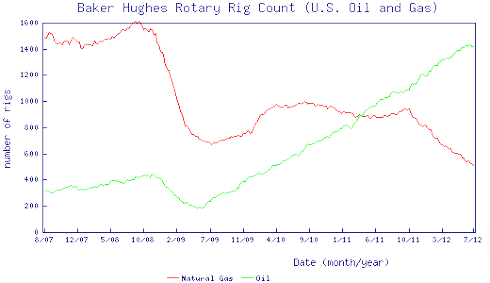 Secondly, the corporate budgeting process does not adjust to fluctuating commodity prices overnight. There are deep and liquid markets to hedge production. One of the vital tools for smaller operators to survive in lean times is to hedge. In fact, many gas-heavy producers are already operating below their breakeven points. The only thing that keeps their lights on is the offsetting hedging positions. Expect the same thing to happen to oil producers. In addition, the intense competition and the need to drill new acres to keep the oil/gas leases are going to cause significant production cutback to lag commodities prices.
Looking at the companies with significant oil exposure you can tell the uptrend since October 2011 has clearly been broken. Gulfport Energy's (NASDAQ:GPOR) chart is pretty typical. Others worth watching are Oasis Petroleum (NYSE:OAS), Whiting Petroleum (NYSE:WLL), Berry Petroleum (BRY), Pioneer Resources (NYSE:PXD), Energy XXI (EXXI), Rosetta Resources (NASDAQ:ROSE).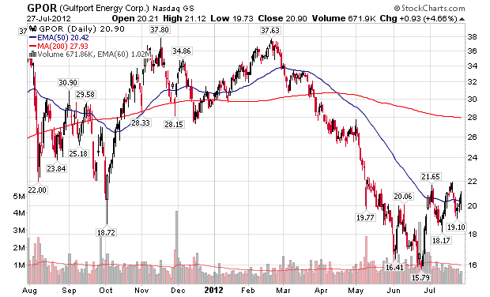 With record domestic production, the only significant bullish factors are monetary easing by the Fed or a supply shock from Iran. Saudi Arabia is already working to mitigate the effects of a possible blockade of the Strait of Hormuz by converting a pipeline capable of shipping 2m b/d from natural gas to oil service to bypass the waterway. Bottom line, there are many traps in the oil market and oil related stocks in the months ahead but not enough upside catalysts. Tread carefully.
Disclosure: I have no positions in any stocks mentioned, and no plans to initiate any positions within the next 72 hours.