Only individuals who are bullish on Freeport-McMoRan Copper & Gold Inc. (NYSE:FCX) should consider employing this strategy as there is a chance that the shares could be assigned to your account. If you are not bullish on this stock, then it would be in your interest to look for alternative plays.
From a long term perspective this is a good play. It is the world's largest low-cost producer of Molybdenum. Production has already started at its Climax molybdenum mine. Management is currently working to ramp up production at this site. The company will produce roughly 20 million pounds of Molybdenum in 2013, and is planning to increase this to 30 million pounds a year.
In addition, construction at Tenke (Africa) is moving along well and is projected to be completed by 2013. Management has stated that they will spend roughly $275 million on exploration in 2012 compared to $221 million last year. The company expects copper production to increase by roughly 25% over the next three years.
Additional reasons to be bullish on Freeport-McMoRan Copper & Gold Inc.
Drilling data in North America continues to illustrate that there is potential to expand sulfide production.
Production at Chino is projected to increase from 69 million pounds in 2011 to 200 million pounds by 2014. Freeport-McMoRan has started expanding its milling and mining capacity at Morenci to process more Sulfide ores. This project is expected to increase milling rates from 50,000 metric tons to 115,000 metric tons of ore per day. Management also wants to incrementally increase annual copper production with a targeted production of 225 million pounds of copper in three years.
The $4 billion project in Cerro Verde to expand the concentrator facilities continues to advance. The goal is to expand the concentrator's capacity from 120,000 metric tons to 360,000 metric tons of ore per day and incrementally increase annual production of Molybdenum and copper to 15 million pounds and 600 million pounds respectively by 2016.
The company expects copper production in its North and South America operations to reach 3.5 billion pounds by 2016.
Net income rose from $2.7 billion in 2009 to $4.56 billion in 2011.
EBITDA rose from $7.4 billion in 2009 to $10.15 billion in 2011
Cash flow per share increased from $4.44 to $5.95 per share
Annual EPS before NRI increase from $3.43 in 2008 to $4.84 in 2011
For investors looking for more details on this stock, they can accessed by reading our most recent article, Is Freeport-McMoRan Copper A Buy Right Now?
Bullish strategy for Freeport-McMoRan Copper & Gold Inc.
The strategy has two parts to it. In the first part we sell a put. In the second part we use the proceeds from the sale of the put to purchase calls.
Part I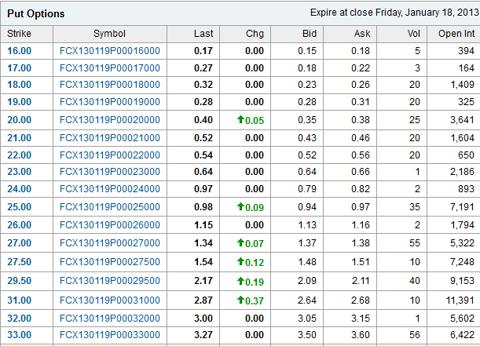 The Jan 2013, 29.50 puts are trading in the 2.09-2.11 ranges. The last trade was at 2.17. We feel that there is a good chance the options could trade in the 2.15-2.25 ranges. For this example we will assume that the puts are sold at 2.15 or better. 1.10-1.12 ranges. For each contract sold $215 will be deposited into your account.
Part II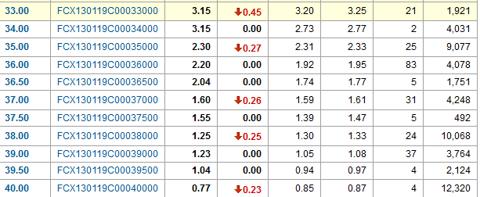 The Jan 2013, 40 calls are trading in the $0.85- 87 ranges. The last trade was at 77 cents. The option has a decent chance of trading down to the 70-80 cents ranges again. For this example we will assume that we can purchase these calls at $0.80 or better. For each put sold you will be able to purchase up to 2 calls and have a net credit of $55.
Risks associated with this strategy
If the shares trade below the strike price the puts were sold at, the shares could be assigned to your account. Depending on the number of calls you purchased your final price will range from $28.15 (if you purchased one call only) to $28.95 if you purchased two calls. As there is a chance that the shares could be assigned to your account, you need to be bullish on the prospects of this stock. If your outlook is not bullish, then you should not point this strategy into play.
Advantage of this strategy
You have the opportunity to leverage your position for almost free. We use the word almost free because hardly anyone is fully invested in the markets all the time and so the money sitting in your account is technically dead money. If you are bullish on the stock, this would be a good way to significantly boost your rate of return for little to no cost. If on the other hand you were going to use this money on another play and decided instead to use it on this play, then it would make sense to count the money that is used to secure the puts as part of your cost. In this case, the cost to secure the puts would be $2895 (minus the $55 credit) per contract sold. However, this would allow you to control up to 200 shares with a net credit of $55 per put sold. If you had to buy those shares at the current price, you would have to put up roughly $6,600 and you would end up paying roughly 800-1,000 extra for these shares as opposed to paying 28.15-28.95 if the shares were assigned to your account.
If the stock takes off, your calls could significantly rise in value and secondly, if the shares are assigned to your account, you will get in at much lower price as opposed to buying the shares at the current price.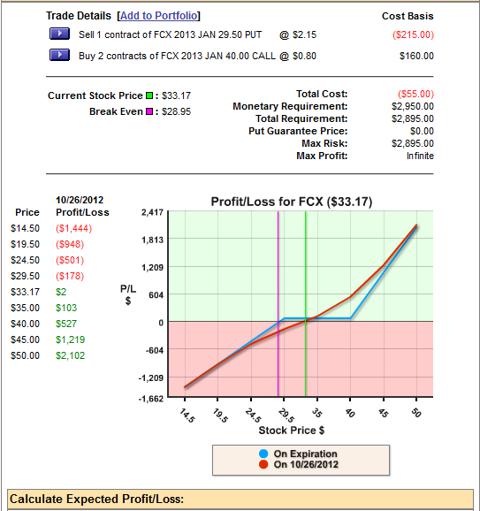 Conclusion
The charts are indicating that the markets could top toward the end of the summer. Thus consider closing these positions toward the end of the summer or when and if the call options are showing gains in the 70-100% ranges. To close the position out, you would sell the calls and purchase the puts back.
Disclaimer
It is imperative that you do your due diligence and then determine if the above strategy meets with your risk tolerance levels. The Latin maxim caveat emptor applies - let the buyer beware.
Disclosure: I have no positions in any stocks mentioned, and no plans to initiate any positions within the next 72 hours.
Additional disclosure: A major portion of the historical data used in this article was obtained from zacks.com. Options tables sourced from yahoofinance.com. Profit loss graph provided courtesy of poweropt.com