We believe that Aflac Inc. (AFL) represents compelling value at its current quotation. This above-average earnings generator that has grown earnings at a rate of 16.2% per annum since 1998 can be purchased at a blended PE ratio under 8 and offers a dividend yield of 3%. When you compare this to the average company as represented by the Standard & Poor's 500, you can only scratch your head in bewilderment. The S&P 500 has grown earnings at 5.7% per annum since 1998, only offers a 2% dividend yield and yet commands a blended PE ratio of 13.7.
Something is clearly wrong with the above valuations based on fundamentals. Not only does Aflac offer a better track record than the average company, its future prospects for growth are also superior. All of this comes notwithstanding the fact that this is an extremely high-quality company with strong fundamentals. This article is intended to look at Aflac's "essential fundamentals at a glance" through the lens of the F.A.S.T. Graphs™ research tool. Therefore, rather than reinvent the wheel, we direct the readers to the following article by Mike Williams that provides an in-depth look at Aflac and its fundamentals to include its much maligned investment portfolio:
Aflac Is A Gem For Dividend Growth Investors
For even more detailed information, follow this link to Aflac's second quarter 2012 conference call on July 25:
AFLAC Management Discusses Q2 2012 Results - Earnings Call Transcript
Aflac - A Picture is Worth 1000 Words
When the prudent long-term investor buys a stock, they are really buying the business. Therefore, we believe that knowing how well the business behind the stock you are considering has historically performed is an important first step in the investment process. The following earnings and price correlated graph reviews Aflac Inc., its business and how the market has priced its business since the beginning of calendar year 1998. There are a couple of important points that we believe this graphic vividly reveals. First and foremost, Aflac has achieved a very strong record of historical earnings growth (the orange line).
Second, we discover that up to the great recession of 2008, Aflac's stock price has not only tracked earnings, but even more importantly, that the stock had typically commanded a premium valuation. The blue line on the graph represents the normal PE ratio of 18.1 that the market historically applied to Aflac. Moreover, we see that the stock price rarely fell below its earnings justified valuation (the orange line) representing a PEG (PE equals growth rate) ratio PE of 16.2. However, since the great recession, the market has not been as kind as it historically had been to Aflac as the stock now is clearly being undervalued by Mr. Market.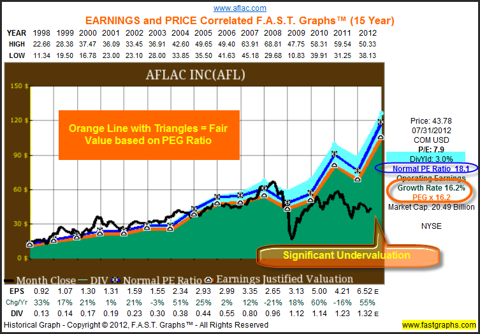 Click to enlarge
(Click to enlarge)
From the above graph we see that currently Aflac is significantly undervalued relative to its historical norms. We also saw that the company was fairly valued in 1998, as the price and the orange earnings justified value line both closely correlated. Nevertheless, even with today's undervaluation, Aflac has produced very attractive returns for shareholders. Capital appreciation (closing annualized ROR) has been 8.8% per annum, turning a $1000 investment into $3414.84 since 1998.
In addition to capital appreciation, Aflac has also paid a dividend that has increased every year since 1998. As you can see by the column marked DivGR% (highlighted light blue), Aflac's annual dividend increases have been very strong. Also note that an investment made in Aflac in 1998 offered a starting dividend yield of only 1%. Therefore, this is additional evidence that buying Aflac today with a 3% starting yield means that the stock is undervalued relative to historical norms.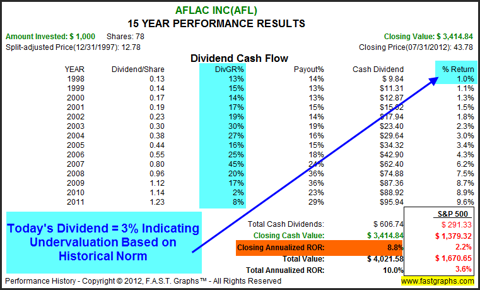 Click to enlarge
(Click to enlarge)
Our graphs are a dynamic tool that allows users to measure earnings growth rates over different time frames. Thus, the following Aflac earnings and price correlated graph since 2007 (six years), shows that Aflac was able to average 13.9% earnings growth during a time frame that included the great recession of 2008. Therefore, we further discover that the normal PE for this shorter time period is also lower than the 15-year average.
Nevertheless, it is still crystal clear that Aflac is currently selling at a valuation that is far lower than fundamentals would warrant. We believe it's important to emphasize that price volatility is often emotionally driven and therefore temporary. Conversely, business results are much more substantial and therefore, more important to the long-term prudent investor.
When a stock gets undervalued like Aflac is today, we believe this simply means that the stock has become illiquid because owners cannot sell it at a reasonable valuation. Furthermore, we would also argue that there is no real loss as long as the owners don't panic and sell it at less than intrinsic value would dictate. But most importantly, we have reviewed an enormous amount of historical evidence that proves that the stock price will inevitably move back to fair value as long as business results are good or strong, like they are with Aflac.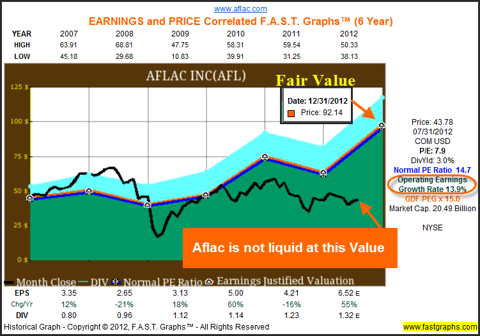 Click to enlarge
(Click to enlarge)
The consensus of 18 analysts reporting to capital IQ forecast that Aflac will achieve earnings growth of 55% for 2012 over 2011, followed by a 5-year estimated earnings growth rate of 8.8% per annum. As a cross-check, 17 analysts reporting to Zacks expect higher 5-year estimated earnings growth of 9.1%. Though both of these numbers are reasonably consistent, this would imply a large opportunity going forward with Aflac. If these estimates are reasonably close and the company returned to a normal PE ratio of 15, as its fundamentals indicate it should, the compounded annualized return would exceed 26%.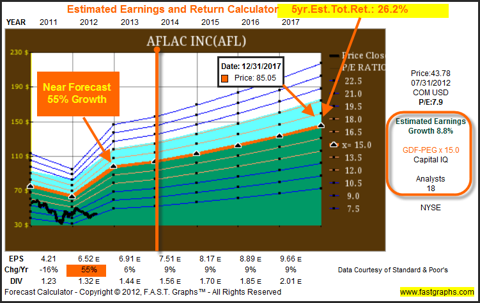 Click to enlarge
(Click to enlarge)
Aflac offers a current earnings yield of 14.9%, which is exceptional, especially when you consider that the so-called riskless 10 year Treasury bond only yields 1.5% of interest. Moreover, their current dividend yield is virtually twice the interest rate on the 10 year Treasury. This is remarkable when you consider that Aflac is a member of two elite lists, the Dividend Champions and the Standard & Poor's Corp. Dividend Aristocrats indicating that they raised their dividend every year for at least 25 consecutive years.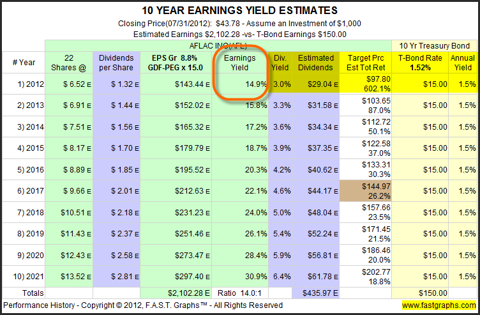 Click to enlarge
(Click to enlarge)
Summary and Conclusions
Legendary investor Ben Graham has taught that the stock market is a voting machine in the short run, but a weighing machine in the long run. This lesson means that emotionally-driven stock values are merely a function of investors' short-term attitudes which can be very mercurial and, therefore, change very quickly. However, longer term, the strength of the business is what ultimately matters the most. We believe that Aflac is a very strong business that is currently being mis-appraised by baseless pessimism. Therefore, we consider it an attractive long-term investment for both growth of capital and growth and dividend at current levels.
Disclosure: I am long AFL.
Disclaimer: The opinions in this document are for informational and educational purposes only and should not be construed as a recommendation to buy or sell the stocks mentioned or to solicit transactions or clients. Past performance of the companies discussed may not continue and the companies may not achieve the earnings growth as predicted. The information in this document is believed to be accurate, but under no circumstances should a person act upon the information contained within. We do not recommend that anyone act upon any investment information without first consulting an investment advisor as to the suitability of such investments for his specific situation.