The company formally known as Quepasa, has fallen under the radar of investors during the past year and I think a change is coming - it is now time that you became familiar with their new name, MeetMe Inc. (NASDAQ:MEET) before they announce (what I believe will be) their first positive reported EPS as a publicly traded company.
Click to enlarge.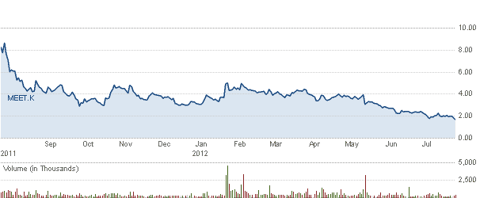 Click to enlarge
Looks pretty dismal, right? Here are a couple reasons on why I think this social media stock has plummeted over the course of the past year.
First, Quepasa served primarily as a social media site for the Latin and Spanish speaking online community. The launch of Facebook's (NASDAQ:FB) Spanish platform completely thwarted Quepasa's initial potential to grow. Secondly, Quepasa relied solely on visits accumulated from their computer-based website platform and minimal revenues from virtual dollars used for online games. They had no (or very limited) mobile phone or tablet platforms available.
During the first quarter of 2012, MeetMe Inc. earned record revenue of $10.8M. However, this was quickly eaten away during the same quarter, resulting in a Q1 loss per share of -$0.05. This missed analyst's estimates of $0.01, by -$0.06 per share. The unexpected loss quickly soured the stock price and resulted in a new 52 week low. Investors began leaving MeetMe for dead, completely ignoring what actually caused the decreased value per share.
Well, here is what I suspect caused the loss - In Q1 2012 versus the same quarter in 2011, they spent 270% more on product development and content (their biggest operating expense of over $6M), 400% more on sales and marketing and 130% more on general and administrative costs. Their total operating costs and expenses totaled $12.4M for 2012 whereas in 2011, this number was $3.6M.
The increase in spending on product development and user content was, what I believe to be the main reason that MeetMe didn't break into the black numbers last quarter. It's also the reason why I am expecting a positive earnings report for the second quarter. If you ignore the roughly $4M in additional funds spent on product development (versus Q1 2011) in order to compete on various platforms, including the iPad - MeetMe Inc. would have recorded a Q1 EPS of $0.11. However, you can't do that because the increase in product development spending directly influenced and enhanced the first quarter earnings. This was a necessary expense, resulting in a short term deficit, which has already proven to greatly enhance this company's long term growth potential.
Some recent developments within the past two quarters also contribute to why I think a turnaround is inevitable. On December 19th of last year, MyYearbook (acquired by Quepasa during 2011) launched its first app for the iPad and has reported a total of over 500K daily page views. February 23rd of this year, the company launched the offering of mobile virtual currency. This is a huge factor because over 60% (and rising) of total page views come from MeetMe's mobile users.
How important is the availability of mobile virtual currency? A recent article featured on Techcrunch states that, Facebook desperately needs to figure out a way to make money from mobile users in other ways than through mobile advertising sales.
So with their mobile currency launch, MeetMe Inc. (for the time being) is one step ahead of the largest social networking company in the world.
In their 10-Q filing with the SEC for quarter one results, MeetMe mentioned that 33% of earned revenue came from sales of their virtual currency, both mobile and web-based, for a total of approximately $3.6M. Virtual currency, in addition to uses such as unlocking VIP features on the websites, can also be used on their "Social Theater" platform, which then results in a payment from Matt Inc. on a CPA (cost-per-action) basis. MeetMe includes advertising payments made from Matt Inc. for CPA events, in their declared virtual currency sales earnings.
If you use MeetMe's mobile user percentage of 60 and multiply it by total virtual currency sales for the first quarter, you get a figure of about $2.15M in revenue for 38 days worth of available mobile virtual currency sales.
Last month, MeetMe Inc. announced the termination of their Quepasa Games division, which created "Wonderful City - Rio" and "Amazon Alive." MeetMe said in the June 29th press release that both games will continue to be available on Facebook and that the games will be supported by their marketing and distribution partners. This move actually helps improve MeetMe's chance of a positive return per share because the games only accounted for $280K in revenue during the first quarter - while increasing required operating costs by $500K.
MeetMe could have sold the ownership rights for both games to Zynga (NASDAQ:ZNGA) or another web or mobile based gaming company (Profit). Worst case, they just gave them away. It still results in a decrease in total operating expenses (Profit).
With the increase in revenue from the launch of their mobile currency, the addition of new mobile and tablet platforms and (I'm assuming the biggest pill was already swallowed) a decrease in product development costs, MeetMe Inc. is poised for their first report of a positive earnings quarter.
Throw in the July, 11th press release stating that MeetMe was the 18th most trafficked website in the US for the month of June, with more page views than either Pinterest and LinkedIn (NYSE:LNKD). Then look at Gartner's estimate of a 100% ($17 Billion) increase in revenue per year for the Social Media Market by 2016 and the fact that as I write this, the share price closed at a new low of $1.65 per share. Put it all together, and I believe that MeetMe Inc. is about to become a blockbuster percentage earner - starting with the Q2 earnings release on August, 8th and continuing throughout 2013.
Some obstacles that still exist for MeetMe are competition from Facebook and similar social media sites, long term debt obligations, maintaining current and adding additional virtual currency buyers, and continuing their increase of advertising sales revenue.
Disclosure: I am long MEET.