Consumer spending dipped last month, but sales at restaurants and food stores remained brisk. The Commerce Department reported a 0.2% reduction in consumer spending in April from a month earlier, but food stores saw a 0.5% increase in sales and restaurants and bars experienced a 0.9% increase in business. That news, along with a slew of better-than-expected earnings reports from food and beverage companies and the announcement of a major acquisition in the industry, helped send PowerShares Dynamic Food and Beverage ETF (NYSEARCA:PBJ) up nearly 6% during the three months ending May 9, topping the S&P 500's gains by about a percentage point.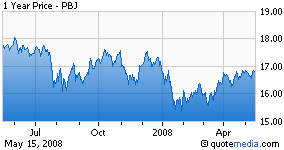 PBJ offers a stake in the most familiar brands and products in the typical American diet, from Corn Flakes and Big Macs to Bud Lights and bananas. Most of the fund's holdings are shares of fast-food chains or of manufacturers of food or beverage products, but the fund's portfolio also includes shares of some grocery chains and other assorted food-related stocks. For example, agriculture and biotech giant Monsanto (NYSE:MON) recently was the fund's number-four holding. The 30 holdings in PBJ's portfolio recently had a medium-sized average market cap of $8.89 billion.
There are a couple reasons why stocks in large food and beverage companies could be especially appealing right now, when the economy is in the midst of a slowdown and the stock market is experiencing increased volatility. For one thing, firms in this sector tend to perform with a relatively high degree of consistency. PBJ, for instance, hasn't swung up or down more than 7% in any quarter since its 2005 inception. That contrasts sharply with most single-sector funds, which regularly post double-digit quarterly swings. The cause of PBJ's fairly even course is simple: Demand for basic food and beverage products tends not to change much, even when consumers cut back spending in other areas. The sector is generally non-cyclical and fairly insulated from macroeconomic conditions.
Many stocks in PBJ's portfolio also offer high dividends. Recent top five holdings Anheuser-Busch (NYSE:BUD) and General Mills (NYSE:GIS) (offer dividends of 2.6%, while number three holding McDonald's (NYSE:MCD) yields 3.1%. In comparison, the S&P 500's yield recently stood at 2.3%. Those attractive dividend yields mean that when shares dip, investors can count on many food and beverage stocks to provide a steady stream of income.
The driving force behind PBJ's gains over the last few weeks has been recent top holding Wrigley (WWY), the world's largest producer of chewing gum. Stock in the firm gained more than 33% year to date through May 9, far more than any of PBJ's other top 25 holdings. The bulk of those gains came on April 28, spurred by the announcement that Mars—maker of Snickers and M&Ms—had reached an agreement to purchase Wrigley for $23 billion. Wrigley shareholders will no longer receive packs of chewing gum in the mail every holiday season, but the sale should serve investors well nonetheless. When the deal closes—probably in six months to a year—and Wrigley becomes a stand-alone subsidiary of the privately owned Mars corporation, shareholders will receive $80 for each share of Wrigley they own. Stock in Wrigley was trading at less than $63 per share the day before the deal, so investors are poised to earn a considerable profit. The price is 35 times the Wrigley's earnings last year, which most analysts consider more than fair.
Fast-food stocks also have given PBJ a boost lately, if a less dramatic boost than Wrigley's. Recent number-two holding Yum! Brands (NYSE:YUM), owner of KFC, Taco Bell, Pizza Hut and Long John Silver's, gained almost 7% year to date through May 9 on the back of strong sales overseas, especially in China. In the first quarter of 2008 Yum's operating profits in China grew by 33%, and its China division is aiming for 20% profit growth for the year as a whole. Back home, Yum has struggled with the rising prices of agricultural commodities but still managed to eke out a 3% increase in sales in the first quarter. That comes as something of a surprise after the firm suffered a falloff in sales last year.
But while Yum faces stiff competition domestically—most notably from PBJ number-three holding MacDonald's—markets in China seem nearly insatiable. Chains account for 65% of the U.S. restaurant market, but only 3% of the market in China, where there are some 500 million urban consumers. Morningstar analyst John Owens sees a huge opportunity for Yum. "We believe that Yum Brands is in the early innings of a tremendous growth story in China," writes Owens. "Ultimately, the number of KFC restaurants in this rapidly growing market could exceed the 14,000-plus McDonald's restaurants in the United States."
PBJ has trended upward since joining the PowerShares Momentum Tracker Portfolio on January 17. The fund peaked in our rankings on February 27, at position 11, and by last week it had fallen back to 16. If prices on wheat, dairy products and other agricultural commodities continue to climb, firms represented in PBJ's portfolio are likely to see profit margins shrink. But with penny-pinching consumers continuing to eat out and purchase well-known brands, PBJ's holdings may be well-positioned to ride out any continuing turmoil in the market.