Novartis (NYSE:NVS) was born in 1996 through the merger of Ciba-Geigy and Sandoz. The Basel, Switzerland, headquartered company employs more than 100,000 people and operates all over the globe. Daniel Vasella, a former physician, led the company since 1996 before moving on to chairman's role in 2010 when Joe Jimenez took over the CEO spot.
Where the money comes from?
Novartis 2012 is not the same company as Novartis 2005. They sold off their nutrition division and baby food maker Gerber to Nestle and added eye care division Alcon to their portfolio. Novartis reduced its dependence on pharmaceuticals and is well diversified now. The Pharma unit still remains the biggest revenue earner for Novartis with Alcon, the eye care unit in the second position and Sandoz, the generic drug unit at the third. Geographically Novartis has done a commendable job expanding quickly into the Africa, Asia and Australia region which accounted for 21% of revenue in 2011. The exposure to developed markets remains high with Europe and America accounting for 70% of its revenue. Novartis registered double digit growth in China, India and Brazil in 2011 which should help the company immensely to offset some of its pain due to patent expiry.
Pharmaceuticals
The Pharma Division of Novartis grew at a healthy rate of 7% in the past three years. Will it be able to continue the growth at the same rate? Its blockbuster drug Diovan which brought in more than 5 billion in 2011 lost its exclusivity in the EU and will also lose exclusivity in the US by Sept 2012. Novartis claims it's expecting to lose 2.6 billion in 2012 sales due to loss of exclusivity. It already lost exclusivity on Femara. Other drugs that are going to lose patents in the next few years are Gleevec in 2015 and Zometa in 2013.
Novartis got 15 major approvals in pharmaceuticals including Afinitor (US), Gilenya (EU) and Lucentis. Gilenya is already a hit in the market and has brought in more than four hundred million since the release. Novartis expects Afinitor and Gilenya to reach the billion dollar sales mark.
10 year Analysis
Novartis did quite well in the past ten years increasing its book value and revenue. The revenue more than doubled during the period reaching 59 billion in 2012 from 23 billion in 2002. It would have been nice for the shareholders if Novartis managed to keep the return on equity at more than 15% range. The 2011 net margin is good at 15.3% but it was much better during 2002-2004 when it was closer to 20%.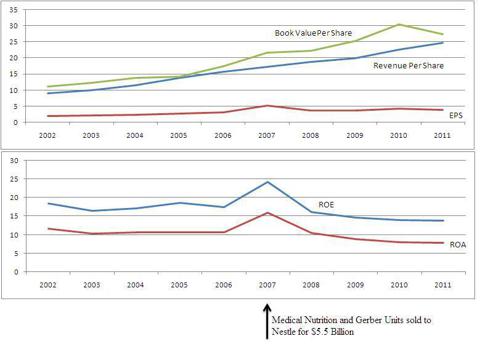 NVS needs to get its act together

Novartis does have few advantages over its competitors. The development of Gilenya and Afinitor is poised to bring in billions of dollars to its balance sheet offsetting some of Diovan's pain and Zometa's expiry in 2013. Sandoz, the second largest generic drug manufacturer in the world, can help the company grow faster in the generic drug segment. IMS Institute's recent report (The Global Use of Medicines: Outlook Through 2016) estimates generic spending to reach $400-$430 billion in 2016. Sandoz can help the company capture some of the accelerated shift in spending to generics, as well as garner more market share in the emerging markets. It's not going to be an easy job as generic markets in emerging countries are controlled by local manufacturers but NVS can use the established generic unit such as Sandoz to mount a challenge.
The major concern that still remains on Novartis is the quality control issues faced by the company. The issue is not only hurting the bottom-line but also their brand. Novartis shut down its Lincoln plant in Nebraska due to quality issues and also received FDA warning letter for three sites Boucherville (Canada), Broomfield (US) and Wilson (US).
Novartis CEO Joe Jimenez recently said in an interview that the company is well positioned to perform. I agree that they are well positioned. The time has come to deliver on the promise. Novartis needs to fix quality issues as quickly as possible, buy pipelines if necessary and have an aggressive agenda for Sandoz.
Discounted Earnings Model
Novartis is currently trading at 16 times its earnings. The PE ratio is right in the middle of comparable drug majors PE ratios with Pfizer(NYSE:PFE), Johnson(NYSE:JNJ), Merck(NYSE:MRK), Abott(NYSE:ABT) and Bristol Meyers(NYSE:BMY) having greater PE ratios and Glaxosmithkline(NYSE:GSK), Sanofi(NYSE:SNY), Eli Lilly(NYSE:LLY) and Astrazeneca(NYSE:AZN) having lower ratios. I used a discounted earnings model to find out how the market values NVS. ( NVS's 2011 earnings of $3.83 is used)
| | | | | |
| --- | --- | --- | --- | --- |
| Share Value | 91.80 | 78.13 | 65.11 | 59.06 |
| Earnings Growth Rate (Next 7 Yrs) | 1% | 2% | 2% | 3% |
| Terminal Growth (Earnings) | 2% | 2% | 2% | 2% |
| Discount Rate | 6% | 7% | 8% | 9% |
| | | | | |
The model values NVS share price at $59.06 for 3% growth discounted at 9% and $65.11 for 2% growth rate discounted at 8%, clearly showing that the share price is either fairly valued or undervalued. If you want to add NVS to your portfolio then the buying opportunity is very much there with a decent amount of margin for error.
Disclosure: I have no positions in any stocks mentioned, and no plans to initiate any positions within the next 72 hours.