Well ... the Fed didn't explicitly say to "buy" Annaly Capital Management (NYSE:NLY), but we think that the Fed's recent comments are certainly bullish for mortgage REIT investors.
During the two-day policy meeting this week, the Fed said that it will "closely monitor" the economy and "will provide additional accommodation as needed to promote a stronger economic recovery and sustained improvement in labor market conditions."
Translation: QE3 is on its way.
The Current Environment is Ideal for Agency mREITs
We think mortgage REITS, particularly agency REITs, continue to be a suitable investment for investors seeking good risk-adjusted yield. Agency mortgages are guaranteed by government-sponsored entities (implying limited credit risk). Conversely, non-agency securities do not carry a similar implied guarantee, making them inherently more risky due to the higher relative credit risk.
Even though interest rates are lower than they were three months ago (i.e., the yield curve has shifted to the right), the current yield curve is still very steep, which is an ideal environment for mREITs.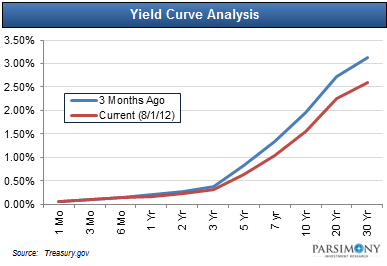 If the economy remains stagnant and interest rates remain low (as expected), mREITs should continue to prosper.
Note: A mortgage REIT's principal business objective is to generate income for distribution to its stockholders from the interest rate spread (i.e., the spread between the interest income received on its mortgage-backed securities and the cost of borrowing to finance its acquisition of mortgage-backed securities). In other words, the slope of the yield curve is one of the main factors that drive mREIT profits.
Dividends Distributions Have Stabilized
After several quarters of dividend cuts, mREIT distributions seemed to have stabilized in Q2 2012 (see chart of NLY below). This means that yields should hopefully remain stable as well for the foreseeable future.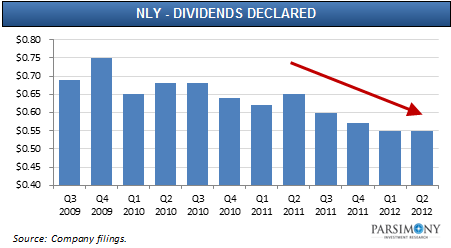 Valuation - When Is The Best Time to Buy?
As shown in the NLY chart below, mREITs have historically offered the best value to investors when trading below 1.0x book value.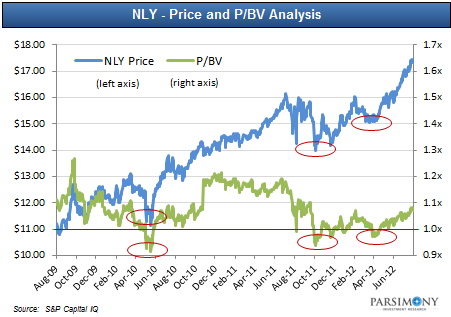 At 1.07x, NLY is currently trading at a slight premium to book value, however, it is trading in line with its historical average.
Below are the current comparative valuations for NLY's agency mREIT peers:
Conclusion
The environment remains ripe for agency mortgage REITs and we believe that investors should take advantage of any meaningful pullback in valuations.