We believe that Amazon (AMZN) is fundamentally an unattractive business model since it's low-margin and asset-intensive. At its core, we believe that Amazon is chasing revenue growth to the detriment of profits and economic value-add. For example, in the recently announced quarter, Amazon generated Revenue per Share of $28.00, but only pocketed Earnings per Share of $0.02 - a 0.1% net margin. That is a poor result for a company with such a large revenue base, even if it includes $0.14 for the acquisition and integration of Kiva Systems. In our opinion, Amazon is ripe for a sizable valuation reassessment as investors wake up to the reality that the company will forever be a low-margin, asset-intensive business - creating at least 30% downside in the stock.
Let's walk through our arguments for why Amazon is not a great business model and does not deserve to trade at 94x 2013 EPS.
Free Cash Flow In Decline
The following chart shows Amazon's Trailing Twelve Month Free Cash Flow in steady decline. The CFO repeatedly mentions that the company is aggressively investing in AWS and distribution centers. This is fine, but this excuse has been around for two years now. Will it ever end? For some reason, the Wall Street analysts on the calls do not ask for more details or push back against the ongoing spending spree. The bull case is that these are short-term investments necessary to gain scale and market share, but we've heard the excuse far too long to give credence to that assessment. We want the company's financial performance to start proving us wrong. As the chart below shows, free cash flow has been declining despite strong revenue growth. Normally, one would expect rising free cash flow in this context if the business model was healthy.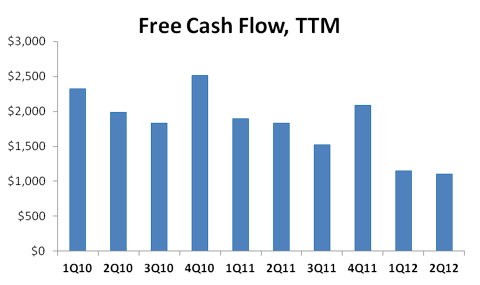 Revenue Per Employee Is On The Decline:
Did you know that Amazon had 61,900 employees at the end of 2Q 2012? That's a 60% increase from last year. Where is the scale? Due to a labor-intensive business model, revenue growth is not translating to margins expansion. (Think about all the people need to pick and pack the single-item purchases Amazon processes).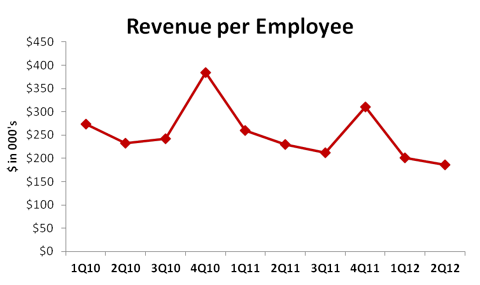 EBITDA Per Employee Is Declining
The rapid increase in employees is overwhelming the increase in revenue, putting pressure on EBITDA per Employee. If Amazon was benefiting from size, this metric would be going the other way.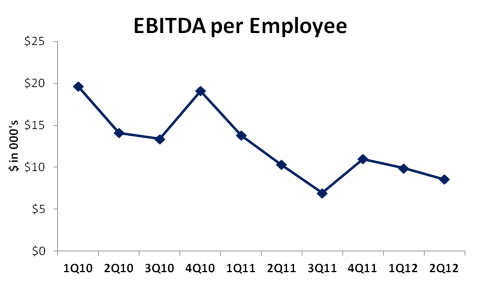 Finally, we are frustrated that the CEO does not join the quarterly conference calls. Why were investors demanding that Mark Zuckerberg from Facebook (FB) join the conference call but Jeff Bezos gets a hall pass? And the CFO provides such little "color" during prepared remarks and the Q&A session we get off the call with little incremental information. For all the moving pieces within the business, it would be appropriate for management to provide more detail. Hence, we are perplexed why the market is willing to pay such a premium for a company with so little transparency into its core operating performance.
For example, management does not break out the size, profitability, or trends of Amazon Web Services, Kindle, Zappos, Quidsi, LoveFilm, or Living Social. As an investor, we can't get comfortable with the business due to such little insight into the success of these investments.
Valuation Is Extreme, Is It Justified?
Price to TTM Free Cash Flow: 97x
Price to 2013 EPS: 95x
This compares to the S&P average at 14x, Google (GOOG) at 13x, and Apple (AAPL) at 11.5x. Which one seems out of whack?
We modeled out a "Normalized 2013 EPS" scenario to make sure we aren't being too harsh. In this scenario, we assume that Amazon is able to replace humans with robots in their 60+ warehouses. This is made possible by the Kiva acquisition and will eventually result in margin expansion. However, we use a net margin of 4.0% in this scenario - higher than any period since 2009 - and may be overly optimistic. Simply put, these are VERY aggressive assumptions, but it's meant as an exercise to assess what is being discounted in the stock.
Yet we still only get a fair valuation of $153, or 35% downside.
Accordingly, we are short Amazon as our belief is that investors will ultimately realize that this will always be a low-margin, asset-intense business model that does not deserve one of the highest valuations in the stock market.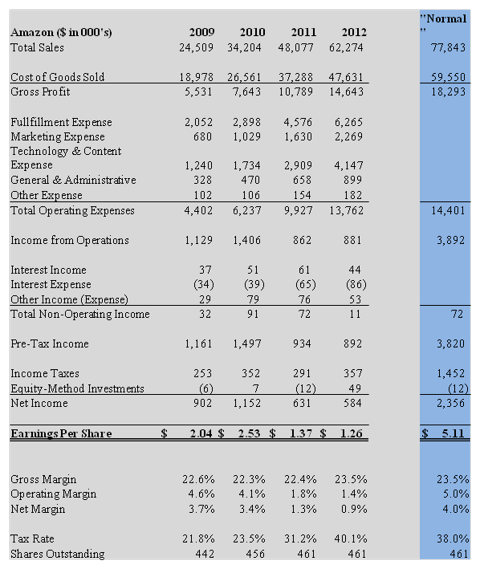 Here's our valuation and Risk/Reward for being short: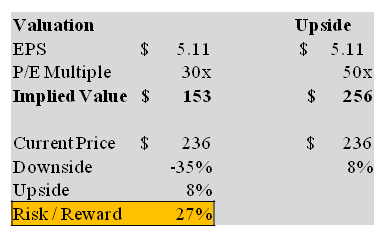 Risks To Our Thesis:
If Amazon is able to utilize Kiva's robotic systems to dramatically reduce the labor-intensity of the business far below our expectations, then the margin profile we assume could be too conservative and the stock would warrant a higher valuation.
Disclosure: I am short AMZN.